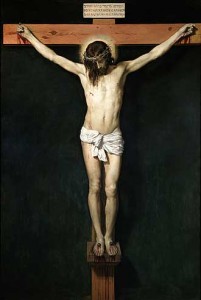 For several years, my reaction to Our Lord's Passion was the same:
How could the authorities do this to Jesus?
How could people cry out "Crucify Him"?
What did He ever do to deserve this?
How could Peter and Judas betray their friend?
These people were really nasty!
But eventually the sadness passed (usually by the evening of Good Friday) and nothing really changed in my life. As I started to learn more about my faith, however, I realized that my sins were responsible for the Lord's suffering. Although that was a big revelation, the guilt it produced was short-lived. At best, this would lead me to say a few prayers and apologize to Jesus and then it was "business as usual".
Although it is commendable to feel sorry for Our Lord and even better to blame ourselves for His death, we still need to take it a step further and make some changes in our lives. As we focus on Our Lord's passion and death during this Holy Week, something should become very obvious. Jesus Christ gave all that He had…His very life…for each one of us. He held NOTHING back. In His own words, "Greater love has no man than this, that a man lay down his life for his friends" (John 15:13). How about us? Are we giving ourselves completely to the Lord or are we holding back?
How much do we trust His Will when difficulties arise in our lives?
Are we generous with our money and time?
Do we follow the teachings of His Church?
Do we obey His commandment to "love one another AS I HAVE LOVED YOU"?
Do we unite our sufferings with His?
Do we set aside time to speak with Him in prayer?
Do we ask for the grace to avoid sin?
Do we pray daily for an increase in faith, hope and charity?
Do we follow His example and serve others or do we prefer to be served?

While reading the Passion should make us feel sorry for Jesus, it should also move us to look at our own lives and make changes if necessary. He gave everything for us…

what are we giving to Him?