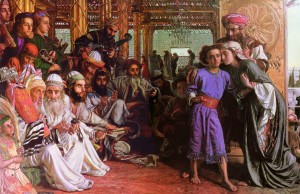 Mary: "Where's Jesus?"
Joseph: "I thought He was with you."
Mary: "No, I thought He was with you."
Joseph: "Well, He has to be around here somewhere, so let's look."
(Mother Angelica, Mother Angelica's Private and Pithy Lessons From the Scriptures)
This humorous snippet of fictitious dialog reminds us that, despite being the parents of the Messiah, Mary and Joseph weren't given a pass from the worries and difficulties faced by all parents. When we look at the story of the Finding in the Temple, we can almost feel the helplessness experienced by Mary and Joseph. Despite being chosen for a monumentally important role, they didn't have all the answers. In her discussion of this incident, Mother Angelica notes a very important point about Mary, "She was sinless, but she wasn't Mrs. Omnipotent".
Continuing our series on Mary's words in the Bible, let's look at one of the most confusing, yet most familiar, of Our Lady's statements. After looking for Jesus for three days, Mary and Joseph found Him teaching in the temple. Scripture tells us that they were "astonished" and records the words spoken by our Blessed Mother:
"Son, why have you done this to us? Your father and I have been looking for you with great anxiety." (Luke 2:48)
Sometimes we forget just how human Mary was. Although she never sinned, she wasn't blessed with the gift of omniscience. On several occasions, the Bible tells us that Our Lady "pondered things in her heart". In other words, just like us, she often had to meditate in order to discern the Lord's message. Being the Mother of God didn't exempt Mary from struggling to determine God's will. Rather than lash out or complain, Mary asked a simple question to Her Son…Why have you done this to us? She was trying to obtain an answer, most likely fearing that she and Joseph had done something wrong. The second part of her statement also communicates an important piece of information. Mary and Joseph were searching for Jesus with great anxiety.
There are many ways that we can "lose" the presence of the Lord. Although He will never leave us, we can use our free will to turn away from Him. Those of us who have done this know the feeling of emptiness and hopelessness that accompanies our disobedience. In his book The Glories Of Mary, Saint Alphonsus Liguori wrote, "Souls who have lost God are really miserable and unhappy. If Mary wept over the loss of her son for three days, how much more should sinners weep who have lost sanctifying grace?" Since Mary had never sinned, she didn't know what it was like to lose God. It's quite possible that the Lord wanted Mary to experience this sense of loss so that she could be a better advocate for those who stray. This experience of losing Him, the only way possible for one who never sinned, will help her to empathize with those who are lost and enable her to truly become the Refuge of Sinners.
After losing Jesus, Mary and Joseph searched for Him with great anxiety. How do we respond when we "lose" Him in our own lives? Is finding the Lord our number one priority? Sadly, it is often not a priority at all. According to Saint Augustine, "When they lose an ox they do not hesitate to go and look for it; when they lose a sheep, they leave no stone unturned to find it; when they lose a beast of burden, they cannot rest until they have discovered it; but when they lose God, who is the supreme Good, they eat, drink, and sleep as usual".
As we meditate upon this sad episode in Our Lady's life, let's never forget that she knows what it's like to be separated from Jesus and can help us to discover Him in our own lives. Holy Mary, Refuge of Sinners, pray for us.
"There is no sinner in the world, however much at enmity with God, who cannot recover God's grace by recourse to Mary, and by asking her assistance." (Saint Bridget of Sweden)