---
---
To: markomalley
Act of Consecration to the Immaculate Heart of Mary*
"I, ____________, a faithless sinner, renew and ratify today in thy hands, O Immaculate Mother, the vows of my baptism: I renounce forever Satan, and all his pomps and works, and I give myself entirely to Jesus Christ, the Incarnate Wisdom, to carry my cross after Him all the days of my life, and to be more faithful to Him than I have ever been before.
"In the presence of all the heavenly court, I choose thee this day as my Mother and Mistress. I deliver and consecrate to thee, as thy slave, my body and soul; my goods, both interior and exterior; and even the value of all of my good actions, past, present and future; leaving to thee the entire and full right of disposing of me, and all that belongs to me, without exception, according to thy good pleasure, for the greater glory of God, in time and in eternity."

Amen.
7
posted on
06/12/2010 10:52:13 AM PDT
by
Salvation
("With God all things are possible." Matthew 19:26)
---
To: markomalley
Behold this heart!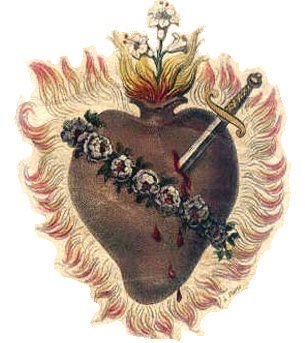 Luke 2:19: But Mary kept all these words, pondering them in her heart.

Luke 2:35: And thy own soul a sword shall pierce, that, out of many hearts thoughts may be revealed.

Luke 2:51: And he went down with them and came to Nazareth and was subject to them. And his mother kept all these words in her heart.

8
posted on
06/12/2010 11:07:04 AM PDT
by
Salvation
("With God all things are possible." Matthew 19:26)
---
To: markomalley
A sermon of St Laurence Justinian
Mary kept all these things in her heart
As Mary pondered all she had learned from reading and from what she had heard and seen, how greatly did she increase in faith, advance in merit and become enlightened with wisdom! More and more she was consumed with burning love. Drawing life and inspiration from the heavenly mysteries which were being unlocked for her, she was filled with joy; she became alive with the Spirit, she was guided towards God and was kept humble in herself. The effects of divine grace are such indeed that they raise one from the depths to the heights, and transform one in an ever greater degree of glory. Entirely blessed was the mind of the Virgin which, through the direction of the Spirit dwelling in her, ever obeyed the command of the Word of God in all things. She was governed not by her own judgment or opinions, but she outwardly performed through her body whatever wisdom had indicated inwardly to her faith. It was surely fitting that divine Wisdom, which had built the house of the Church for its abode, should use most holy Mary as its instrument, where the observance of the law, purification of the heart, the doctrine of humility and spiritual offering were concerned.
Imitate her, O faithful soul. Enter into the temple of your heart that you may be purified in spirit and cleansed of the pollution of your sins. In everything we do God considers our disposition rather than our actions. And so, whether we retire mentally to God in earnest contemplation and remain at rest or whether we are intent on being of service to those around us with good works and worthy undertakings, let our object be that we are motivated only by love of Christ. So the really acceptable offering of purification of the spirit is that which is rendered not in a man-made temple but in the temple of the heart, where Christ the Lord is pleased to enter.
9
posted on
06/12/2010 11:18:52 AM PDT
by
Salvation
("With God all things are possible." Matthew 19:26)
---
FreeRepublic.com is powered by software copyright 2000-2008 John Robinson