---
Divine Mercy Novena 2010 - Easter Wednesday: Day 6
EWTN ^ | April 7, 2010


Posted on 04/07/2010 3:23:30 AM PDT by NYer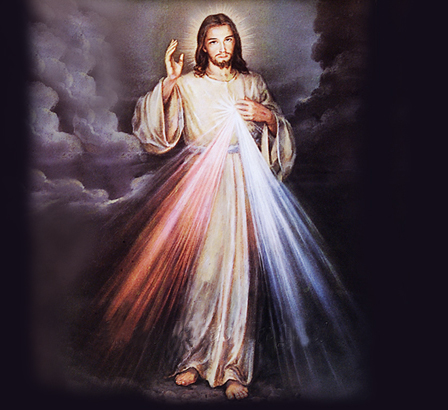 The Divine Mercy Novena
Jesus asked that the Feast of the Divine Mercy be preceded by a Novena to the Divine Mercy which would begin on Good Friday. He gave St. Faustina an intention to pray for on each day of the Novena, saving for the last day the most difficult intention of all, the lukewarm and indifferent of whom He said:
"These souls cause Me more suffering than any others; it was from such souls that My soul felt the most revulsion in the Garden of Olives. It was on their account that I said: 'My Father, if it is possible, let this cup pass Me by.' The last hope of salvation for them is to flee to My Mercy."
In her diary, St. Faustina wrote that Jesus told her:
"On each day of the novena you will bring to My heart a different group of souls and you will immerse them in this ocean of My mercy ... On each day you will beg My Father, on the strength of My passion, for the graces for these souls."
Sixth Day
Today bring to Me the Meek and Humble Souls and the Souls of Little Children,
and immerse them in My mercy. These souls most closely resemble My Heart. They strengthened Me during My bitter agony. I saw them as earthly Angels, who will keep vigil at My altars. I pour out upon them whole torrents of grace. I favor humble souls with My confidence.
Most Merciful Jesus, You yourself have said, "Learn from Me for I am meek and humble of heart." Receive into the abode of Your Most Compassionate Heart all meek and humble souls and the souls of little children. These souls send all heaven into ecstasy and they are the heavenly Father's favorites. They are a sweet-smelling bouquet before the throne of God; God Himself takes delight in their fragrance. These souls have a permanent abode in Your Most Compassionate Heart, O Jesus, and they unceasingly sing out a hymn of love and mercy.

Eternal Father, turn Your merciful gaze upon meek souls, upon humble souls, and upon little children who are enfolded in the abode which is the Most Compassionate Heart of Jesus. These souls bear the closest resemblance to Your Son. Their fragrance rises from the earth and reaches Your very throne. Father of mercy and of all goodness, I beg You by the love You bear these souls and by the delight You take in them: Bless the whole world, that all souls together may sing out the praises of Your mercy for endless ages. Amen.

---
TOPICS: Catholic; Prayer; Worship
KEYWORDS:



---
To: netmilsmom; thefrankbaum; markomalley; Tax-chick; GregB; saradippity; Berlin_Freeper; Litany; ...
2
posted on
04/07/2010 3:25:37 AM PDT
by
NYer
("Where Peter is, there is the Church." - St. Ambrose of Milan)
---
To: NYer; Salvation
3
posted on
04/07/2010 4:26:04 AM PDT
by
Global2010
(We have De Humanized our Society because we have De Christianize our society. Fr.Corapi)
---
To: NYer
That reminds me of a picture in our parish newsletter of our younger Parochial Vicar leading the little kindergartners in Adoration.
So sweet, and the little children are so hopeful and confiding. It makes perfect sense that Christ would love them with a special love.

4
posted on
04/07/2010 11:17:57 AM PDT
by
AnAmericanMother
(Ministrix of ye Chasse, TTGC Ladies' Auxiliary (recess appointment)T)
---
To: All
5
posted on
04/07/2010 9:07:48 PM PDT
by
Salvation
("With God all things are possible." Matthew 19:26)
---
FreeRepublic.com is powered by software copyright 2000-2008 John Robinson