---
Divine Mercy Novena 2010 - Easter Monday: Day 4
EWTN ^ | April 5, 2010


Posted on 04/05/2010 3:33:05 AM PDT by NYer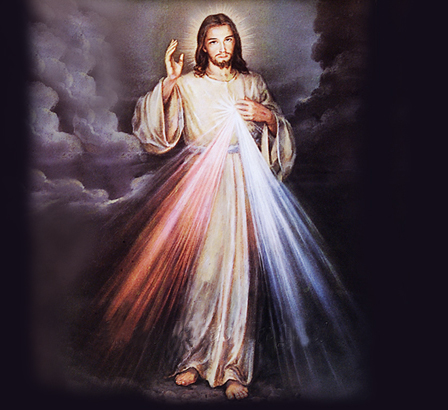 The Divine Mercy Novena
Jesus asked that the Feast of the Divine Mercy be preceded by a Novena to the Divine Mercy which would begin on Good Friday. He gave St. Faustina an intention to pray for on each day of the Novena, saving for the last day the most difficult intention of all, the lukewarm and indifferent of whom He said:
"These souls cause Me more suffering than any others; it was from such souls that My soul felt the most revulsion in the Garden of Olives. It was on their account that I said: 'My Father, if it is possible, let this cup pass Me by.' The last hope of salvation for them is to flee to My Mercy."
In her diary, St. Faustina wrote that Jesus told her:
"On each day of the novena you will bring to My heart a different group of souls and you will immerse them in this ocean of My mercy ... On each day you will beg My Father, on the strength of My passion, for the graces for these souls."
Fourth Day
Fourth Day
"Today bring to Me those who do not believe in God and those who do not know Me,
I was thinking also of them during My bitter Passion, and their future zeal comforted My Heart. Immerse them in the ocean of My mercy."
Most compassionate Jesus, You are the Light of the whole world. Receive into the abode of Your Most Compassionate Heart the souls of those who do not believe in God and of those who as yet do not know You. Let the rays of Your grace enlighten them that they, too, together with us, may extol Your wonderful mercy; and do not let them escape from the abode which is Your Most Compassionate Heart.

Eternal Father, turn Your merciful gaze upon the souls of those who do not believe in You, and of those who as yet do not know You, but who are enclosed in the Most Compassionate Heart of Jesus. Draw them to the light of the Gospel. These souls do not know what great happiness it is to love You. Grant that they, too, may extol the generosity of Your mercy for endless ages. Amen.
*Our Lord's original words here were "the pagans." Since the pontificate of Pope John XXIII, the Church has seen fit to replace this term with clearer and more appropriate terminology.
---
TOPICS: Catholic; Prayer; Worship
KEYWORDS:



---
To: netmilsmom; thefrankbaum; markomalley; Tax-chick; GregB; saradippity; Berlin_Freeper; Litany; ...
2
posted on
04/05/2010 3:34:00 AM PDT
by
NYer
("Where Peter is, there is the Church." - St. Ambrose of Milan)
---
To: NYer
There is something even more special about this novena THIS year...
3
posted on
04/05/2010 5:32:26 AM PDT
by
SumProVita
(Cogito, ergo...Sum Pro Vita. (Modified Decartes))
---
To: SumProVita
I was just going to make a comment with those exact sentiments.
4
posted on
04/05/2010 8:49:33 AM PDT
by
tiki
(True Christians will not deliberately slander or misrepresent others or their beliefs)
---
To: NYer
5
posted on
04/05/2010 2:43:14 PM PDT
by
Salvation
("With God all things are possible." Matthew 19:26)
---
FreeRepublic.com is powered by software copyright 2000-2008 John Robinson