---
Catholic Prayer and Devotion: June the Month of the Sacred Heart
Various | 6/1/06 | Knitting a Conundrum


Posted on 06/01/2006 8:27:34 PM PDT by Knitting A Conundrum
June Devotion: The Sacred Heart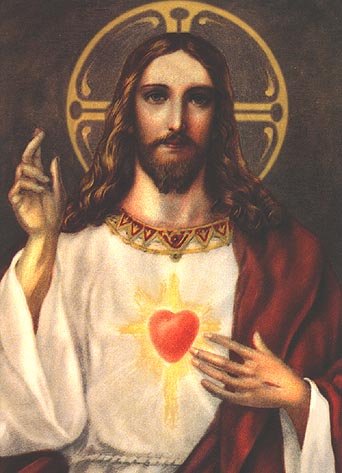 "And He showed me that it was His great desire of being loved by men and of withdrawing them from the path of ruin into which Satan hurls such crowds of them, that made Him form the design of manifesting His Heart to men, with all the treasures of love, of mercy, of grace, of sanctification and salvation which it contains, in order that those who desire to render Him and procure for Him all the honor and love possible, might themselves be abundantly enriched with those divine treasures of which this Heart is the source.

He should be honored under the figure of this Heart of flesh, and its image should be exposed...He promised me that wherever this image should be exposed with a view to showing it special honor, He would pour forth His blessings and graces. This devotion was the last effort of His love that He would grant to men in these latter ages, in order to withdraw them from the empire of Satan which He desired to destroy, and thus to introduce them into the sweet liberty of the rule of His love, which He wished to restore in the hearts of all those who should embrace this devotion."..... "The devotion is so pleasing to Him that He can refuse nothing to those who practice it."

from Revelations of Our Lord to St. Margaret Mary Alacoque

Since the 16th century Catholic piety has assigned entire months to special devotions. The month of June is set apart for devotion to the Sacred Heart of Jesus. "From among all the proofs of the infinite goodness of our Savior none stands out more prominently than the fact that, as the love of the faithful grew cold, He, Divine Love Itself, gave Himself to us to be honored by a very special devotion and that the rich treasury of the Church was thrown wide open in the interests of that devotion." These words of Pope Pius XI refer to the Sacred Heart Devotion, which in its present form dates from the revelations given to Saint Margaret Mary Alacoque in 1673-75.

The devotion consists in the divine worship of the human heart of Christ, which is united to His divinity and which is a symbol of His love for us. The aim of the devotion is to make our Lord king over our hearts by prompting them to return love to Him (especially through an act of consecration by which we offer to the Heart of Jesus both ourselves and all that belongs to us) and to make reparation for our ingratitude to God.

INVOCATION

O Heart of love, I put all my trust in Thee; for I fear all things from my own weakness, but I hope for all things from Thy goodness. -- Saint Margaret Mary Alacoque

Memorare to the Sacred Heart of Jesus

Remember, O most kind Jesus, that none who have had recourse to Your Sacred Heart, implored its assistance, or called for mercy, have ever been abandoned. Filled, and animated by this same confidence, O divine Heart, Ruler of all hearts, I fly to You, and oppressed beneath the weight of my sins, I prostrate myself before You. Despise not Your unworthy child, but grant me, I pray, an entrance into Your Sacred Heart. Sustain me in all my combats and be with me now, and at all times, but especially in the hour of my death. 0 gracious Jesus! 0 amiable Jesus! 0 loving Jesus!

Act of Consecration to the Sacred Heart

O Sacred Heart of Jesus, to Thee I consecrate and offer up my person and my life, my actions, trials, and sufferings, that my entire being may henceforth only be employed in loving, honoring and glorifying Thee. This is my irrevocable will, to belong entirely to Thee, and to do all for Thy love, renouncing with my whole heart all that can displease Thee.

I take Thee, O Sacred Heart, for the sole object of my love, the protection of my life, the pledge of my salvation, the remedy of my frailty and insconstancy, the reparation for all the defects of my life, and my secure refuge at the hour of my death. Be Thou, O Most Merciful Heart, my justification before God Thy Father, and screen me from His anger which I have so justly merited. I fear all from my own weakness and malice, but placing my entire confidence in Thee, O Heart of Love, I hope all from Thine infinite Goodness. Annihilate in me all that can displease or resist Thee. Imprint Thy pure love so deeply in my heart that I may never forget Thee or be separated from Thee.
I beseech Thee, through Thine infinite Goodness, grant that my name be engraved upon Thy Heart, for in this I place all my happiness and all my glory, to live and to die as one of Thy devoted servants.

Amen. . -- St. Margaret Mary Alacoque

Act of Reparation to the Sacred Heart of Jesus

O Jesus, divine Savior, deign to cast a look of mercy upon Your children, who assemble in the same spirit of faith, reparation, and love, and come to deplore their own infidelities, and those of all poor sinners, their brethren.

May we touch Your divine Heart by the unanimous and solemn promises we are about to make and obtain mercy for ourselves, for the world, and for all who are so unhappy as not to love You. We all promise that for the future:

For the forgetfulness and ingratitude of men, *(We will console you O Lord)
For the way You are deserted in Your holy tabernacle,
For the crimes of sinners,
For the hatred of the impious,
For the blasphemies uttered against You,
For the sacrileges that profane Your Sacrament of Love,
For the outrages against Your divinity,
For the injuries of which You are the adorable Victim,
For the coldness of the greater part of your children,
For the contempt of your loving invitation,
For the infidelity of those who called themselves Your friends,
For the abuse of Your grace,
For our own unfaithfulness,
For the incomprehensible hardness of our hearts,
For our long delay in loving You,
For our tepidity in Your holy service,
For Your bitter sadness at the loss of souls,
For Your long waiting at the door of our hearts,
For the heartless scorn that grieves You,
For Your loving sighs,
For Your loving tears,
For Your loving imprisonment,
For Your loving death,

* We will console you, 0 Lord

Let us pray

0 Jesus! divine Savior, from whose Heart comes forth this bitter complaint, "I looked for one that would comfort me, and I found none," graciously accept the feeble consolation we offer You, and aid us so powerfully by your grace, that we may, for the time to come, shun more and more all that can displease You, and prove ourselves in everything, and everywhere, and forever Your most faithful and devoted servants. We ask it through Your Sacred Heart, O Lord, who live and reign with the Father and the Holy Spirit one God, world without end. Amen.

---
TOPICS: Catholic; Prayer
KEYWORDS: consecration; jesus; lovingjesus; prayer; reparation; sacredheart
---
Navigation: use the links below to view more comments.
first 1-20, 21-40 next last
---
---
---
---
---
---
---
---
---
---
---
---
---
---
---
---
---
---
---
---
---
Navigation: use the links below to view more comments.
first 1-20, 21-40 next last
---
---