---
To: conservative98
"Bannon says Bush has no idea whether "he is coming or going, just like it was when he was president."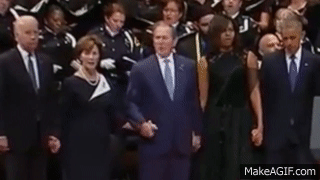 9
posted on
10/20/2017 10:31:13 PM PDT
by
ForYourChildren
(Christian Education [ RomanRoadsMedia.com - Classical Christian Approach to Homeschool ])
---
To: ForYourChildren
All those A-hole politicians smiling and dancing. Wonder if the families of those cops were laughing that afternoon. Bastards...
16
posted on
10/20/2017 10:45:48 PM PDT
by
DesertRhino
(Dog is man's best friend, and moslems hate dogs. Add that up. ...)
---
To: ForYourChildren
I think the Muslim Iman behind Bush and the Wookiee was pulling Bush's strings and pushing his buttons — just like in the old days when he did the Saudis' bidding.
And Bush sure looked the fool!
39
posted on
10/21/2017 12:29:36 AM PDT
by
House Atreides
(BOYCOTT the NFL, its products and players 100% - PERMANENTLY.)
---
To: ForYourChildren
Even Michelle Obama, with her massive arms, couldn't control Retard George that day.
---
To: ForYourChildren
115
posted on
10/22/2017 11:16:29 AM PDT
by
grey_whiskers
(The opinions are solely those of the author and are subject to change without notice.)
---
To: ForYourChildren
W is obviously three sheets to the wind here. Those Bush boys are all a disgrace...a drunk, a bank robber, a womanizer, and a pussy-whipped gay husband. Old Bar is giving Ma Barker some competition! 😜

---
FreeRepublic.com is powered by software copyright 2000-2008 John Robinson