---
Happy 237th Army Birthday and Happy Father's Day - Olney, MD-Wk. 334, June 16, 2012
Posted on 06/17/2012 4:05:02 PM PDT by trooprally
Late in the day for a HAPPY FATHER'S DAY but here it is. And it is a few days late (Army Birthday is Flag Day, June 14) but a HAPPY BIRTHDAY to the Army.
On Saturday the patriots played a numbers game with the moonbatty occupiers. We eventually had 8 while the maggots had 7.
The 8 patriots this week include Veterans Glenn (USMC - Iwo Jima), Halsey (USMC - Korea), Carl (Army- Vietnam), Lurker Jim (Army- Vietnam), and [Mrs] T (Army - early 70s), along with Lurker Bill, Fraxinus and myself.
A Big THANK YOU to [Mrs] T for her continuous picture taking.
BELOW LEFT: Lurker Jim with date appropriate sign. [Mrs] T held the other. BELOW RIGHT: Glenn looking good for a WWII Vet.
BELOW LEFT: Me, Lurker Jim and Fraxinus. Lurker Jim looks on angerly at the moonbats flag with a peace sign where the stars belong. It took a lot to keep him from going over there and taking it away. BELOW RIGHT: Halsey taking a break from talking with Glenn to get his picture taken.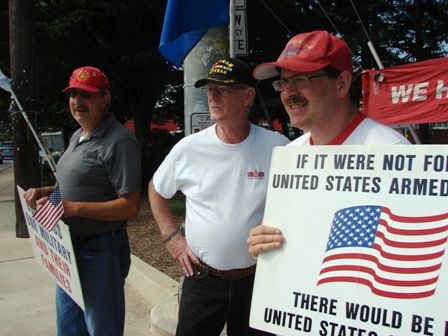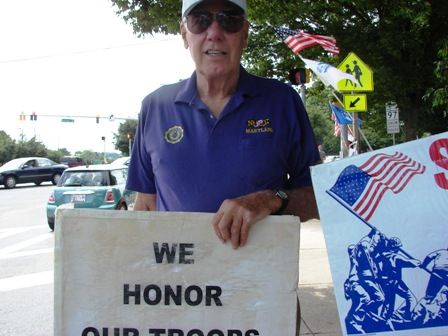 BELOW LEFT: Carl on our right flank before jioning the other Legionnaires on our left flank. BELOW RIGHT: And of course Lurker Bill.
And the Occupiers of Olney, formerly the moonbats. As I already mentioned, they are clueless, moonbat occupiers.
---
TOPICS: Activism/Chapters; Free Republic; US: Maryland; US: Virginia
KEYWORDS: aar; military; mobilizingmothers; moonbats; occupywallstreet; opinfinitefreep; patriotism; peaceactionmc; rally; supportourtroops
---
---
---
---
---
---
---
---
---
---
---
---
---