---
Walter Reed FReep 209 - April 17, 2009 - Watching Out for the DHS
April 22, 2009 | Tom the Redhunter


Posted on 04/22/2009 5:59:56 PM PDT by Tom the Redhunter

Don't you just love the new MOAB?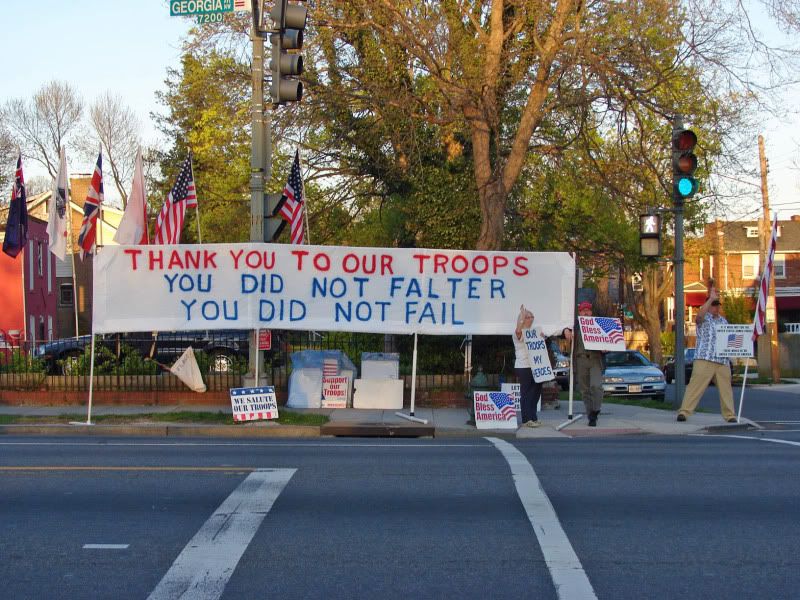 I think it says it all quite well. Despite the constant calls for surrender by the Democrats, the troops held firm, and we've now pretty much won the war. All we're doing now is mopping up and making sure the new Iraqi Army is trained well enough to take over when we leave.
But maybe we're going to have to start checking to see if our own Department of Homeland Security is spying on us as we gather every Friday outside the main entrance of Walter Reed Army Medical Center in Washington DC.
That's about the impression you'd get after reading the infamous DHS report Rightwing Extremism: Current Economic and Political Climate Fueling Resurgence in Radicalization and Recruitment. Given how vague the report is, completely lacking in specifics, I guess everyone on the right should be worried.
From page 6
(U) Perceived Threat from Rise of Other Countries

(U//FOUO) Rightwing extremist paranoia of foreign regimes could escalate or be magnified in the event of an economic crisis or military confrontation, harkening back to the "New World Order" conspiracy theories of the 1990s. The dissolution of Communist countries in Eastern Europe and the end of the Soviet Union in the 1990s led some rightwing extremists to believe that a "New World Order" would bring about a world government that would usurp the sovereignty of the United States and its Constitution, thus infringing upon their liberty. The dynamics in 2009 are somewhat similar, as other countries, including China, India, and Russia, as well as some smaller, oil-producing states, are experiencing a rise in economic power and influence.
Got it, mustn't worry about Harold Koh, Dawn Johnson, and transnationalism...
Maybe DHS thinks that the numerous troopers, such as the lady soldier in the photo below, who come out to visit us, are really looking to join a militia gang. Here is the infamous section from page 7:
(U//FOUO) DHS/I&A assesses that rightwing extremists will attempt to recruit and radicalize returning veterans in order to exploit their skills and knowledge derived from military training and combat. These skills and knowledge have the potential to boost the capabilities of extremists--including lone wolves or small terrorist cells--to carry out violence. The willingness of a small percentage of military personnel to join extremist groups during the 1990s because they were disgruntled, disillusioned, or suffering from the psychological effects of war is being replicated today.
Every day we have a new insult to our country from President Obama, and this is one of the worst.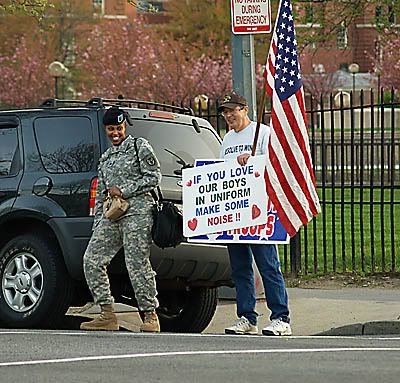 Honor Roll of Attendees: Cindy-True-Supporter, Fraxinus, Mr & Mrs Trooprally, Kburi, PleaDeal, Jimmy Valentine's Brother, RonGKirby, Lurker Bill, and your author Tom the Redhunter
Actually it's this bunch I think we ought to keep an eye on
One Evening Is All We Ask
The weather this time of year is fantastic, we always set up a table full of food and drink in the parking lot, and just make a picnic out of the evening. We regulars can't make it every Friday, and we need all local FReepers to please take one evening this summer and come out and be with us. 'Nuff said there.
What It's All About
Here come the troops!
We owe them so much
---

If you can't get to D.C. to join us but would like to do something for the wounded, you can find a wealth of ideas by FReepmailing Tom the Redhunter, Cindy-True-Supporter, VAFlagwaver, or PleaDeal.

Please also FReepmail them or any of us if you would like to join us at Walter Reed and would like additional information about parking, directions, what to bring, etc.

Come join us every Friday night between the hours of 6:30pm to approx 9:30pm.

Directions to our Walter Reed freep location from the Takoma Metro station

* You can find all of Mrs Trooprally's photos for this Freep on her Photobucket site.

* You can find all of Plea Deal's photos for this Freep on her Photobucket site.

* Thank you to BufordP for maintaining the BIG LIST of all Walter Reed FReeps.

* Thank you to all FReepers who transport and store our many signs and banners every week.

* Tom the Redhunter blogs at The Redhunter

* Plea Deal blogs at Semper Gratis

---
TOPICS: Activism/Chapters; Government; News/Current Events
KEYWORDS: dhs; freep; rightwing; walterreed
---
---
---
---
---
---
---
---
---
---
---
---