---
EWTN To Air 2009's Historic "March for Life/Walk for Life"
EWTN ^ | January 21, 2009


Posted on 01/21/2009 10:39:26 AM PST by NYer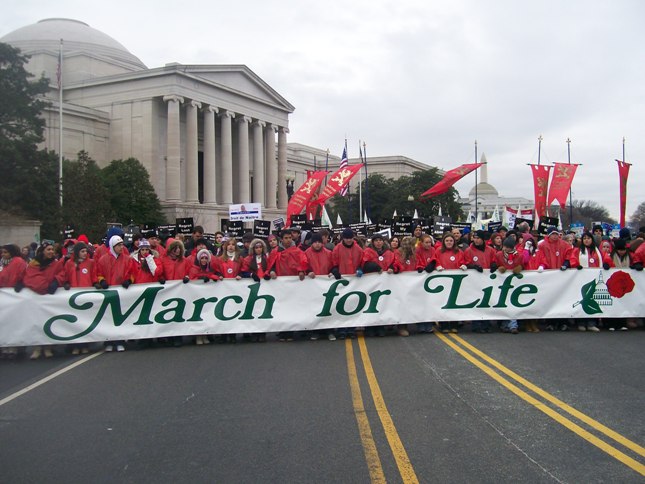 Irondale, AL (EWTN) – With President Obama promising his first act in office will be to sign the Freedom of Choice Act and the U.S. Conference of Catholic Bishops vowing to aggressively oppose this, the 2009 March for Life could be one of the biggest and most important in history.
EWTN will offer viewers the most complete coverage available on any platform of both Washington, D.C.'s March for Life and San Francisco's Walk for Life. Coverage of the Jan. 22 events will include live Masses, walking processions, rallies, interviews, panel discussions, and speeches from pro-lifers around the country.
You can also watch or listen to these historic events live on our website at www.ewtn.com/audiovideo). Further resources can be found at www.ewtn.com/prolife. But that's not all. Pro-life people won't want to miss any of EWTN's pro-life shows in January. Highlights include:
March for Life 2009/Walk for Life West Coast 2009: On the East Coast, Doug Keck (Host of EWTN's "Bookmark") will anchor the Network's live coverage with Fr. Joseph and Journalist and Producer Deb Piroch. They will be joined from Washington, D.C. by Teresa Tomeo (host of EWTN's daily radio news and feature program "Catholic Connection") and Damon Owens (NFP Program Coordinator for the Archdiocese of Newark and founder of Joy-Filled Marriage NJ).
On the West Coast, Father Mark and Doug Barry, hosts of EWTN's "Life on the Rock," will cover the walk with a live feed from the speaker's platform and will show highlights of the walk that night on their live show.
All times Eastern: Vigil Mass for Life airs 7 p.m., Jan. 21 (live); Mass for Life airs 7:30 a.m., Jan. 22 (live); March for Life 2009 airs 11 a.m. Jan. 22 (live) and encores 10 p.m. Jan. 22 and 9 a.m. Jan. 24.
Walk for Life West Coast airs 1:30 p.m. Jan. 24 (live) and encores 10 a.m. Jan. 25. Highlights of the Walk will air at 8 p.m. ET (5 p.m. PT) Jan. 22 on "Life on the Rock."
Turning the Tide: After the recent election, Washington State joined Oregon in legalizing euthanasia, which means the debate over the ethical validity of assisted suicide is no longer academic. This important documentary presents the viewpoint of those most threatened by the legalization of euthanasia: the handicapped and those associated with them.
Airs 3 a.m. ET and 6:30 p.m. ET, Jan. 20.
Being Human: 40 Days for Life II: This episode highlights the lives saved from abortion during the national 40 Days for Life campaigns in 139 cities in 44 states in the U.S. Also included are stories from Ireland, England, Brazil and Peru.
Airs 3 a.m. ET and 6:30 p.m. ET, Jan. 21. Also, check EWTN's website for dates and times of "Being Human: 40 Days for Life III."
Dead in the Water: Combating the Culture of Death on the High Seas: In 2001, a Dutch abortion boat pulled into a port in Dublin, Ireland, a country where abortion is still illegal. This documentary follows Human Life International's efforts to combat the boat's activities.
Airs 3 a.m. and 6:30 p.m. ET, Jan. 22.
Human Life International: Preserving Africa's Culture of Life: This riveting documentary considers HLI's efforts to combat the secular influence of a Western pro-birth control policy from overtaking the impoverished nations of Africa.
Airs 3 a.m. and 6:30 p.m. ET, Jan. 23.
A People of Life: A look at the pro-life movement in North America, and the Knights of Columbus' support and involvement.
Airs 10 p.m. ET, Jan. 18, 2 p.m. ET, Jan. 20, and 4 a.m. ET Jan. 23.
---
TOPICS: Constitution/Conservatism; Culture/Society; Government; Philosophy; US: District of Columbia; US: Maryland; US: Virginia
KEYWORDS: abortion; anniversary; bhoabortion; christianmedia; dc; ewtn; march; marchforlife; marchforlife2009
---
---
---
---
---
---
---
---
---
---
---
---