---
Walter Reed FReep 170 - July 18, 2008 - A Midsummer Nights FReep
July 23, 2008 | Tom the Redhunter


Posted on 07/23/2008 4:26:26 PM PDT by Tom the Redhunter

It's blazing hot in Washington DC this time of year while the sun is still up, but the sun certainly does make our MOAB look good. The soldier works at WR and was going home and stopped to talk and say Thank You. Of course, we profusely thanked him in return. Having done this for almost three years myself, I've spoken with many of the troops and one thing that's always struck me is that they want to thank us - while our intention is to thank them.
Honor Roll of Attendees Our regulars tonight were your author Tom the Redhunter, BufordP, Cindy-True-Supporter, Fraxinus, kburi, Lurker Bill, RonGKirby, Mr & Mrs Trooprally, USNRetired, 3D-Joy, and VAFlagWaver.
Special guests included Cindy-True-Supporter's Son, who is in the U.S. Army and deploys overseas soon. Mary Beth, Cindy's niece, was also present.
Linda, 3D-Joy's daughter was able to FReep with us! Thank you, Linda!
Guests also included lurkers Linda, Lee, Chris, and Deb.
Thank you to everyone who could make it!
Here area a bunch of FReepers by the main entrance to Walter Reed
Your author and BufordP holding down another corner.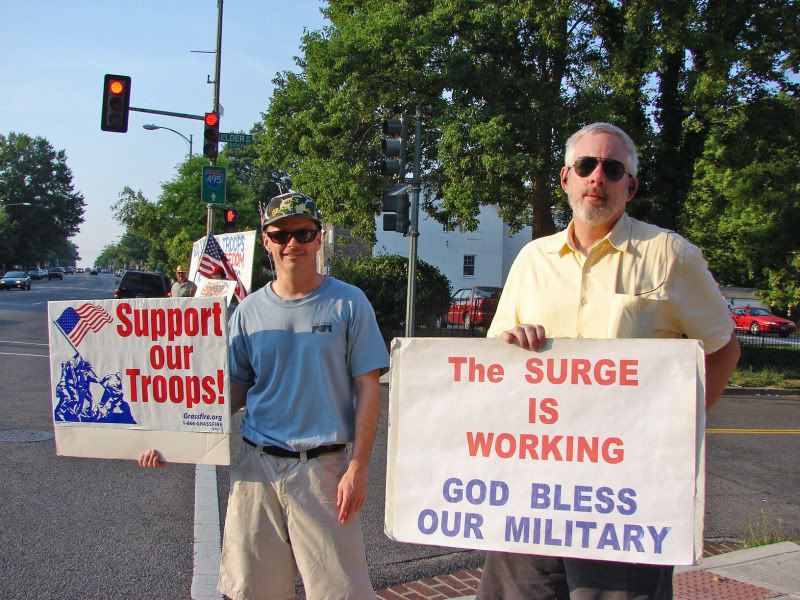 FReep 170, I can hardly believe it. While Free Republic has been doing this for over three years now, next month will make my three year mark. I'll do a special post and post some of my remembrances from those early days. For those who are not familiar, in the early months Code Pink occupied the corners at the very entrance to Walter Reed, and we had the two corners opposite them. It was a big victory when we evicted them from those corners and claimed them for our own!
The obligatory photo of the Pinkos down the street. What a sad little bunch.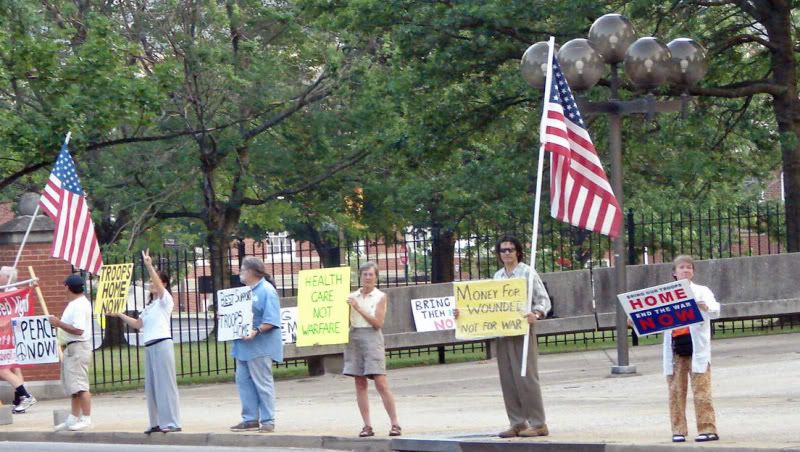 That's Kevin McCarron with the American flag. Yeah, that Kevin, the one who once held a sign that said "Maimed for a Lie". The leftists have changed their signs considerably since the early days.
Speaking of Code Pink, there's a fascinating article in the July 17 edition of Slate in which the author interviews Pinkos Gael Murphy and Medea Benjamin at the "Pink House" in Washington DC. Murphy and Benjamin basically admit that for all their theatrics they haven't been able to accomplish anything of substance.
What It's All About
Mrs Trooprally got some very good photos of the bus
---

If you can't get to D.C. to join us but would like to do something for the wounded, you can find a wealth of ideas by FReepmailing Tom the Redhunter, Cindy-True-Supporter, VAFlagwaver, or PleaDeal.

Please also FReepmail them or any of us if you would like to join us at Walter Reed and would like additional information about parking, directions, what to bring, etc.

Come join us every Friday night between the hours of 6:30pm to approx 9:30pm.

Directions to our Walter Reed freep location from the Takoma Metro station

* You can find all of Mrs. Trooprally's photos for this Freep on her Photobucket site.

* Thank you to BufordP for maintaining the BIG LIST of all Walter Reed FReeps.

* Thank you to all FReepers who transport and store our many signs and banners every week.

* Tom the Redhunter blogs at The Redhunter

---
TOPICS: Activism/Chapters
KEYWORDS: codepink; freep; walterreed
---
---
---
---
---
---
---