---
PRICELESS SAGE Continues - Westminster, MD 7-12-08, Week 29
July 18,2008


Posted on 07/18/2008 7:51:20 AM PDT by trooprally

Last time we were in Westminster a passerby couldn't let the moonbats go unopposed. He had driven by on one of his rare Saturday's off from work and was disgusted at the moonbats' signs. He went home, wrote out a quick sign and came to protest the protesters. (BELOW) is the result.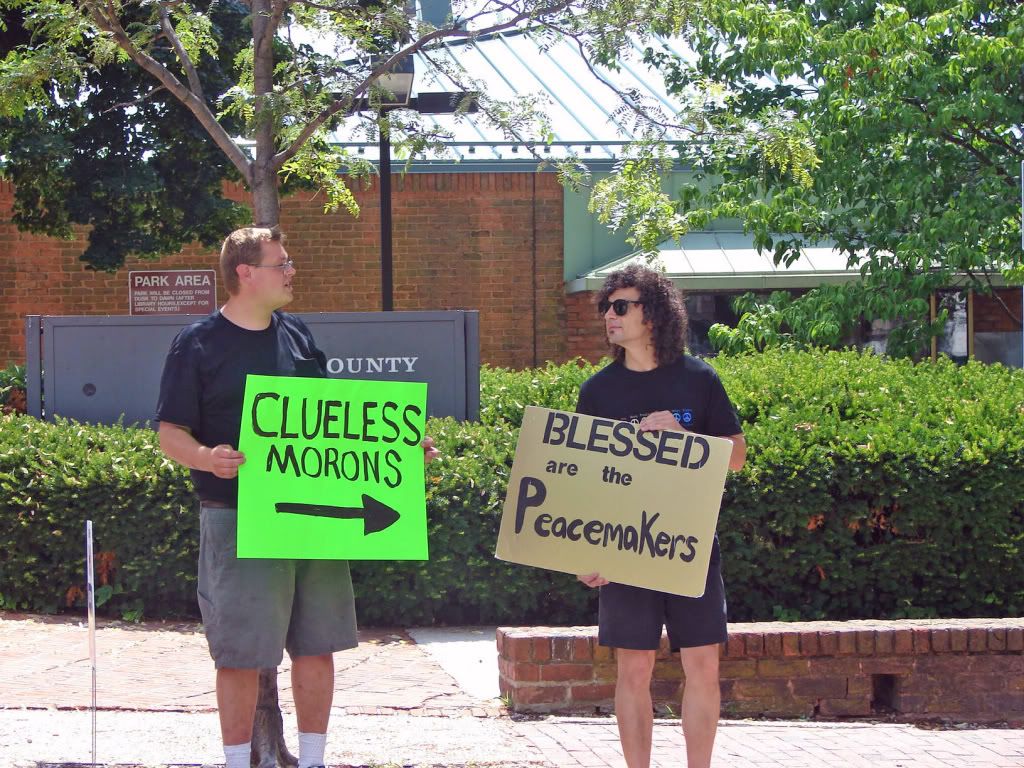 Apparently the moonbats believe that only they do not have to obey the laws. They were so upset over the "Clueless Morons" sign that they complained to the Westminster police. I can hear them whining now, "They they they werrrr on ourrrr side botherrrring us". An officer showed up about 1:30 and stayed in the area until the moonbats left and we were packing up. The officer (BELOW) was over at the moonbats side talking to "Brad", making sure that they kept 10 feet apart. I wonder when nation wide the police will investigate and arrest someone for all the vandalism to the recruiter centers and to our Veterans' Memorials.
These moonbats still carry the defiled American flag. But without us being able to verbally harass them, they are emboldened to do so.
We also found out that we are allowed to put up signs on wire stands and plant them in the planter around the trees, and lean signs against public property, so long as it does not obstruct the safe passage of pedestrians. Previously we were told that we could only HOLD signs even though the moonbats leaned their signs against the wall behind them. This will now give our side added visibility.
The Patriots that were in Westminster this Saturday were Tolerance Sucks Rocks, the "Mr" of Mr.Mrs.RedWhiteBlue, (BELOW), and myself, [Mr] Trooprally.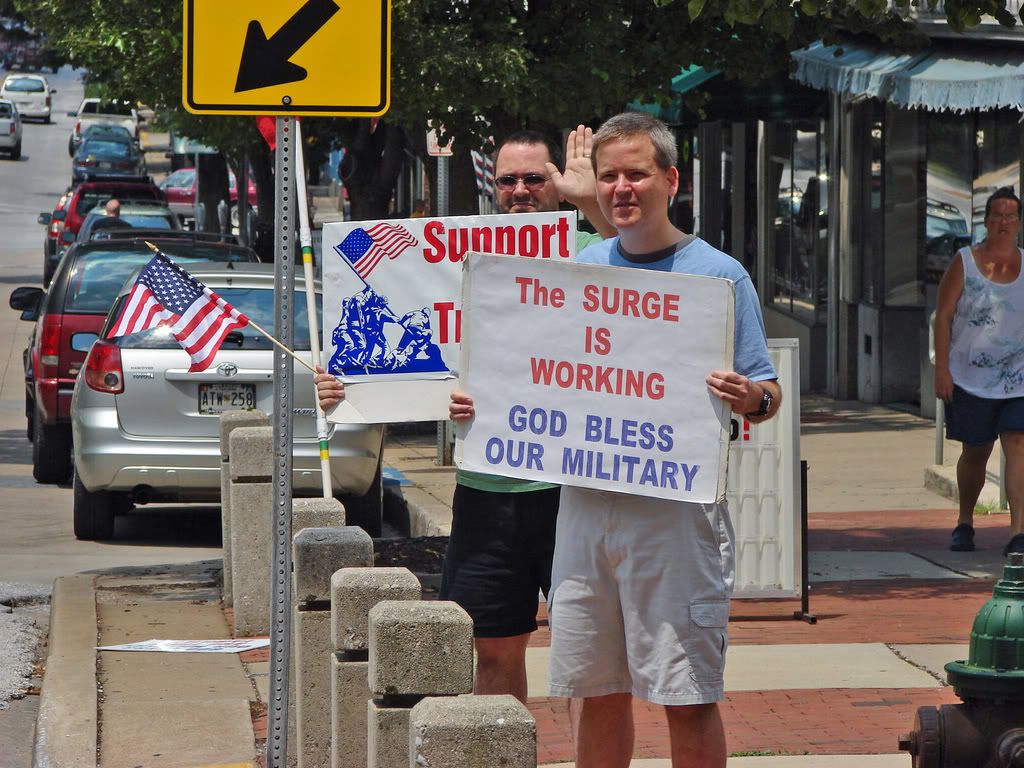 2ND AND LAST SATURDAY 1-3pm
Please join us if you can. We especially need extra boots on the corner, on the 2nd and last Saturday of each month, when we counter protest the moonbats. The Westminster Gathering/FReep is located on the east side of E. Main Street opposite the library at 50 East Main Street. There is public parking on Winters Street. Follow the signs.

---
TOPICS: Activism/Chapters; Free Republic; US: Maryland; US: Pennsylvania
KEYWORDS: anarchist; opinfinitefreep; womeninblack
---
Navigation: use the links below to view more comments.
first 1-20, 21-28 next last
---
---
---
---
---
---
---
---
---
---
---
---
---
---
---
---
---
---
---
---
---
Navigation: use the links below to view more comments.
first 1-20, 21-28 next last
---
---