---
Priceless: Week 28 - Westminster, MD 6-28-08
Posted on 06/30/2008 7:45:24 PM PDT by RockerMom2MyHero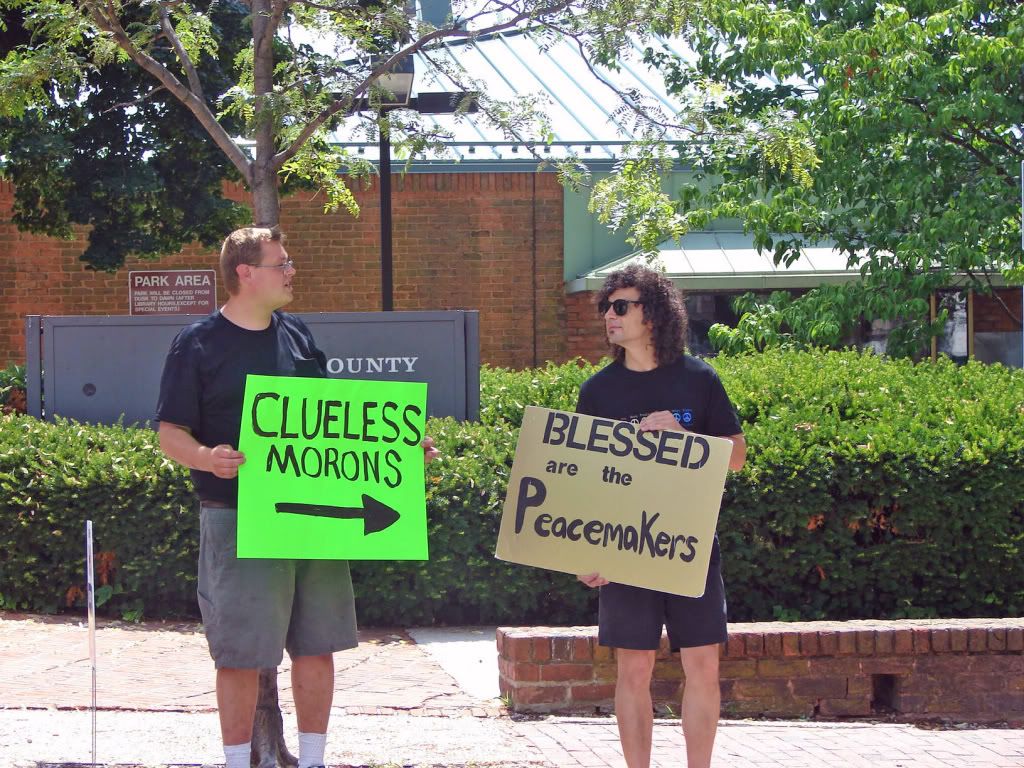 PRICELESS!!!
It was a hot and humid day with a passing shower. After dealing with the dilapidated umbrella that I gave [Mr] Trooprally for our 1st Rain FReep , he gave us big umbrellas just in case! The shower was quick and luckily not enough to even break out the umbrellas. It was, however, enough to get a rain drop on [Mrs] Trooprally's camera lens at one point. So, when you see a little spot in the middle of a few pictures, you will know the reason! Great pics courtesy of [Mrs] T.
What a day full of surprises for our Westminster FReep! Good company, lots of fun and very eventful. It was a pleasure to have [Mr] & [Mrs] T come out and bring a special FReeper, PrezUSA222. I've seen pictures and read about him in the Walter Reed AAR's, but it was an honor to stand along side this young man who has joined the Army. PrezUSA was very talkative and didn't mind engaging the moonbats! He was wise beyond his 21 years of age. It was nice to have Lurker Bill join us and although quiet, he is a good one to banter with the moonbats too. The moonbats outnumbered us in quantity, but not in spirit and energy. There were 11 to 6 of us. Donald joined us right before the moonbats showed up. Brad Brown, founder of Carroll County Progressives was back in town after a long absence. Can't say we missed him or his sign, but someone followed him around with a sign I'm sure he didn't like, as you can see in the right hand picture up above!
BELOW LEFT: RockerMom2MyHero (Me) unfurling USA flag
BELOW RIGHT: PrezUSA222's 1st Westminster FReep/Rally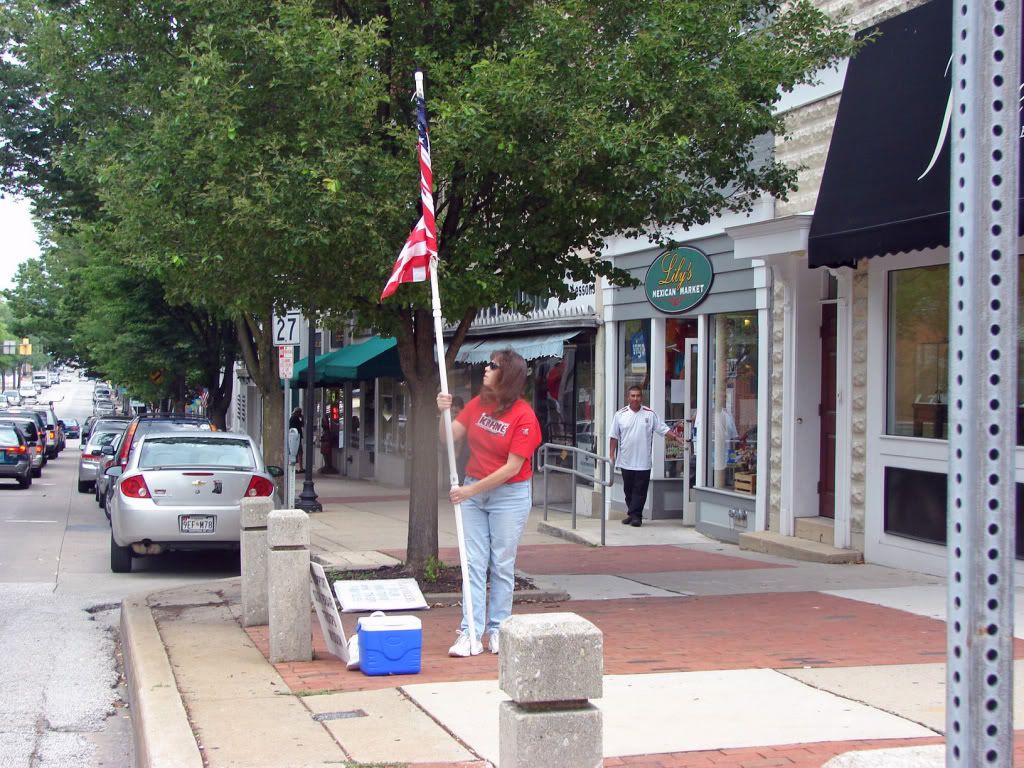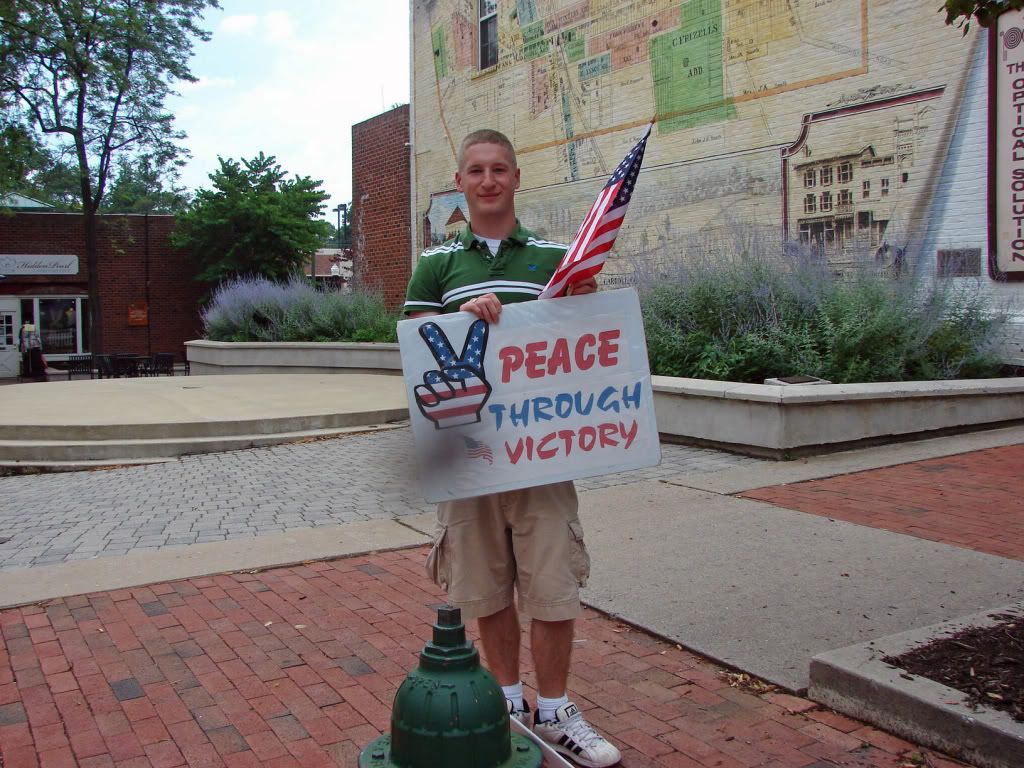 BELOW LEFT: [Mr] T
BELOW RIGHT: Lurker Bill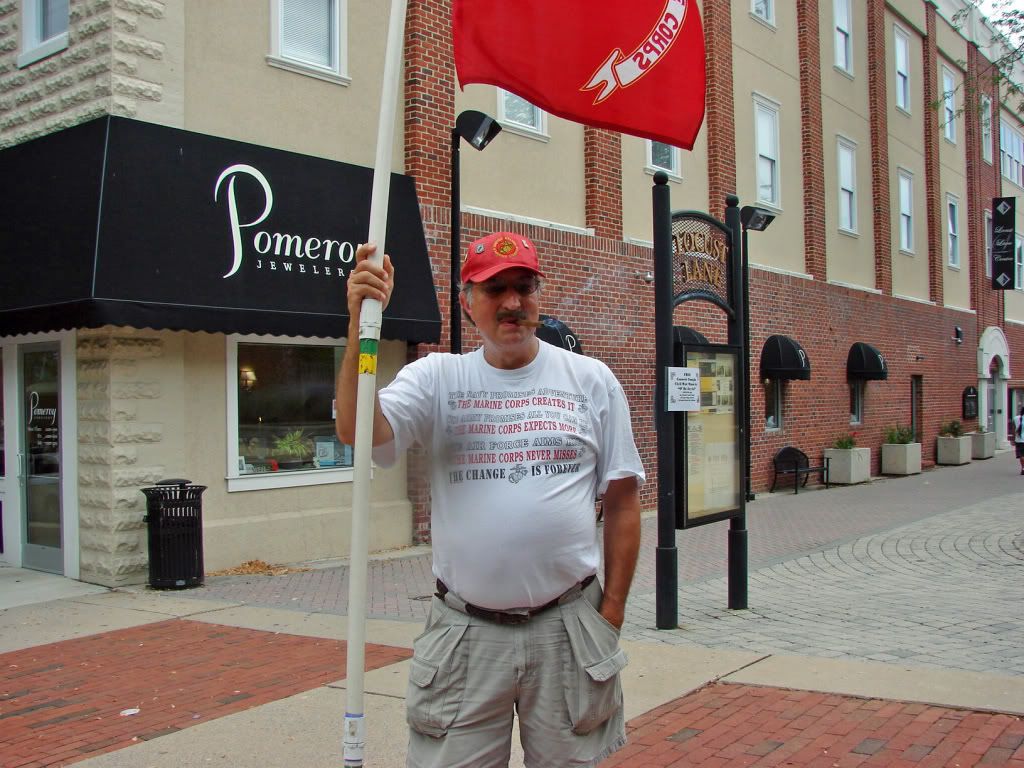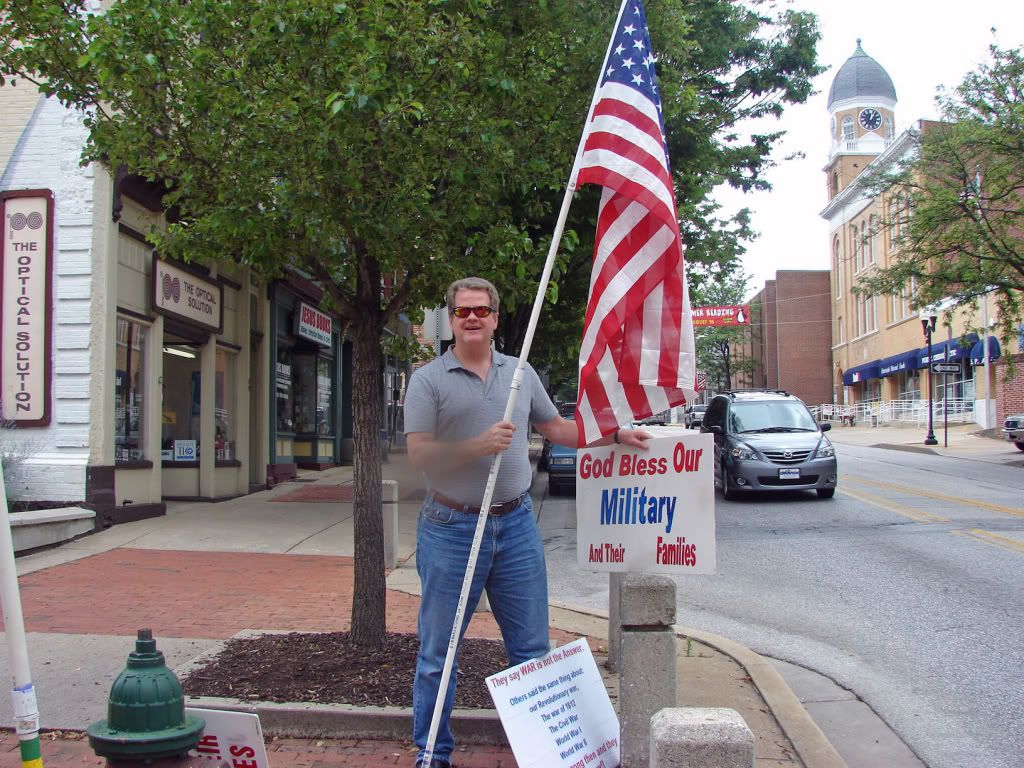 BELOW LEFT: PrezUSA, RockerMom and Donald
BELOW RIGHT: Rain drop on PrezUSA and RockerMom!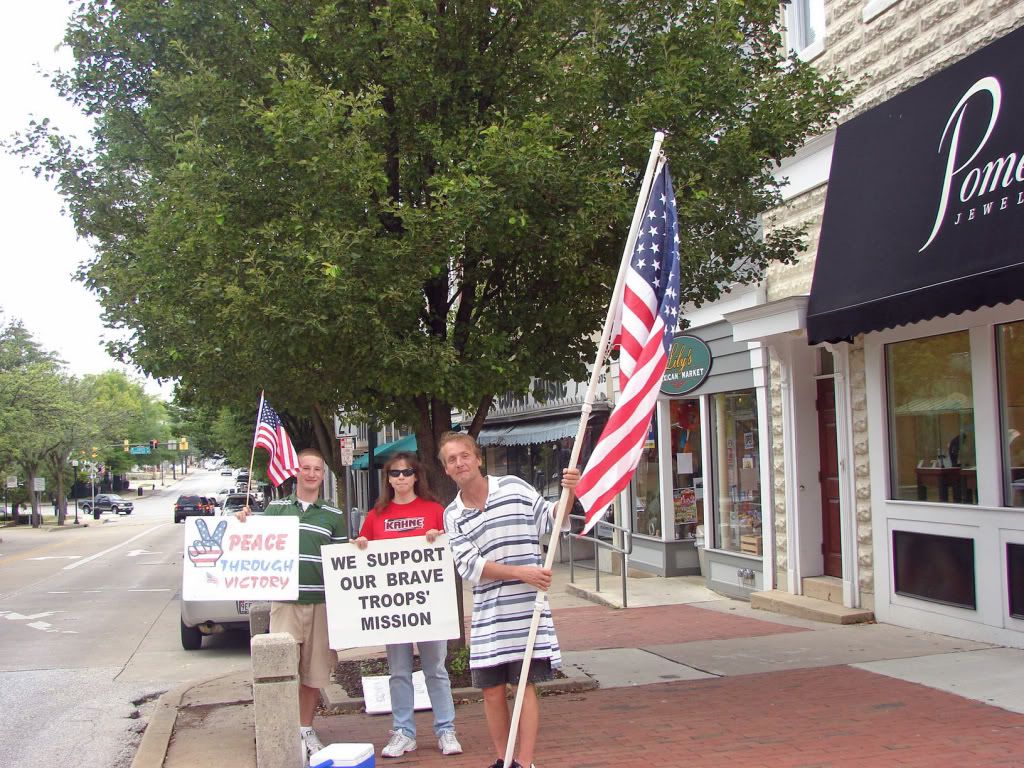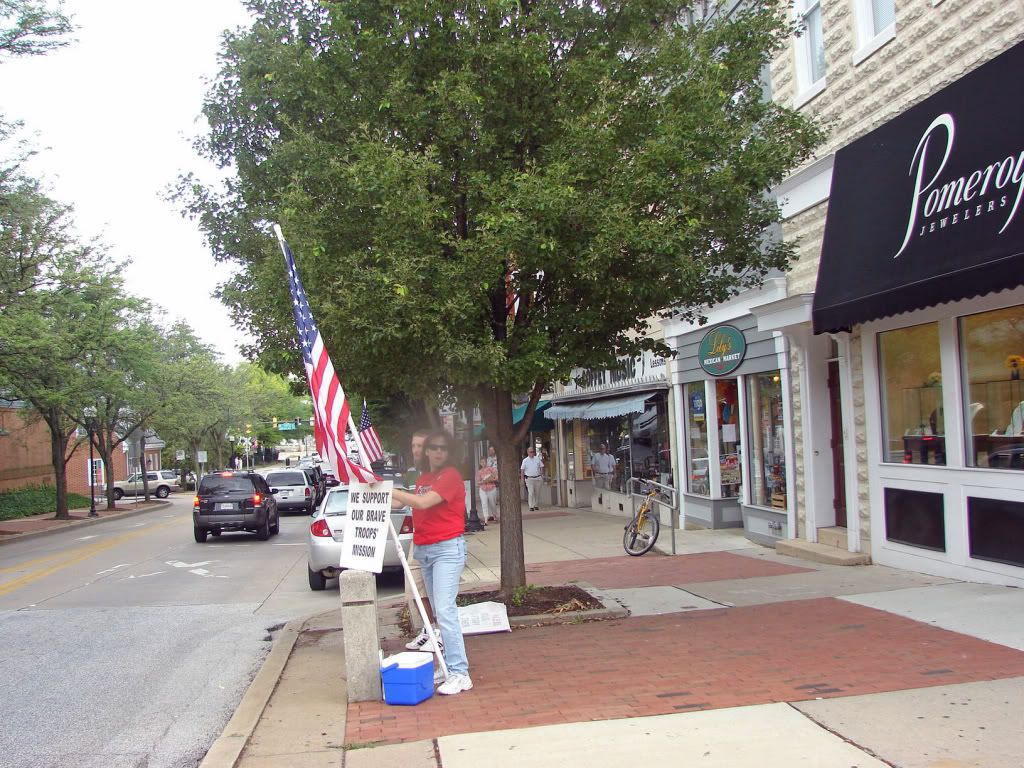 We received our usually generous amount of beeps, waves and thumbs up. It was uplifting to see the GoArmy.com car go by with soldiers dressed in their Army fatigues. They showed their appreciation once by shouting "HOO AHH" and then beeping and waving the 2nd time by. It was equally uplifting to see a Marine car drive by as the Marine shouted "SEMPER FI". A sailor dressed in uniform came up to each of us to say thank you and shook our hands. I've said it before, but these are the special moments that make our FReeps worthwhile. The brave heroes that we support letting us know how much they appreciate us being there.
It's also heartwarming when a family member comes up to thank us and share their story, as one lady did. Her niece served in Kuwait. It was naturally difficult for her to share her story, but we heard the love and pride she had for her niece as she told us how many people's lives she had touched. We expressed our gratitude and some kind words. An Army Vet dropped by and come to find out, he had joined us for our very first FReep/Rally back in October of 2007. We all thanked him for his service, shook hands and he might join us sometime. A big highlight of the day was the swarm of bikers riding through Westminster as we waved to all of them and they waved back. What a roar this big pack of awesome bikes made, especially when a few of them revved their engines! Very cool!
Onto the "Priceless" portion! This particular guy came up to PrezUSA and me and thanked us for being there. He heard our bantering and told us that we should just tone it down and not waste our time with the moonbats. Well, now we know why he wanted us to tone it down. He wanted to save some of the bantering for himself! He had walked off and then came back carrying a neon green sign rolled up. He walked over to the other side and unrolled his sign. No photo shopping necessary for these pictures! This is the funniest, most entertaining thing we have seen in all of our Westminster FReeps/Rallies! Clueless Morons = Priceless!!! After a little while, the guy and the the moonbats were getting a little heated but then the guy walked across to our side as we talked to him and thanked him for giving us some laughs! It was time for us to wrap it up for the day. A fun, eventful and great FReep/Rally!
BELOW: Moonbats setting up




BELOW LEFT: Brad Brown, hiding behind sign with 2 other moonbats
BELOW RIGHT: Brad comes out of hiding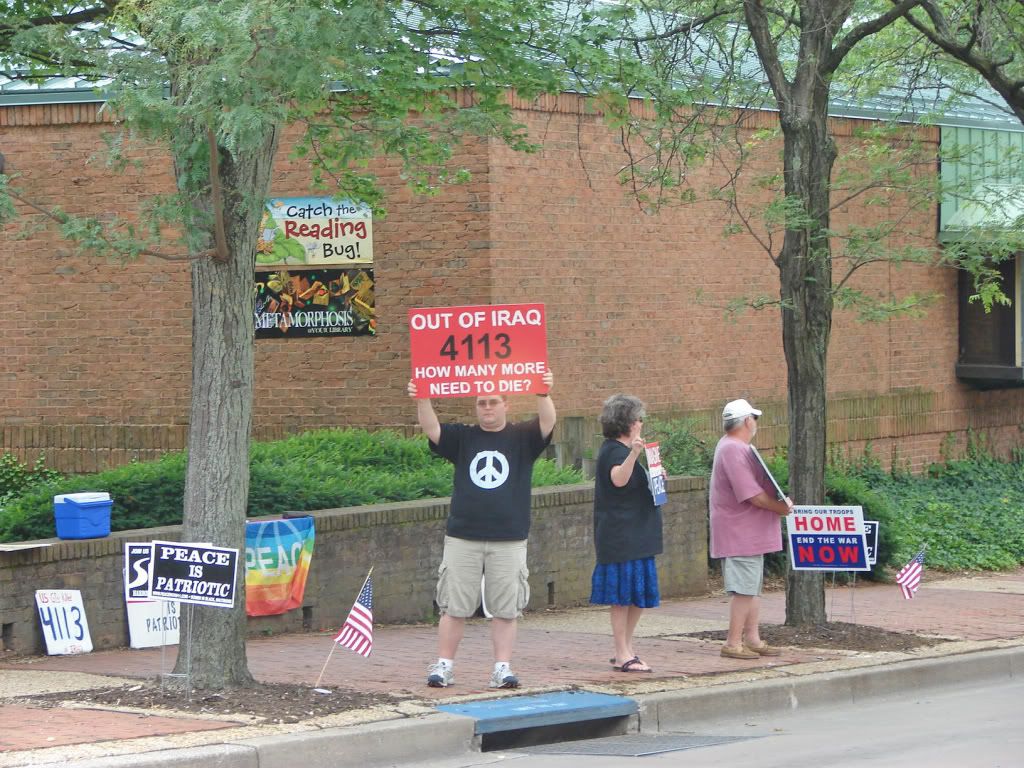 BELOW LEFT: V for Victory!
BELOW RIGHT: Many moonbats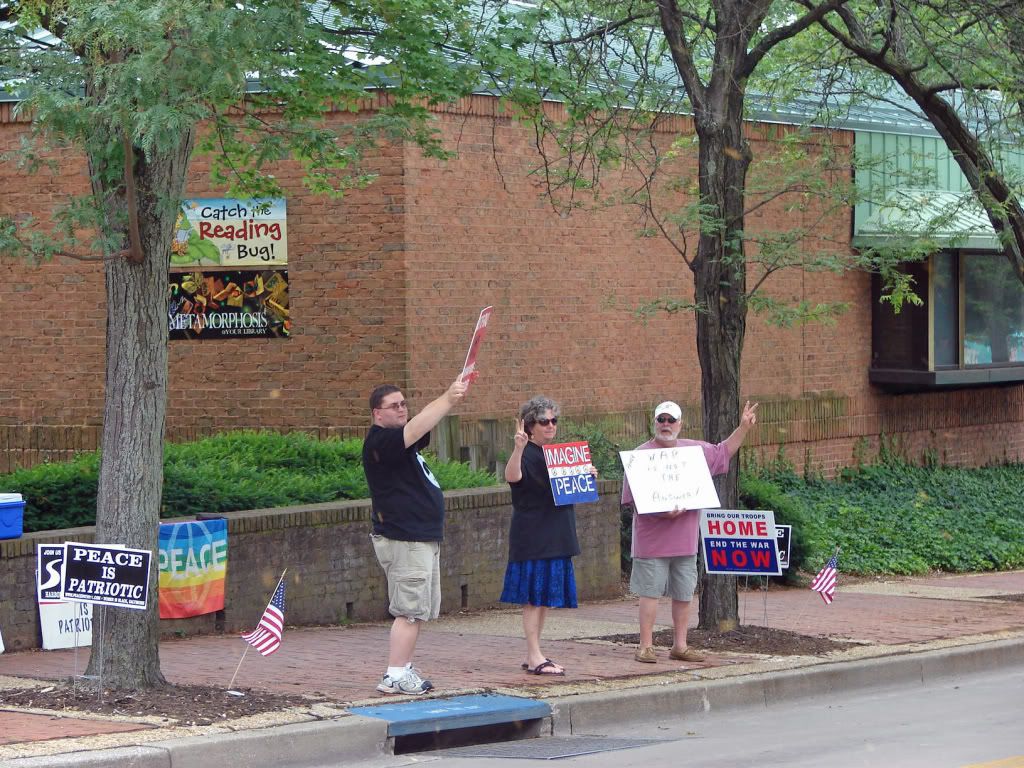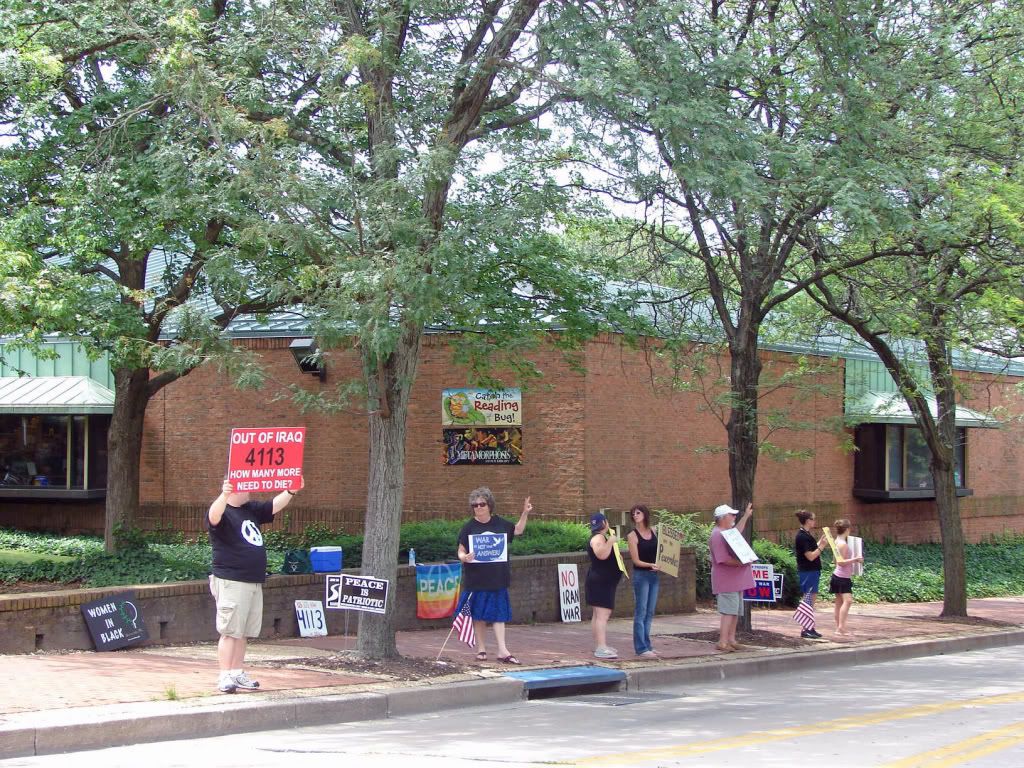 BELOW: Clueless Morons = Priceless!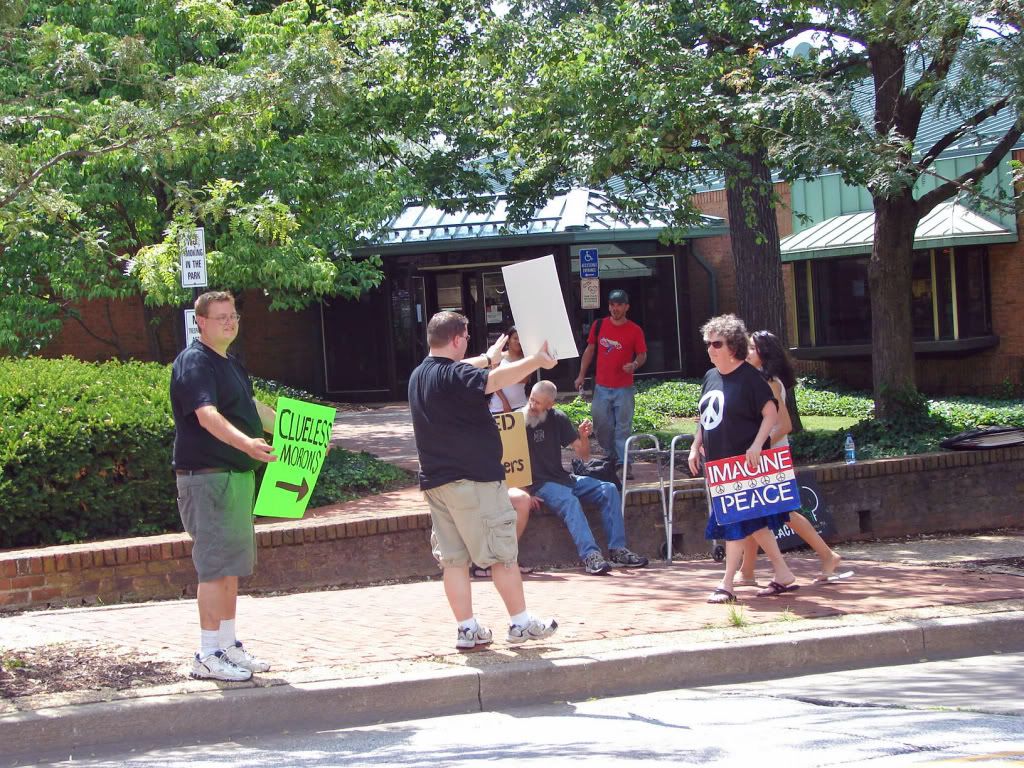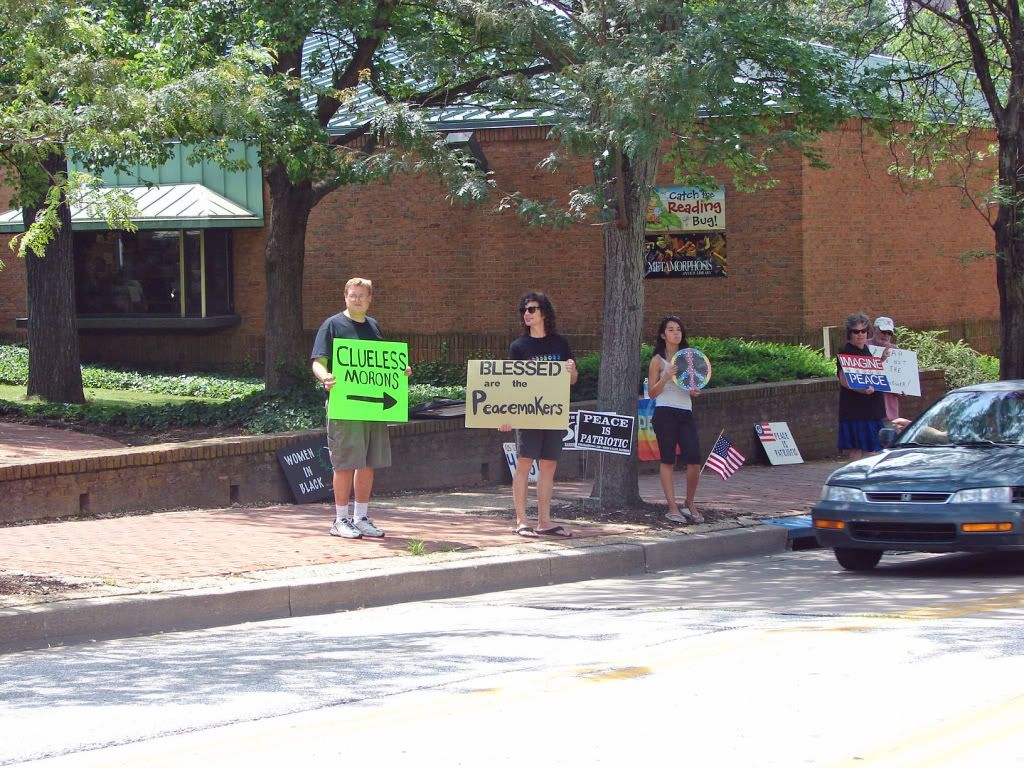 2ND AND LAST SATURDAY 1-3pm
Please join us if you can. We especially need extra boots on the corner, on the 2nd and last Saturday of each month, when we counter protest the moonbats. Due to prior plans, we will not be in Westminster on July 12th but will return on July 26th. Have a safe and Happy 4th of July! The Westminster Gathering/FReep is located on the east side of E. Main Street opposite the library at 50 East Main Street. There is public parking on Winters Street. Follow the signs.

---
TOPICS: Activism/Chapters; US: Maryland
KEYWORDS: aar; maryland; rally; westminster
---
Navigation: use the links below to view more comments.
first 1-20, 21-24 next last
---
---
---
---
---
---
---
---
---
---
Comment #10 Removed by Moderator
---
---
---
---
---
---
---
---
---
Comment #19 Removed by Moderator
---
---
Navigation: use the links below to view more comments.
first 1-20, 21-24 next last
---
---