---
GOTTA SEE THIS-War4Endur.Freedom 6/14/7-Iraq,Gaza,Jenin,Nablus,Ramallah
NASA, DOD, EPA, Yahoo, AP, AFP, Reuters, and the usual suspects, and many brave photographers | 6/14/07 | The Armies of Good against the Axis of Evil


Posted on 06/14/2007 7:30:13 AM PDT by Diogenesis

GOTTA SEE THIS - War for Enduring Freedom 6/14/07 - Iraq, Gaza City, Jenin, Nablus, Ramallah
HAPPY FLAG DAY
BREAKING: Iraq - American heroes continue to tirelessly Defend the Free world from terrorists

BREAKING: Gaza City - Staged violence? Teams of terrorists appear to feign a 'civil war' to get new arms and money

BREAKING: Jenin - Hamas (Terrorist red team) tags the Fatah team (Terrorist blue team)

BREAKING: Ramallah - Hamas acquires the weapons from Fatah. Fatah wants new weapons. SSDD.

---
QFN ==== YE OLDE QUAGMIRE-FREE NEWS
---
Exclusive to FReerepublic
PICTURES YOU WILL NOT SEE IN THE MAINSTREAM MEDIA

---
THE GOOD .....
========= Persian Gulf =========
U.S. Navy Petty Officer 2nd Class Daniel Porter checks an AIM-9 Sidewinder missile
on an F/A-18C Hornet aircraft aboard the aircraft carrier USS John C. Stennis (CVN 74).

Click for full size
---
========= Mahmudiyah, Iraq =========
U.S. Army Spcs. Lisa Dueker (left) and Cecilia Morales provide medical aid
to an Iraqi soldier wounded by gunshot.

Click for full size
---
Army 1st Lt. Britt Cleveland (left) radios details on the discovery
of improvised explosive devices.

Click for full size
---
...... THE BAD and THE UGLY.
Today's proposed Discussion: Are Terrorists fungible?
Hamas (red team) = Fatah (blue team) = Hezbollah (green team) = variant A = variant B = Islamofascist Terrorists
========= Nablus =========
BEHIND ENEMY LINES
In Nablus, northern West Bank, Arafat's Fatah terrorists
appear to grab employees working at the Hamas-run TV production offices.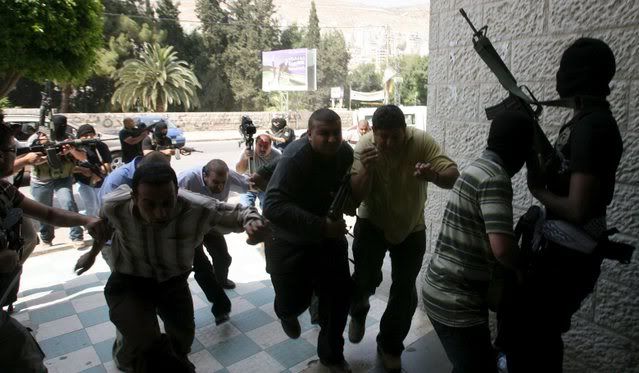 ---
========= Jenin =========
BEHIND ENEMY LINES
In Jenin, West Bank, Fatah terrorists plan, enter, then burn Hamas' HQ.
---
========= Gaza City =========
Civil War in 'Palestine'? or something else? Look at the pics, and post what you think.
In Gaza City, Fatah terrorists (blue team) and Hamas terrorists (red team)
dress up in clean clothes, Wednesday, June 13, 2007, for their 'civil war'.
Is it even a real war? Their clothes stay pristine and clean, and too many of the pics
seem staged to only transfer weapons and money from blue team to red team
so that the stupid suckers in the State Dept, EU and UN will supply
the blue team with even more weapons and money.
BEHIND ENEMY LINES
Red team - Hamas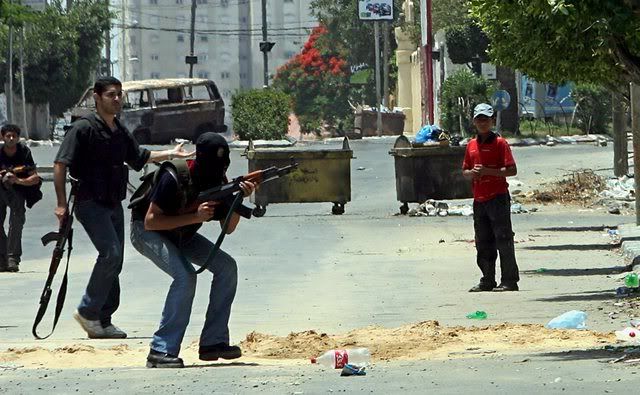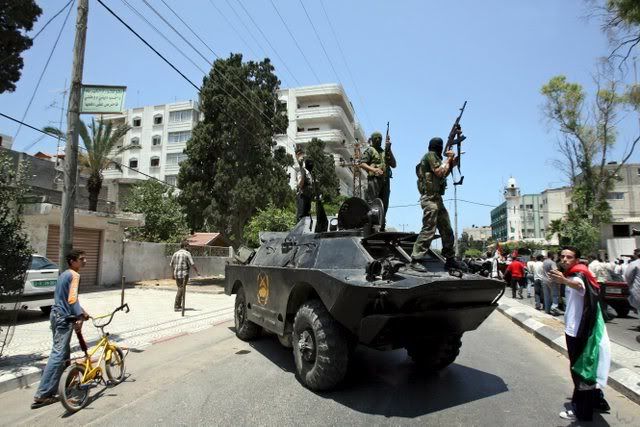 ---
BEHIND ENEMY LINES
Blue team, Fatah terrorists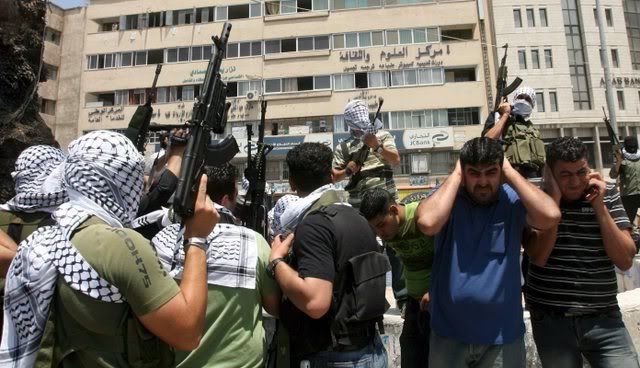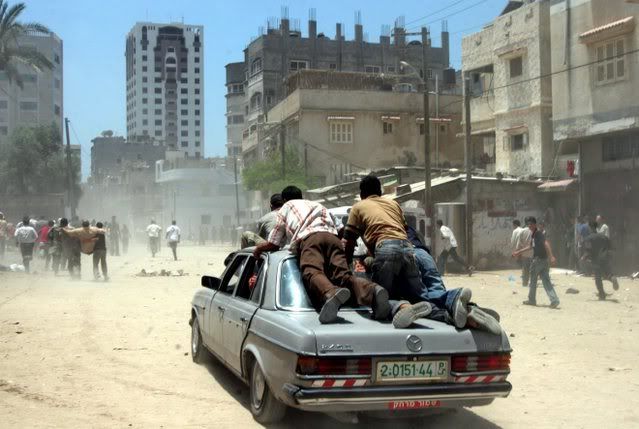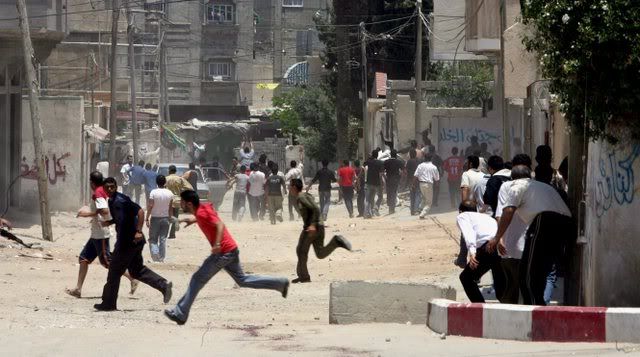 ---
========= southern Gaza =========
BEHIND ENEMY LINES
In southern Gaza, Hamas terrorists (red team) call the Press
before they prepare to 'take' Abbas' HQ and blow some rooms up.

Again, is it even a real war? How do their clothes stay clean when there is purportedly no running water?
or has Hamas invested in free dry-cleaning & laundramats all across Gaza?
---
After Hamas seized it.
---
In southern Gaza, Hamas militants seize vehicles and weapons.
---
========= northern Gaza =========
BEHIND ENEMY LINES
Hamas terrorists stand guard at their security headquarters in the northern Gaza strip, 13 June 2007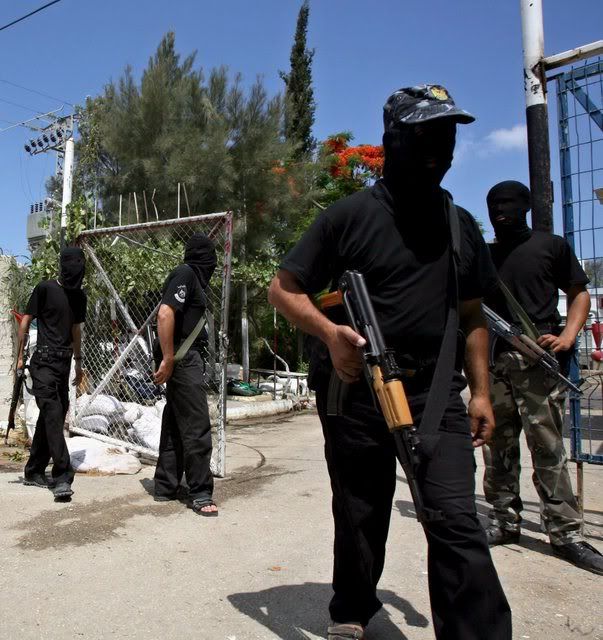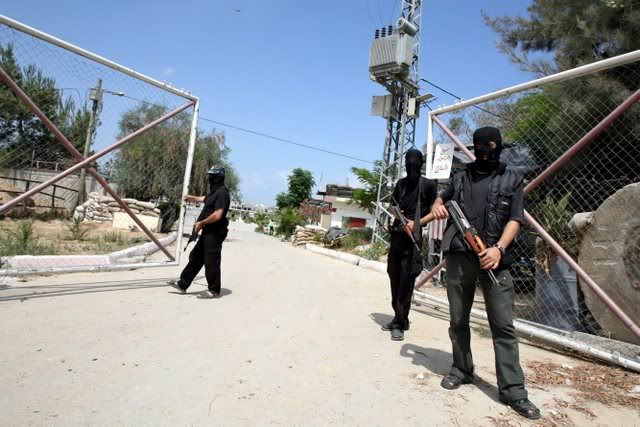 ---
========= Ramallah =========
BEHIND ENEMY LINES
In Ramallah, at the Palestinian Authority headquarters in the West Bank city June 13, 2007.
Do they look like they are having a real war?
---
========= vdB 152: Reflection Nebula in Cepheus =========
"Ghost in the machine"? "dusty curtain"?
nebula vdB 152 is very faint, 1400 light-years away, along the northern Milky Way..
---
Not for commercial use. Solely to be used for the educational purposes of research and open discussion.
-----------------------
Today is Flag Day.
Our FRiend 68-69TonkinGulfYachtClub has died this week .
If you have time, go to www.militaryphotos.net and check out lancero's threads
His updates on the Red team-blue team mayhem is at http://www.militaryphotos.net/forums/showthread.php?t=114169
More time? Then go to (Threat Matrix) where Cindy tirelessly toils.

Spend a few hours today helping for success in the War for Enduring Freedom.
and protecting the border of the American heartland.
Support the Troops.
If you find a mistake in the thread, post your thought, analysis, and correction.
Stay safe, FRiends.
---
END OF TRANSMISSION 6/14/07
.......... K

---
TOPICS: Breaking News; Foreign Affairs; Israel; News/Current Events
KEYWORDS: gazacity; imlonelyforattention; jenin; nablus; ramallah
---
Navigation: use the links below to view more comments.
first 1-20, 21-36 next last
---
---
---
---
---
---
---
---
---
---
---
---
---
---
---
---
---
---
Comment #18 Removed by Moderator
---
---
---
Navigation: use the links below to view more comments.
first 1-20, 21-36 next last
---
---