---
Anti-war Protesters Fail to Materialize at Walter Reed
3/16/2007 | PleaDeal


Posted on 03/15/2007 9:58:27 PM PDT by PleaDeal

Moonbats Get Stuck in Mud, Fail to Show for Protest!

At least that's one excuse. We don't really know what happened, but the anarchists and spoiled brats from the Encampment to Stop the War steered clear of Walter Reed today.

We declared Victory! around 5pm and packed up our flags and signs... then it started to rain ... and the "Encampment" inhabitants most certainly were not happy campers. HAHAHAHAHAHAHAHA!

Actually, these cheapskates were trying to get in out of the rain by getting arrested rather than pay for a hotel room. *sigh*

Cindy-True-Supporter and Mike Sparling made several reconnaissance missions around the base to see if the kommie kooks were protesting on the 16th Street entrance. Nobody there. (If anyone saw a moonbat, please expand on the experience in the comments.)

Here's some pics of out-of-town FReepers who arrived early enough to join in the fun today.

eeevil conservative up from Georgia and iMacMan manning a corner.
Check out eeevil's radio show on AM920 WGKA every Saturday at 2pm. Also available on the web!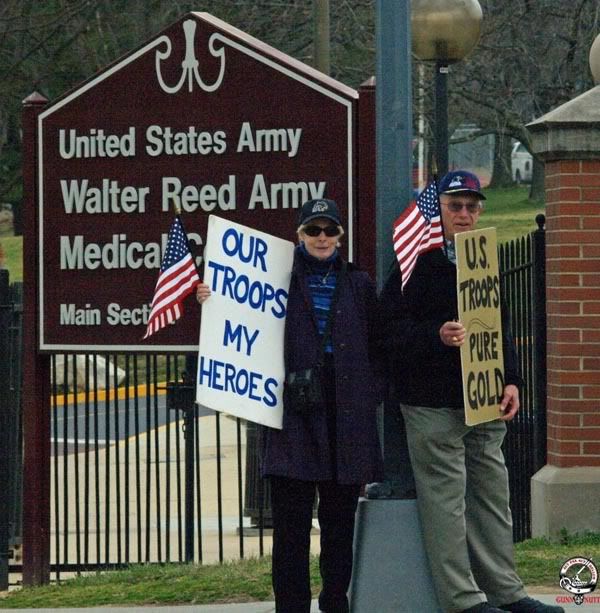 Necawa and Lurker Elizabeth* down from Jersey. They planned to spend the whole weekend here for the festivities on the Mall, but when they heard about today's FReep, they came flying down (in their car!).


leolf and Dad up from Texas being greeted by tgslTakoma.
Thanks to the quick-thinking and tireless FReeping of tgslTakoma, we had the permit for the usual Pinko area and kept it occupied all afternoon.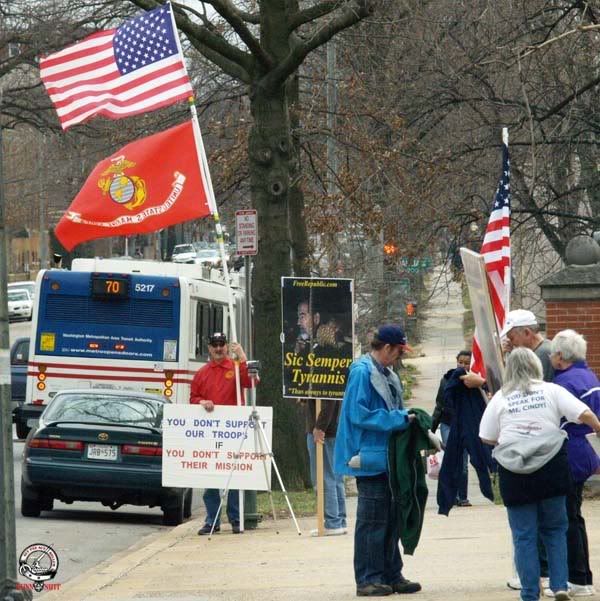 All Your Corners AND Alcoves are Belong To US!
There are a few more pics here.
The whole list of FReepers & FRiends in attendance (If I missed anyone - please let me know!): BillF, BufordP, Cindy-True-Supporter, eeevil conservative, Danang68, George & Ethel*, GunsAreOK, iMacMan, iraqikurd, leolf and Dad* up from Texas, Necawa and Mrs. Necawa down from Jersey*, PleaDeal, Sensei Ern, Taco Mamma, tgslTakoma, Trooprally [Mr. & Mrs.], WO4Man.
We'll be back at Walter Reed tomorrow night, March 16th, from 6:00 (new time!) until at least 9:30 at the intersection of Georgia Avenue and Elder Street, NW in Washington, D.C.
If you are in town for the Gathering of Eagles on Saturday, why not start your counter-protesting with us!

---
TOPICS: Activism/Chapters; Foreign Affairs; US: District of Columbia; War on Terror
KEYWORDS: antiwar; codepink; protest; walterreed
---
Navigation: use the links below to view more comments.
first 1-20, 21-40, 41-60, 61-80, 81 next last
---
---
---
---
---
---
---
---
---
---
---
---
---
---
---
---
---
---
---
---
---
Navigation: use the links below to view more comments.
first 1-20, 21-40, 41-60, 61-80, 81 next last
---
---