---
Iraq Survey Group Takes Washington, D.C. by Storm [FReeper Kristinn Leads the Charge!]
Move America Forward & Free Republic ^ | 11/17/2006 | Kristinn Taylor


Posted on 11/17/2006 10:31:04 AM PST by Impeach98

Kristinn Taylor's Iraq Report - On the Homefront

Kristinn Taylor Meeting Iraqi Kurdistan President, Massoud Barzani
Four of the Gold Star parents who went on our trip to Iraq came to Washington, D.C. to report to Congress and the media what we all learned on the trip.
Debra Argel Bastian, John Holley, Joe and Jan Johnson, Move America Forward's John Ubaldi (veteran of Operation Iraqi Freedom & Operation Enduring Freedom) and myself held a press conference yesterday morning where we were joined by John Holley's congressman, Rep. Duncan Hunter, the Chairman of the House Armed Services Committee.

Congressman Duncan Hunter, Chairman, Armed Services Committee
Surprisingly, the press conference was well attended by the media. There was a good mix of domestic and foreign news outlets there. We spoke for almost an hour and then conducted individual interviews. If you see any reports on the press conference let us know, we've so far seen this report in the San Diego Union Tribune -- (John Holley's hometown paper.)
After the press conference we piled into a couple taxis and headed off to the studio of G. Gordon Liddy for an interview on his radio show.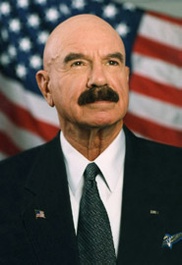 G. Gordon Liddy
Debra Argel Bastian, John Holley and Joe Johnson sat around a table with the G-Man for a live interview that aired in the first half of the noon hour eastern time. Gordon Liddy and his staff made us feel right at home. We might be able to get the interview up online in an MP3 format. After that, it was off to Capitol Hill for meetings.
First up was a briefing with Sen. Harry Reid's national security aide.
We spent a good half hour with her telling her about our observations on the situation in Iraq and the families' concerns that their sons' sacrifices, and those of the Iraqis would be squandered by a premature withdrawal of U.S. forces from Iraq. The aide to Sen. Reid gave us a respectful hearing and accepted a copy of the families' report. She sacrificed her lunch hour to accomodate our schedule, which we greatly appreciate.
Then we were off to the other side of the Hill to the House of Representatives where we met first with Rep. Phil Gingrey, the congressmen for the Johnson's Georgia district.

Congressman Phil Gingrey
Rep. Gingrey and the Johnsons know each other well. We spent about twenty minutes briefing him on our trip and findings.

Congressman Steve King
Our next meeting was with Rep. Steve King of Iowa. Rep. King has been a strong supporter of Operation Iraqi Freedom and his support has not wavered--he understands that victory is not an option, it's the only way to prevail in the Global War on Terror. Rep. King spent a good hour listening to the families and asking them questions about the trip and their thoughts on Iraq. He even put off a phone call from N.Y. Gov. Pataki to spend more time with us.
We then went to Rep. Duncan Hunter's office where he invited us to an early dinner at the Capitol Hill Club where we were joined by Rep. Billbray, also from California.

Congressman Brian Bilbray
It was a welcome respite as we had been on the go since morning and had to skip lunch to keep to our scheduled meetings on the Hill. The day was capped off with a trip to the Warner Theater to see a special one-night-only performance by Rush Limbaugh. Rush's affiliate in Washington, WMAL-AM 630, gave the four Gold Star parents complimentary orchestra seats for the show. It was a great way to finish the day. Rush spoke about his visit earlier in the day to Walter Reed Army Medical Center and the Fisher House there.

Radio Talk Show Giant, Rush Limbaugh
He was deeply impressed by the high morale and dedication to the mission of the recuperating soldiers. The two hour show ended at 10 p.m. and the families went back to their hotel to rest up for today's business. Rep. Hunter invited them for breakfast and a private tour of the Capitol this morning.

Radio Talk Show Host, Jim Bohannon
Tonight, the Gold Star parents are scheduled to be live in studio on the Jim Bohannon radio show at 10 p.m. Eastern time. They should be on for the full hour. I'd like to once again thank all those who contributed to the Iraq trip. We're working hard to report back to the American people what we saw and learned over there.
More later.....

---
TOPICS: Activism/Chapters; Free Republic; News/Current Events; War on Terror
KEYWORDS: goldstarfamilies; iraq; kristinn; pressconference
---
Navigation: use the links below to view more comments.
first 1-20, 21-40, 41-60, 61-80, 81-93 next last
---
---
---
---
---
---
---
---
---
---
---
---
---
---
---
---
---
---
Comment #18 Removed by Moderator
---
---
---
Navigation: use the links below to view more comments.
first 1-20, 21-40, 41-60, 61-80, 81-93 next last
---
---