---
WEEK 18 - Olney, MD., 4-29-06: Operation Infinite FReep, PEACENIKS GET VIOLENT!!
May 02,2006 | Trooprally


Posted on 05/02/2006 7:10:55 AM PDT by trooprally

This Saturday's FReep started off slow, even with MOAB2, tgslTakoma's new creation. Two weeks after MOAB2 was born, it was a 3Fer (See Post 1). Then Iraqikurd and his friend Samir, a Kurd from Azerbaijan showed up. We were now out numbered by only 3, at 9 to 6.

Pics are by [Mrs] T and pics of the jogger across the street were enlarged by iMacMan.

BELOW: LEFT: Lurker Bill & [Mr] T setting up MOAB2. RIGHT: Samir, Iraqikurd, [Mr] T, Cindy_True_Supporter, Lurker Bill at far right.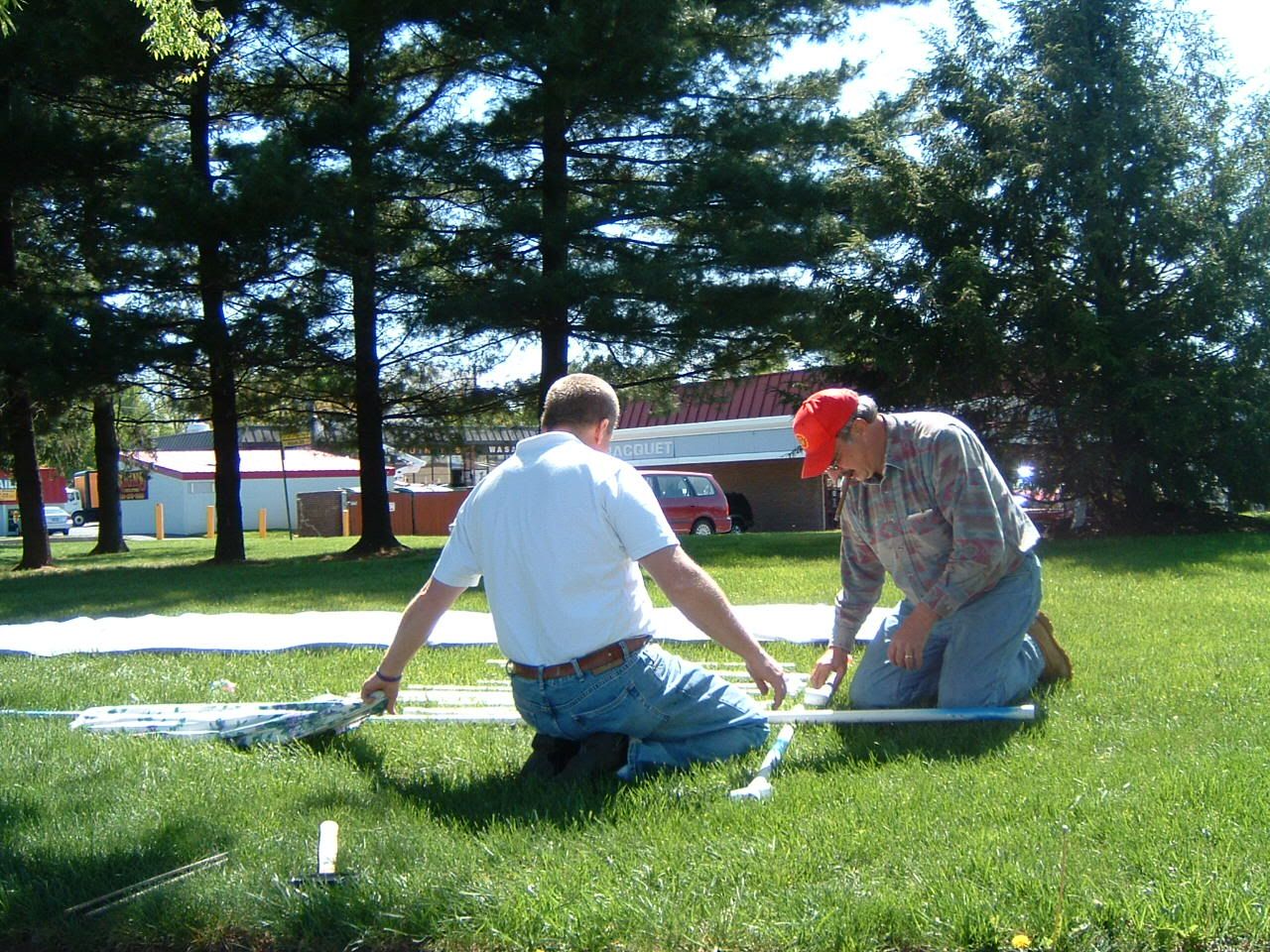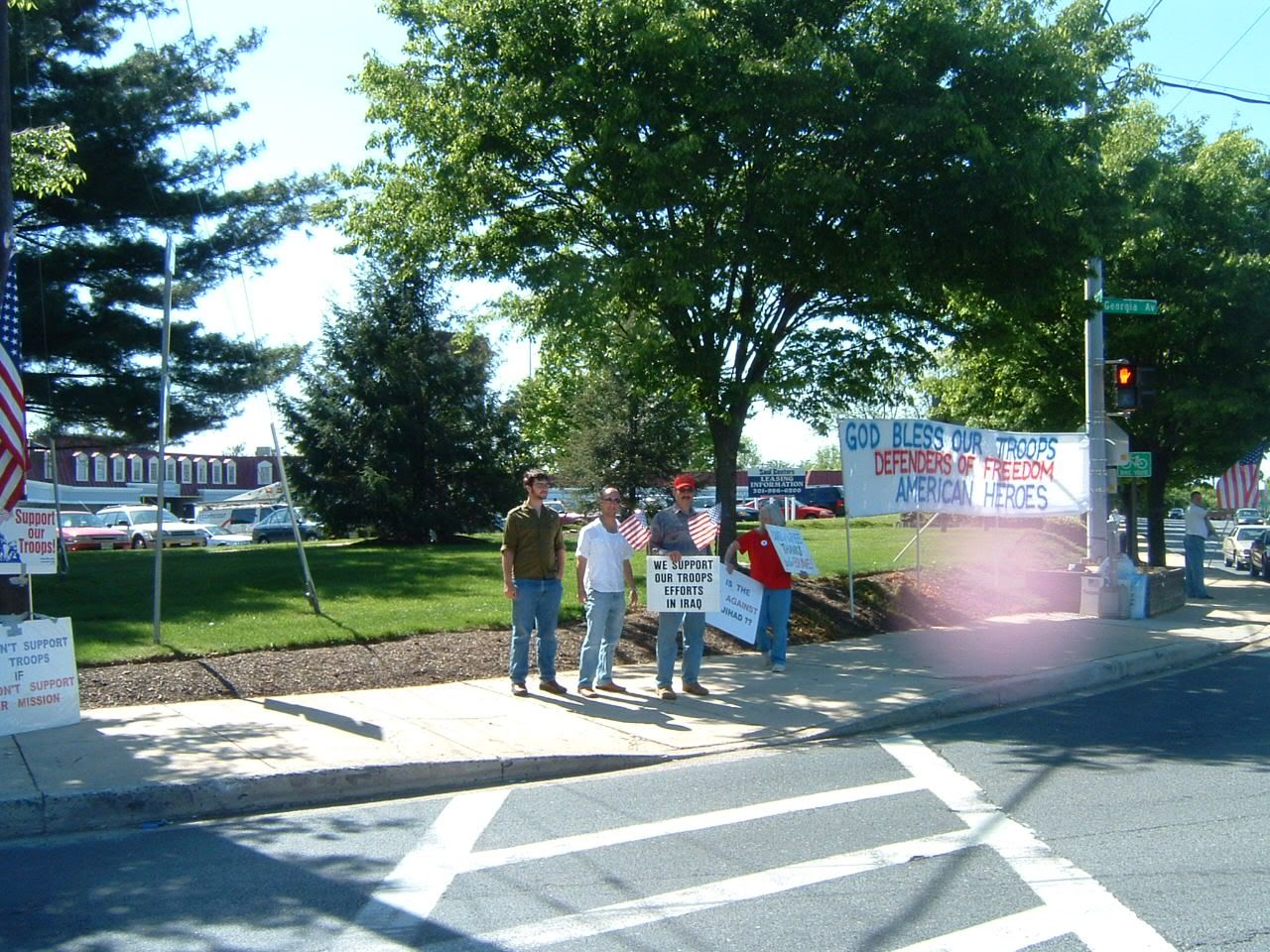 Besides those two, our ranks included regulars Cindy_True_Supporter, Lurker Bill, [Mrs] Trooprally and myself. The moonbats had 9 for only a half hour. Their side came and went at various times. The last three left at 4:30 when we finally called Iraqikurd and Samir back to our side. As long as they were verbally engaging the moonbats they would not leave.
BELOW:
LEFT:Cindy_True_Supporter
RIGHT: Lurker Bill
BOTTOM: [Mr] Trooprally. I had to stop right turning traffic so the family could cross. The cars just zip by, looking for cars to their left, but not crossing pedestrians in the crosswalk.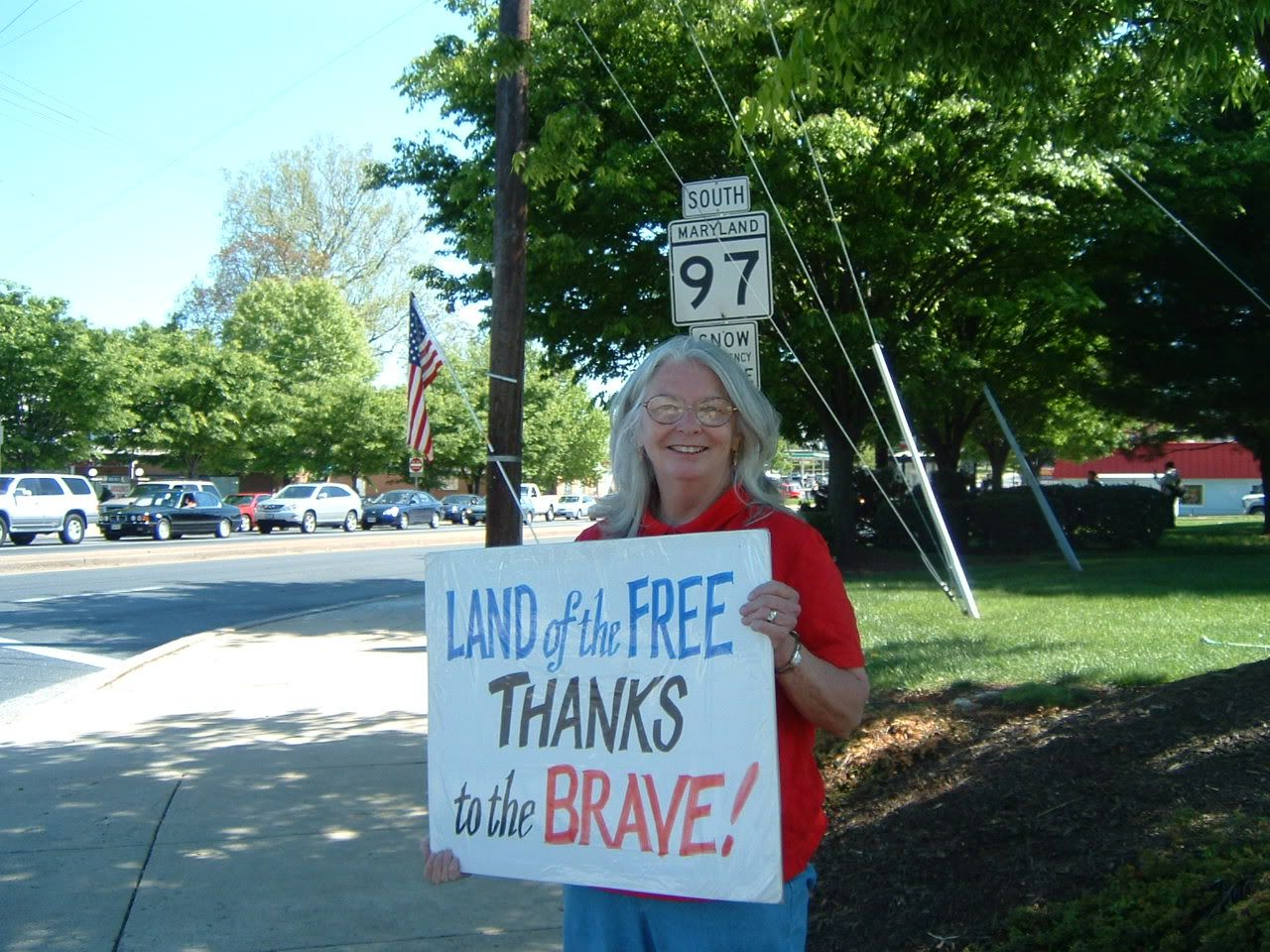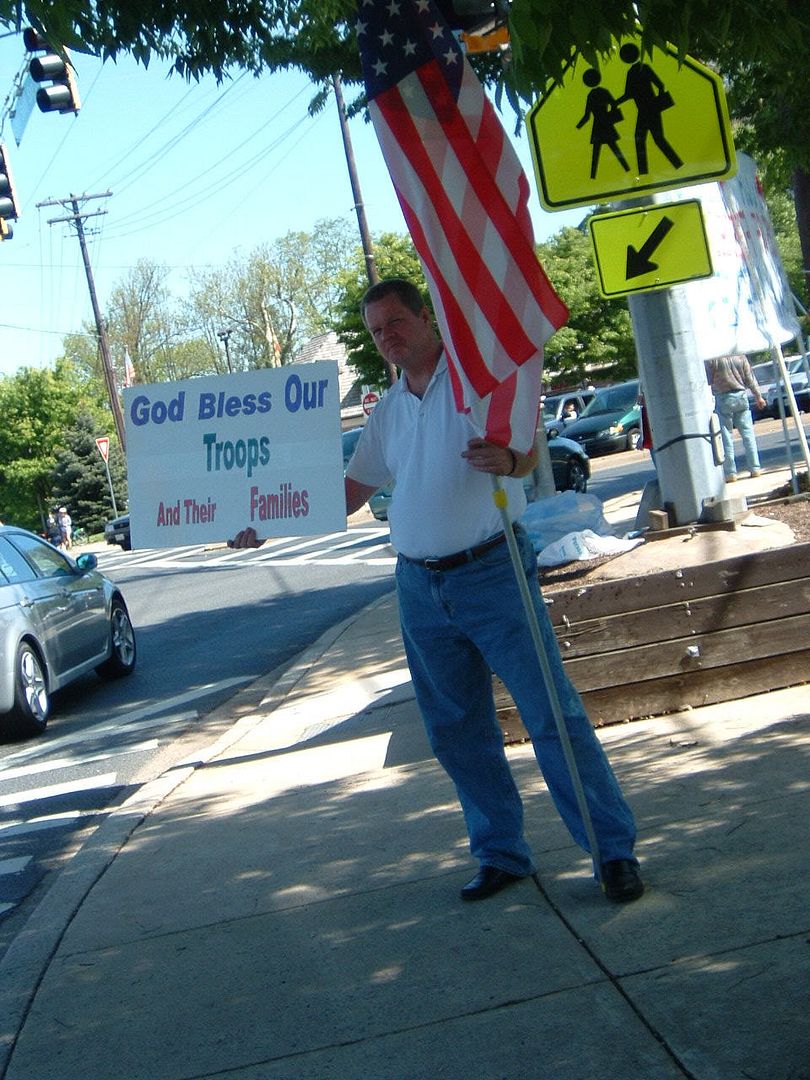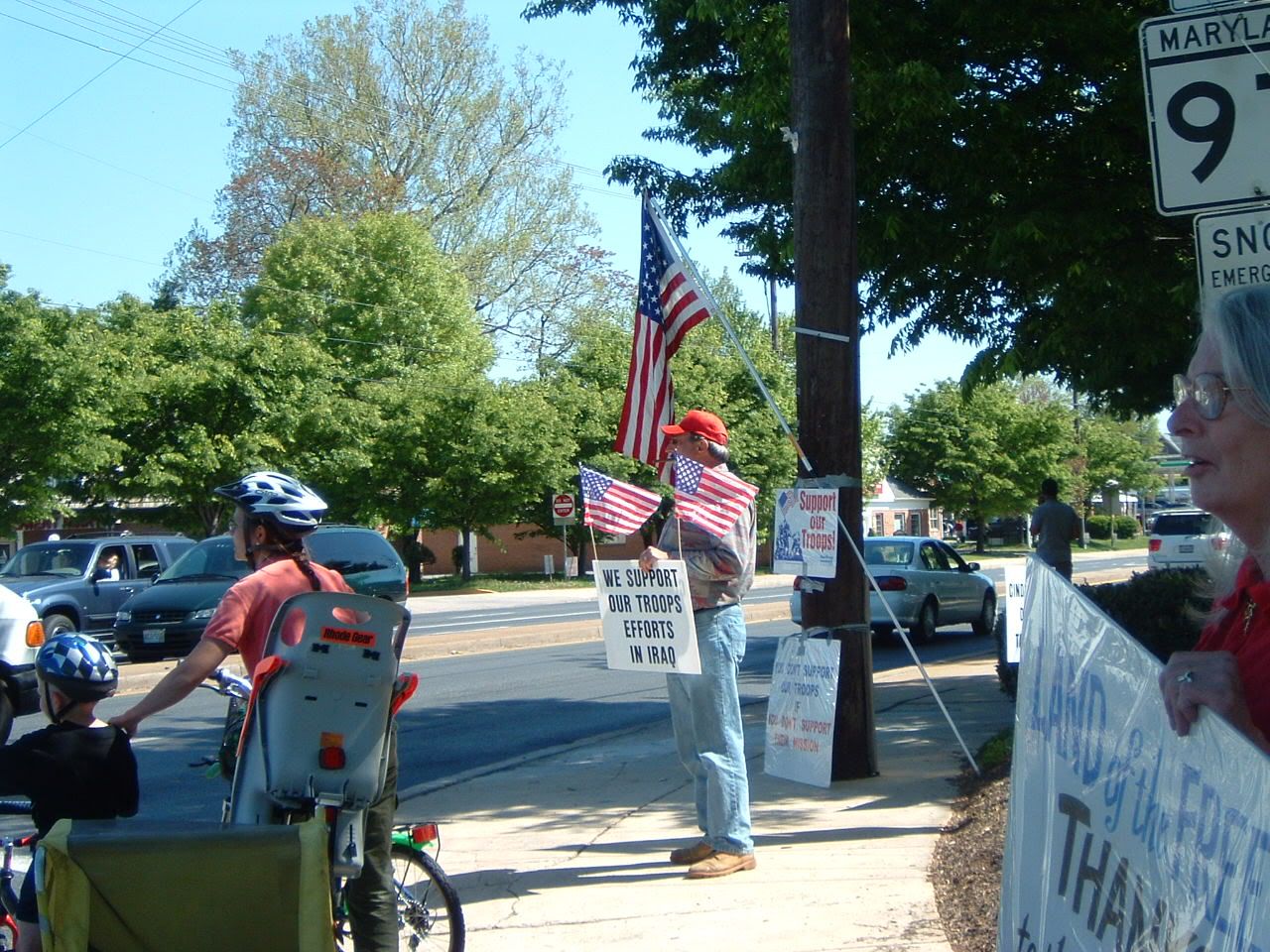 We had a good number of honks, waves and cheers, even from several Metro buses. Even a Jewish family walking to the Synagogue told us that they supported us.
MOAB2 was a great addition to our side. Luckily it was repaired (Small break while taking it down at Walter Reed) in time for the Phelps one-branch-family-tree expo at Bethesda Naval Med. Ctr. and for Olney's use. Extensions were constructed for the Bethesda rally but we put them to good use in Olney. The traffic light pole was slightly raised and we were able to use one of the shorter extensions for there.
NO - its not magic standing there by itself. Sliding the supports over several 5 foot rebars driven into the ground did the trick. Self supporting signs allows our small numbers to hold signs, talk to the people in their cars and to wave to passing cars.
At the very end of the FReep, as we were breaking down, an OIF vet came up to us and presented us with a most excellent "We Support Our Troops" banner (BELOW). But now I need to make a frame to put it up. Hopefully it can be done by next week. He also Thanked us for being out there. We Thanked him for his service. When he found out that Iraqikurd was from Iraq, the two talked about Iraq.
NOW THE GOOD PART!!!
A jogger was physically accosted by Barking Waveman. Spiff, Doctor Raoul, remember him? He even gave us the middle finger salute again this week. And YES, I am going to send the pictures to a friend, the police sergeant in charge of the Olney District. The jogger didn't want to press charges against Waveman, but this way, Waveman will be on record for violent acts.
The jogger didn't want his picture taken because he worked for a military contractor in Gaithersburg, MD. But corporate HQ is in maggot Jack Murtha's district and they rely on him for contracts. The jogger ('J') saw the moonbats out here in December, the same ones the D.C. Chapter saw on their way to the Christmas dinner. He was really glad that we were now out there.
Anyway, getting to the meat of the episode, 'J' circled Madison's three times, each time giving the moonbats the thumbs down. On his second loop, one moonbat lowered his shoulder and butted 'J'. 'J' stopped and verbally engaged this guy. His conclusion, the guy had no argument for protesting except "Bush Lied" and "There were no WMDs". The guy eventually left the other moonbats and took up at the turning island in front of Jerry's Subs on the northwest corner of the intersection.
After that 'J' also talked to the old man holding their banner (BELOW - Yellow Jacket - From past Olney FReep). 'J' said the old man was just dumb. Both had no facts to back up their old stale sayings.

On the third trip around, 'J' stopped to talk to Barking Waveman and the other moonbat holding political signs. By this time, Iraqikurd and Samir were over at the moonbats' corner to verbally engage the moonbats themselves, not knowing that 'J' was on his way back. 'J' verbally engaged Waveman for about 10 minutes while Iraqikurd and Samir looked on (BELOW). They also wanted to talk to him.
Waveman was getting so loud that we heard him on our side telling 'J' - F*** You. He even flipped us the bird. Then Waveman started pushing 'J' by the shoulder and neck (Below). Waveman pushed 'J' about 6 feet from where they first stood. You can see Iraqikurd starting to step forward (Same Pic Below) but stopped when he saw that 'J' was holding his own.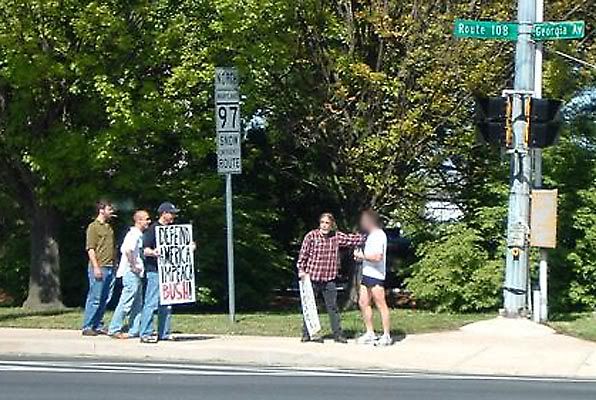 When 'J' didn't walk away but kept talking, Waveman gave his sign to his comrade (BELOW TOP) and went face to face with 'J', shaking his finger at him (BELOW BOTTOM). Waveman's right hand is in a fist, but 'J' stood his ground in a relaxed, non-combative manner. Looking at the pics, you can see 'J' didn't once take a defensive stand. 'J' is holding a water bottle. That's why his hands are always in front of him.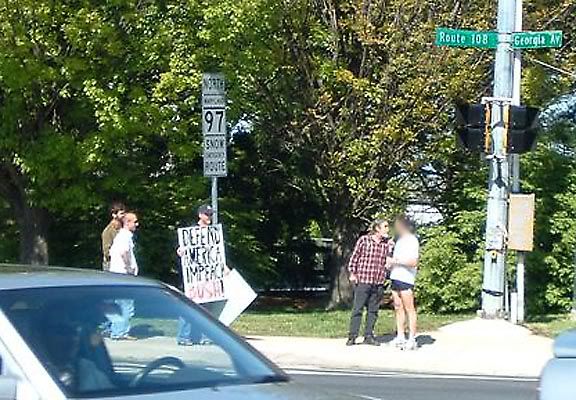 By the time I got over to the moonbats side, Waveman had already retrieved his sign. I told 'J' that we have Waveman on film if he wants to press charges. 'J' said NO, but Thanks and that he would be over to our side to talk to us also. Waveman asked if we planted 'J'. I told him that I've never seen him before. The pic (BELOW) shows me leaving the scene, looking for cars before I crossed back to our side. You can also see the other moonbat putting his hand out to keep Iraqikurd away from him.
'J' finally came over to our side while Iraqikurd and Samir stayed (BELOW) to verbally engage the moonbats. Apparently Barking Waveman slipped and told Iraqikurd that he lives out of his car. Hopefully Iraqikurd will let us know more of what they said.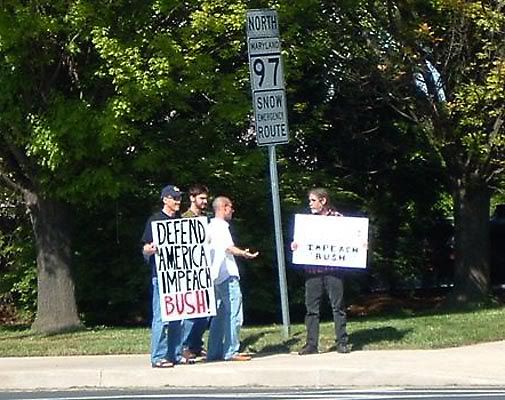 'J' started our conversation by playing devil's advocate. He asked why we were out there and about Bush lying about the WMDs. I told him about the damage the silent majority did during Vietnam by not supporting the troops and by not countering libs, and about the translations of Saddam's paper on FR. When I asked if he knew about FR, he said he did. We talked a little bit more on the merits of supporting our troops.
Being satisfied that we knew why we were there, 'J' opened up and said he was on our side. He pointed out the the moonbats had no facts to argue with. They just kept giving the old antiwar sound bits with no facts to back it up. I then directed 'J' to Cindy_True_Supporter.
She has had personal contact with the Quaker's and knows about them. She and 'J' continued talking as we started to break down. Hopefully she'll put her conversation on a post.
'J' said that he'll drive by next week and honk for us.
But more important, 'J' said that when he was on their side, the moonbats received a lot of grief from passing cars, a lot more than the honks they receive. Now that is worth knowing. It makes standing out on the corner all that more worth while.
Personally, I would like to be able to verbally engage the moonbats or give them flyers with web sites that factually correct on a weekly bases as 'J' and Iraqikurd did this week. Hoping that would discourage the moonbats off the corner. But with our constant small numbers, that is not possible.
BELOW: Part of the moonbat's group. The lady on the right with her daughter is part of MOBilizing Mothers. This group was originally called Mothers Opposing Bush (MOB), but since President Bush won the last election (heee heee heee) they had to change their name. The Quakers are part of PeaceActionMC, MC for the Montgomery County Chapter. Mother & daughter left early.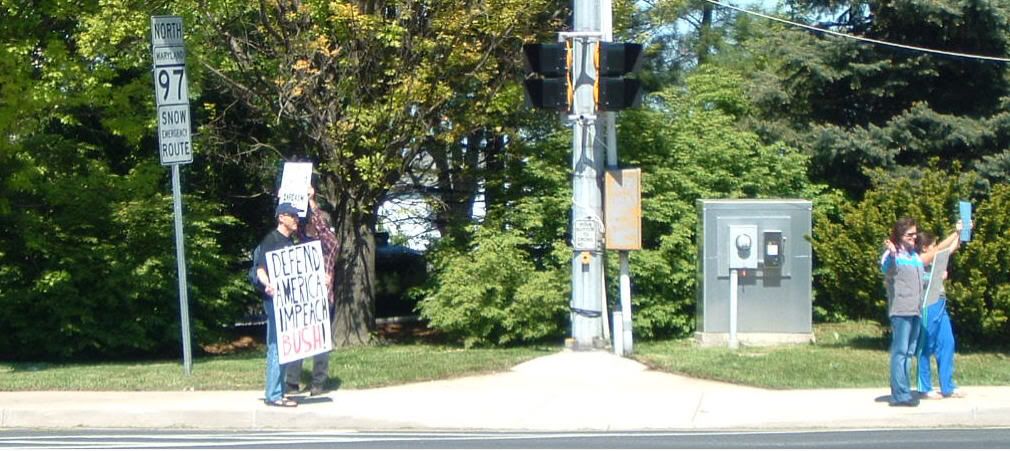 REMEMBER

Next Saturday, same place, Georgia Avenue, MD Rte. 97 and MD Rte. 108 in Olney, MD

Same time, 3 PM to 4:30 PM
As always, the D.C. Chapter's rules for protesting will be in effect. Briefly, they are: No violence, no profanity, no racism, no provocations, obey the law and treat all law enforcement officers with respect.

---
TOPICS: Activism/Chapters; Free Republic
KEYWORDS: codepink; freep; grumpies; infinite; mobilizingmothers; moonbats; operationinfinite; peaceactionmc; peaceniks; quakers
---
Navigation: use the links below to view more comments.
first 1-20, 21-40 next last
---
---
---
---
---
---
---
---
---
---
---
---
---
---
---
---
---
---
---
---
---
Navigation: use the links below to view more comments.
first 1-20, 21-40 next last
---
---