---
Total VAERS Counts and Death Counts For The Past Decade
Twitter ^ | 09/17/21 | Dr Benjamin Braddock


Posted on 09/17/2021 5:42:34 PM PDT by Enlightened1

The VAERS counts is only between 1 to 10% of the actual number. This is 1 of 11 reports to the CDC. It's the report the public can see.

So as we can see below.  This vaccine has killed four times more people than all the previous combined. These are admitted vaccinated deaths from doctors. 

 

https://twitter.com/GraduatedBen/status/1438952583188602896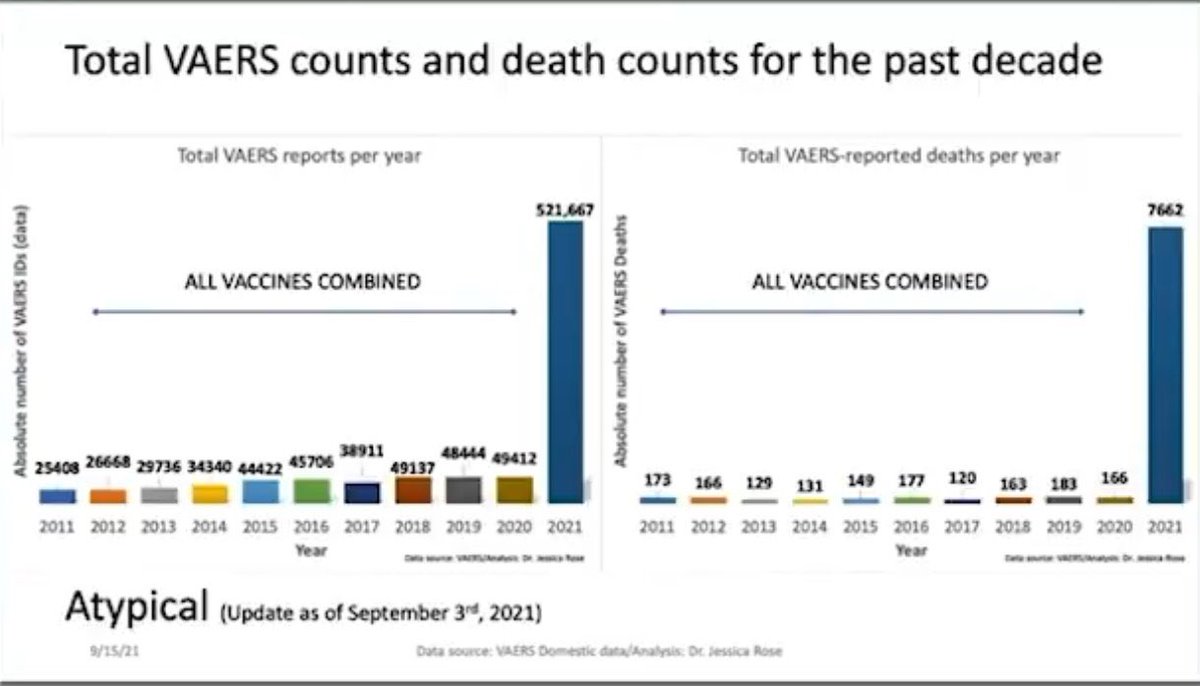 ---
TOPICS: Chit/Chat; Conspiracy; Health/Medicine; Weird Stuff
KEYWORDS: chinavirusvaccine; counts; deathcounts; decades; mortality; vaers



---
To: Enlightened1
---
To: Enlightened1
And the left shugs their shoulder and considers it an acceptable collateral damage. Kind of like the drone strike that targeted children.
3
posted on
09/17/2021 6:10:54 PM PDT
by
patriot torch
(Ashlie Babbitt-say her name)
---
To: Enlightened1
The problem with VAERS is the LSM dismisses it because "...anyone can add input...", much like Wikipedia. They won't consider the reports of injury and death valid because to do so would destroy their left-wing agenda.
Our local NBC sock puppets did a short piece on it two nights ago, but wouldn't even mention the number of deaths. They would never acknowledge the actual numbers could be 10 times higher, let alone what they reflect now.
4
posted on
09/17/2021 6:38:26 PM PDT
by
Auntie Dem
(Hey! Hey! Ho! Ho! Terrorist lovers gotta go!)
---
To: Enlightened1
the chart is hard to understand.
5
posted on
09/17/2021 10:04:46 PM PDT
by
teeman8r
(Armageddon won't be pretty, but it's not like it's the end of the world or something)
---
FreeRepublic.com is powered by software copyright 2000-2008 John Robinson