---
Bush? Obama? Congress Spends the Money...
pgyanke | 8/15/2011 | pgyanke


Posted on 08/15/2011 1:59:35 PM PDT by pgyanke

I'm really getting tired of hearing about Bush's spending compared to Obama's (don't get me wrong, like most conservatives, I didn't approve of Bush's spending either). I'm also tired of hearing about Clinton's surplus (you know, the surplus where we continued to fall deeper in debt...).

Congress (specifically, the House) has the greatest authority over the purse. Want a better picture of federal financial management since Reagan? Here it is...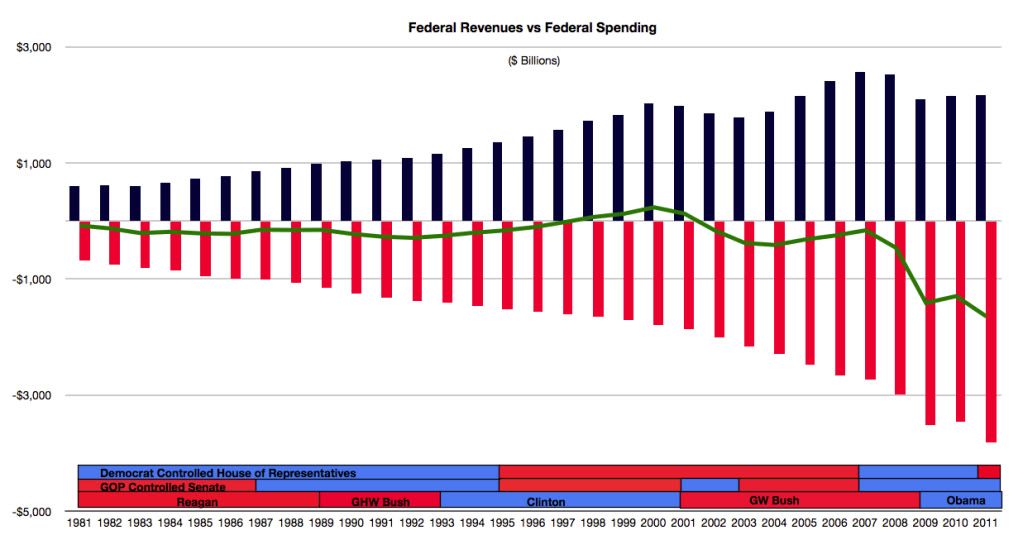 Notice that both Reagan and GHW Bush had to deal with Democratic Congresses and we had deficit spending. Clinton was prevented from implementing "Hillarycare" early in his presidency and the backlash gave us a GOP Congress. The enactment of such measures as welfare-reform by the GOP Congress gave us surpluses (at least on paper, that is).
For the first part of GW Bush's presidency, he had to deal with a stonewalling Senate after Jim Jeffords's jump. The latter part saw declining deficits.
Another thing to note from this chart is rising revenues. Reagan lowered rates... and revenues increased. Clinton raised rates... and revenues continued to increase... why? Simply because economic activity is a stronger revenue-creation vehicle than a tax increase. His tax increase wasn't enough to prevent the dot-com boom. Clinton benefited from an expanding economy... until the bottom fell out of the tech bubble, that is. Note that revenues increased sharply under GW Bush... that puts the lie to the "cost" of his tax cuts.
Then, the bottom fell out with the 2006 election and our 2008 budget deficit (the first budget passed by the Dem Congress) set a record at $459B. The election of Obama put the spending on overdrive as the Democrats had their first supermajorities in Congress with the executive branch as a rubber stamp. Here, we see the Democratic prescription for federal spending, unfettered. The result is fairly obvious.
Conclusion? Neither party is beyond reproach, however... When the GOP holds the purse, deficits decline. Tax cuts which spur economic activity increase revenues. Revenues, although not at their peak, are near historically high levels... our problem is spending, not a lack of tax revenue. When the Democrats get their way, deficits balloon.
Here ends the lesson.

---
TOPICS: Business/Economy; History; Miscellaneous; Reference
KEYWORDS: congress; deficits; democrats; spending
---
---
---
---
---
---
---
---
---
---
---
---