---
To: FreedomStar3028; Jim Robinson
It's not a problem with community. It is a problem in their genes. [!!!] Sorry to say that, but look at every single black community in the world.
You richly deserve a lifelong ZOT for channeling the thoughts of Margaret Sanger, founder of the leftist abortion mill, Planned Parenthood. Attitudes such as this are just a step away from advocacy of genocide through mass abortion of those deemed genetically inferior.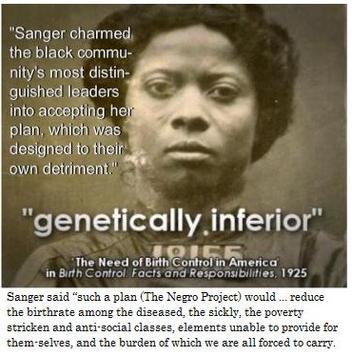 ---
To: re_nortex
LoL. Margaret Sanger? Really?
There is something wrong and it goes deeper than community. I would never condone genocide, but the "thug" certainly has something wrong with him. If you didn't understand the context of this post.
But blacks as a whole everywhere in the world cannot seem to rise above savagery. That's a truth. An easily verifiable one. The black people I do know that aren't living thug life ghetto slummin are surrounded by white people. So you tell me what it is then, since you just labelled me a genocidal maniac racist.
15
posted on
06/10/2015 12:20:37 AM PDT
by
FreedomStar3028
(Somebody has to step forward and do what is right because it is right, otherwise no one will follow.)
---
To: re_nortex
You richly deserve a lifelong ZOT ...
He/she deserves far more than that. How's about a shoe planted so deeply in their ass that they have leather and shoe polish on their breath.

---
FreeRepublic.com is powered by software copyright 2000-2008 John Robinson