---
DUmmie FUnnies 11-02-08 ("Gore Vidal Et Al To Obama: Do Not Concede!")
DUmmie FUnnies ^ | November 2, 2008 | Gore Vidal, DUmmies, and Charles Henrickson


Posted on 11/02/2008 5:52:49 PM PST by Charles Henrickson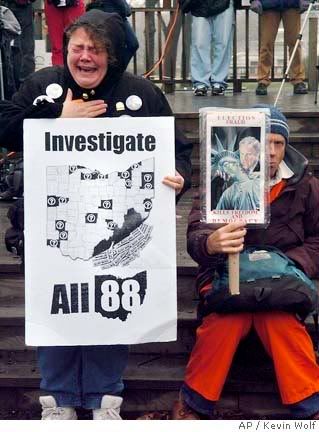 The DUmmies are getting REALLY nervous. As we said before, they have been gearing up their two big excuses in case Barry happens to snatch defeat out of the jaws of victory: 1) Racism. 2) Election fraud. Last week we showed you how Pied Piper Pitt is playing the race card, in his essay, "Counting Our Chickens". Now another old FOA (Friend of Andy), that Paleolithic Penpusher Pooftah, Gore Vidal, is readying the other fall-back excuse, Republican "election fraud" (to be distinguished from regular old Democrat voter fraud). The old queen has signed on to an open letter to Opossum, urging him not to concede, no matter what, and the DUmmies are getting behind Vidal--well, maybe I better rephrase that--they're agreeing with Vidal, as we see in this THREAD, "Gore Vidal Et Al To Obama: Do Not Concede!" (Currently the top-rated "Greatest" thread in DUmmieland!)
So let's get ready to enter the Deconcession Chamber and investigate all 57 states, as we hear the DUmmies' bleatings and nervous wailings, in Bolshevik Red, while the commentary of your humble guest correspondent, Charles Henrickson, still chuckling over "McCain Fine Gold" and Olbermann's Meltdown last night on SNL, is in the [Barackets]:
Gore Vidal Et Al. . . .
[The fat old pooftah ate his fat cousin Algore? BUUUURRRRRRRRPPPP!!!!]
Gore Vidal Et Al To Obama: Do Not Concede!
[Don't do it, Obambi, don't do it!!]
On Election Night, DO NOT CONCEDE!
[Wait till the next morning.]
Eight years is too much. . . .
[Yes, I agree. You should concede much sooner.]
But, even if we receive the most votes, will we win the election?
[No. So concede now and get it over with.]
DO NOT CONCEDE!
[I sense a little nervousness on the part of Vidal et al.]
Both of the last two elections were conceded by the Democratic presidential candidate.
[Because they lost.]
Numerous politicians, investigators and authors, including Robert Kennedy, Jr., agree the 2004 election was stolen. . . .
[Oh, this is good. Bring up RFK Jr. on an Obama thread. Say, funny isn't it, that Obama mentor Bill Ayers dedicated a book to Sirhan Sirhan, the guy who assassinated RFK Sr.? Maybe you don't want to go there.]
the use of nefarious voting software. . . .
[In many nefarious ways . . .]
all without a peep from the Democratic Party.
[. . . Gore spoke to the peepless of old 'bout the process.]
DO NOT CONCEDE!
[LOUDER!]
which caused the infamous Diebold voting machines corporation to hide behind a new corporate name. . . .
[Heh heh heh. . . . You never know when you're using a Diebold! BWAHAHAHAHA!!!]
the Democratic Party seems to have learned nothing.
[Stuck On Stupid.]
THREE STRIKES AND WE'RE OUT!
[Right now you've got no balls and two strikes.]
we cannot afford a third concession in the face of election fraud.
[More and more of us are realizing we cannot afford Obambi's socialism.]
Already there is evidence of massive fraud. . . .
[By ACORN. A little projection there.]
such as voter purging and caging of Democratic voters. . . .
[Some Democrat voters belong in a cage. Some might actually enjoy it.]
should we also expect our Democratic Party leaders and candidates to repeat history, by once again conceding in the face of such blatant fraud?
[Yes.]
You ask us to work for you, contribute to you--and to have your back; we ask that you promise to have our back. . . .
[Let's have each other's back . . . sides, says Gore Vidal.]
STAND FIRM. . . .
[Calm down, Gore.]
in the face of election irregularities. . . .
[There are pills you can take for that, Gore.]
no matter how long it takes. . . .
[If it lasts for more than four hours, consult your doctor.]
DO NOT CONCEDE!
[Thank you, Gore Vidal. Now go back to your villa in Italy and exchange bon mots with Erica "Mah" Jong. The DUmmies react . . .]
K&R!!!!!!!!!!
[Karl&Rove!!!!!!!!!! CONCEDE!]
Every Citizen gets a vote and gets to have it counted . . .
[. . . for McCain! Hee! Hee! CONCEDE!]
I love Obama.
[Gore Vidal, I told you to CALM DOWN!]
Yeah, remember all the people on here who were convinced Kerry had a secret plan?
[John Kerry had a plan . . . to go skiing.]
He was going to come back and save us all and the concession speech was part of it?
[John Kerry is about to enter the Deconcession Chamber. . . . Hey, it could still happen!]
I hope if any even remotely similar happens again that we take to the streets.
[TO THE STREETS! TO THE BARRICADES! THE REVOLUTION STARTS NOW!!!]
We don't need to whine on this board or lament that Obama conceded.
[But that's what you'll end up doing, whine and lament.]
I feel like I myself might kiss the kids goodbye and take to the streets. . . .
[Democratic Undercurrent: Notice the growing doubts about an Obama victory.]
Violence is the political expression of the politically powerless.
[Whining is the predictable expression of the perennially clueless.]
the riots that followed the Rodney King verdict should be no surprise. Perhaps we can expect the same, except that the mobs will include young frustrated African Americans, white neo-hippies, educated tofu-eating, Pruis-driving baby boomers, tweed jacket-wearing academics, and white-haired grannies.
[I think you can expect the gray-ponytailed, pizza-eating, basement-dwelling DUmmies to do their rioting at the keyboard.]
Or not.
[Not. Go with "not."]
I'm still waiting for my $50.00 back that I gave to Kerry's "army of lawyers". . . .
[Sorry. Lift tickets went up at Davos.]
last time we protested was on a very snowy day when Bush's last win became official (Jan. 6, 2005). We had a small group protesting with signs (including my kids and our exchange student from Germany) and people drove by in their big trucks honking and yelling "Yeah Bush!".
[I can just see you and Max and Abby and Brigitta, standing in the snow, holding your Kerry-Edwards signs, thinking you're actually doing something.]
when I tried to let people know who live around here they thought I was crazy.
[Hmm, I wonder why.]
Our local paper did put a picture of our protest . . .
[. . . on the funny pages.]
Hooray for DU! It has provided an affirmation, a haven, a home, and a school for all of us. . . .
[It has provided US with HOURS of endless entertainment! Thanx, DU!]
They have "secret hideaways" ready for those who "take to the streets". . . .
[Those Wal-Mart Detention Centers.]
And we don't have enough cohesion or community to fight that.
[So just . . . concede.]
My biggest fear is SILENCE.
[The Silence of the Dems.]
But with respect to physical danger, I am tired of living the meaningless life and won't stay home. If someone wants to shoot protesters because they stand for democracy, let 'em.
[What if we just want to laugh at you?]
Concede? He'll be doing a victory lap on the GOP carcass.
[Freudenschade, baby!]
Since when did Gore Vidal become a worry troll?
[He's worried McCain will bomb Italy.]
It is McCain who will have to concede. . . . He does not stand a chance.
[Crack open the champagne! WHEEEEEEEEEE!!!!!!!!!!!]
If Obama doesn't get the electoral votes, then something went horribly wrong.
[Like, he wasn't able to fool enough people.]
Not. This. Time.
[Just. Con. Cede.]
I cannot believe that enough foolish people will scramble out of the septic tank which houses Joe the Plumber and the Republican mindless minions to cause McCain's vote total to be close to Obama's.
[I BELIEEEEEEEEEEEEVE!!!!! CONCEDE!]
there are robocalls telling Democrats in some states to vote on November 5th.
[Remember, remember, the Fifth of November. . . .]
There are robocalls in Democratic areas that say "you can vote by phone, just hit 1 for Obama, 2 for McCain" and telling them they don't have to vote.
[1 for Obama, 2 for McCain, 1-800-GOT-ROVE, and I feel your pain!]
YES.. it can happen. . . .
[Yes it can! CONCEDE!]
Exit polls would never jive with rigged black-box voting results. . . .
[Bev Harris is only $10 away from fixing this problem. Donate now!]
No effing way will they do this to us again. No way.
[Way!]
Contest every shady vote! Fight every shady count!
[Count every Freuden shady!]
And throw the election thieves in jail. Scratch that. Under the jail!
[TO THE HAGUE!]
I'm the wet blanket here saying "NO champagne til the last LAWYER goes home!"
[Party pooper!]
I say no champagne until he's sworn in.
[I say no champagne at all! CONCEDE!]
If McCain pulls off a steal, I'd suggest revolution or at least partition.
[I suggest Lexapro or Effexor.]
If it is stolen again we should all hit the streets and then silently march to the local government office; city hall, state capitol, White House. . . .
[The Million Moonbat March.]
Like they did in the movie "V".
[Get your Guy Fawkes mask ready!]
Fight, fight, fight!
[Concede, concede, concede!]
I stood in the rain ALONE at the Seattle Federal Building on December 12 & 13, 2000. Not one f*cking person in Seattle stood with me.
[CONCEDE!]

---
TOPICS: Humor
KEYWORDS: dufu; dummie; dummiefunnies; dummies
---
Navigation: use the links below to view more comments.
first 1-20, 21-40, 41-52 next last
---
---
---
---
---
---
---
Comment #7 Removed by Moderator
---
---
---
---
---
---
---
---
---
---
---
---
---
---
Navigation: use the links below to view more comments.
first 1-20, 21-40, 41-52 next last
---
---