---
Who Will Stop Putin's Aggression
3/9/2014 | Digest


Posted on 03/09/2014 12:24:55 PM PDT by annalex
Who Will Stop Putin's Aggression
I recently posted this article: Why Russia No Longer Fears the West. The author, one Ben Judah, made the point that the West lately projects an image of weakness, and Putin has been emboldened by it.

I'd say that the author correctly identified one aspect of Putin's mentality: a thug's respect for another thug, the corollary of which is a thug's dismissal of civilized behavior as weakness. It is from that mental vantage point that Putin developed his recent moxie.

The reality is that the West is responding calmly but also firmly. I think that the men in the corridors of power sent Obama to the beach and worked up an effective response. Here Kerry softly suggests that diplomatic relations with Russian Federation may not last past the occupation of Crimea:
U.S. Secretary of State John Kerry told Russian Foreign Minister Sergei Lavrov in a telephone call on Saturday that any Russian steps to annex Ukraine's Crimea region would close the door to diplomacy, a U.S. State Department official said.

"He made clear that continued military escalation and provocation in Crimea or elsewhere in Ukraine, along with steps to annex Crimea to Russia would close any available space for diplomacy, and he urged utmost restraint," the official said.
Here Joint Chiefs chairman Gen. Martin Dempsey reminds the Sovs that NATO member countries also have ethnic minorities to protect in Ukraine:
we're seeking aggressively to resolve this diplomatically, before we would reach the point where there could be a miscalculation.

It's probably worth mentioning why this is so unsettling to the Eastern Europeans. You know, we live here in America and sometimes don't understand the realities of geography and demographics in Eastern Europe.

There are — if Russia is allowed to do this, which is to say move into a sovereign country under the guise of protecting ethnic Russians in Ukraine, it exposes Eastern Europe to some significant risk, because there are ethnic enclaves all over Eastern Europe and the Balkans.

I will give you one example. There are 400,000 ethnic Romanians living in Ukraine. So this is enormously unsettling.

Joint Chiefs chairman Dempsey on Ukraine, military sex abuse and budget cuts
Yet there is another force or forces that Putin would do well to fear. They are the people of Central and Eastern Europe. They won't let NATO slide into pacifism. The countries that joined NATO celebrate the wisdom of doing so today.
When I met the Polish PM I was struck by his belief that joining the EU and Nato would protect his country from being invaded by Russia.

John Prescott: Ukraine crisis is best solved by 'jaw-jaw' and not 'war-war'
In Prague, there was a demonstration against the occupation of Ukraine:

Down with Communist Fascism!



For your Freedom and Ours


In Moscow, the Russians support independent Ukraine. Not many, so far; definitely not enough. But the Russian nation will wake up one day to the fact that their greatest enemy is their Soviet legacy.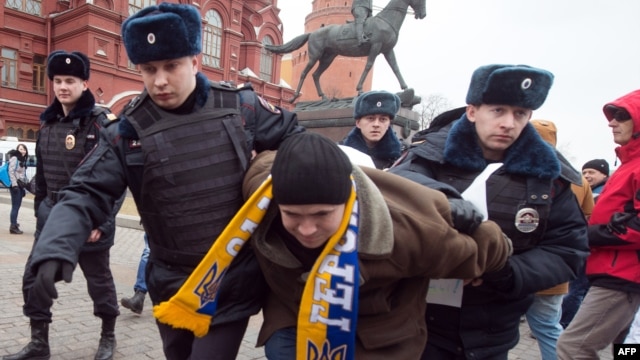 Arrest in Moscow
This is who will stop Putin.. This is a priest from Nikolaev on the street in Simferopol: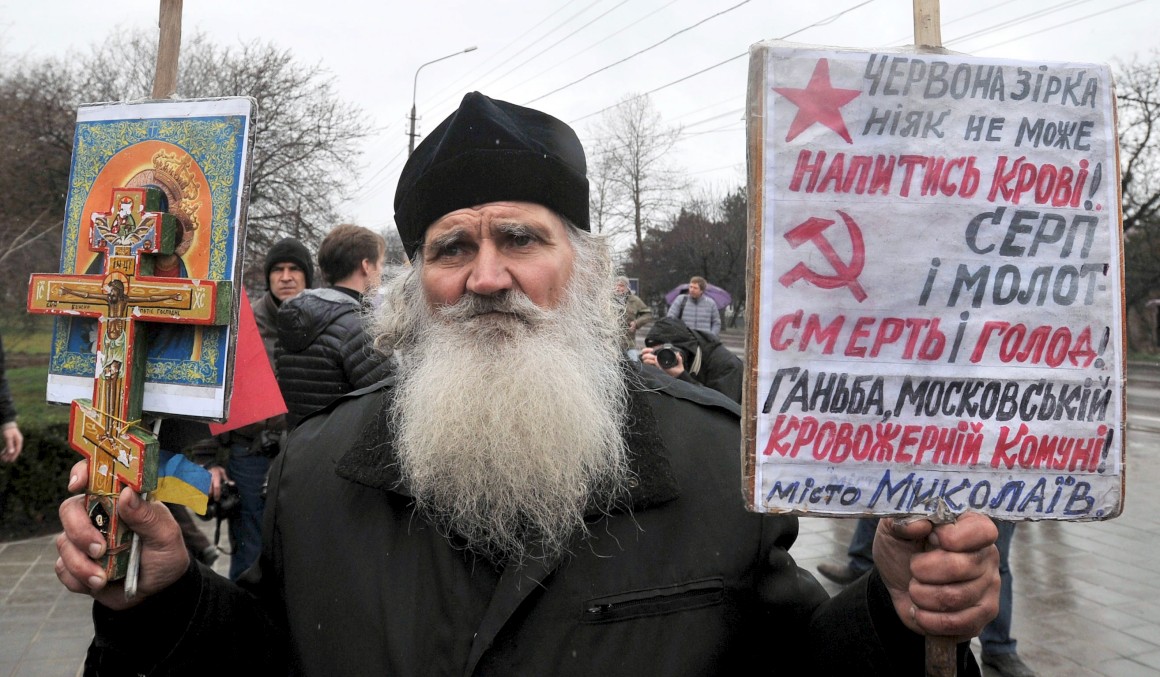 "The red star never stops drinking blood!
Hammer and sickle is death and starvation!
Shame to the blood thirsty Moscow commune! Nikolaev city"
Ultimately, it is the people of Europe, -- not the diplomats from Europe, -- who will stop Putin, because faith and nationalism are stronger than Soviet (and post-Soviet) hordes.

---
TOPICS: Miscellaneous
KEYWORDS: bho44; bhorussia; crimea; putin; russia; ukraine; ukraineprague; viktoryanukovich; yuliatymoshenko
---
Navigation: use the links below to view more comments.
first 1-20, 21-40, 41-60, 61-73 next last
---
---
---
---
---
---
---
---
---
---
---
---
---
---
---
---
---
---
---
---
---
Navigation: use the links below to view more comments.
first 1-20, 21-40, 41-60, 61-73 next last
---
---