---
Bennett's loss of resolve versus Zullo's new 'shocking revelations' (Obama's hidden past)
Sonoran News ^ | MAY 30, 2012 | Linda Bentley


Posted on 05/30/2012 5:52:48 PM PDT by Red Steel
'The information is going to be breathtaking when it's released'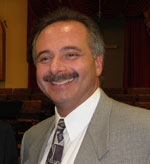 PHOENIX – After Maricopa County Sheriff Joe Arpaio and his Cold Case Posse lead investigator Mike Zullo (r) announced there was probable cause to believe the long form Certificate of Live Birth for President Barack Obama posted on the White House website on April 27, 2011 was a forgery, constituents pressed Arizona Secretary of State Ken Bennett to request proof of legitimacy before placing Obama on the 2012 ballot.

Bennett, who made it quite clear during myriad recent interviews that he's not a "Birther" and does not subscribe to the theory Obama was not born in Hawaii, quietly requested confirmation from Dr. Alvin T. Onaka, Registrar of Vital Statistics for the State of Hawaii, that the birth certificate posted on the White House website is a "true and accurate representation of the original record in your files."

After nearly two months of stonewalling, Bennett received confirmation from Onaka stating, "I verify that the information in the copy of the Certificate of Live Birth for Mr. Obama that you attached with your request matches the original record in our file."

Bennett concluded last week that Hawaii's verification satisfies Arizona's requirements and Obama will appear on the November ballot.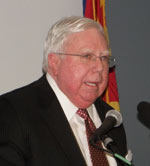 Meanwhile, Zullo, Dr. Jerome Corsi (l) and others, including a MCSO deputy, were in Hawaii continuing their investigation into Obama's records.


Zullo, in a radio interview with Mark Gillar of the Tea Party Power Hour, emphasized no taxpayer money was utilized toward their trip to Hawaii and it was entirely funded through donations to the Cold Case Posse.

Corsi, who was there assisting with research, paid all of his own expenses, including airfare and hotel.

Additionally, Zullo said Corsi is under a gag order, precluding him from using any of the findings of their investigation on a book.

As the Cold Case Posse continued its investigation in Hawaii, Breitbart News disclosed it had obtained a copy of a 1991 booklet produced by Obama's literary agent Acton & Dystel, which later became Dystel & Goderich, containing a bio of Obama, which opened with: "Barack Obama, the first African-American president of Harvard Law Review, was born in Kenya and raised in Indonesia and Hawaii."

It also served as a promotional piece for Obama's anticipated first book, "Journeys in Black and White."


As recently as April 3, 2007, Obama's bio, revised a few times over the years, initially to change the title of his book to "Dreams from My Father," stated, "He was born in Kenya to an American anthropologist and a Kenyan finance minister and was raised in Indonesia, Hawaii and Chicago."

But it wasn't until April 21, 2007, two months after Obama announced his candidacy for president, was the "born in Kenya" changed to say he was born in Hawaii.

When Zullo visited the Hawaii Department of Health, he was barred from seeing Obama's original birth records.

However, during his interview with Gillar, the only interview he gave from Hawaii, Zullo said, while he couldn't disclose what they uncovered, he promised it would be a "shocking revelation" at their next press conference, which will be held in mid-June.

Zullo did say he has reservations about the verification letter sent to Bennett, citing the letter was stamped with Onaka's name but was initialed by someone other than Onaka.


He found it troublesome that the verification letter fails to list Obama's birth date, which he said is also questionable, and told Gillar, "Either they are so inept in taking care of vital statistics here, or this cover-up is bigger than anyone could have imagined. When you have the individual who is solely responsible and has the authority to validate any document of this sort and he doesn't, that's a problem. And we do understand that there are a number of these stamps floating around inside the department of health."

Gillar stated, "From what you're telling me, it sounds like the next press conference is going to be even more amazing than the last press conference back on March 1."

Zullo responded, "It will be. The information is going to be breathtaking when it's released."
Last week, Gillar released another video where he documents how NBC's Savannah Guthrie, who was allowed to personally view Obama's purported long form Certificate of Live Birth on April 27, 2011, unintentionally proved the document had been tampered with.

He noted Guthrie took a photograph of the document presented. However, her photograph of the document presented during the press conference contains fields not contained in the document posted on the White House website.


While Bennett has received numerous e-mails from constituents over his decision to accept the Onaka letter as verification, he responded to Netty Wisbaum's, in which she accused him of having a "lack of resolve."

He told Wisbaum, "I was never 'challenging' the eligibility. As much as it may be frustrating to you and many others, that is not my role. I was verifying the eligibility with officials from another state. As I've stated many times over the last several weeks, no matter what I do in this matter, some will say I've gone way too far and others will say I haven't gone nearly far enough."

He also stated "in the strongest way possible" what he did had nothing to do with her three likely reasons, which Wisbaum enumerated as follows:
1. You and your family have been threatened by those wielding power for the status quo to remain intact;
2. As Romney's Arizona co-chairman, you've been given cease and desist orders from his campaign; or
3. The political winds bode less favorable for your gubernatorial political aspirations on the recent ballot challenge trajectory.


Wisbaum also stated, "The tumor within the bureaucracy of the political elite in Washington has metastasized the national security of our country. Until this situation is rectified, the freedom envisioned by our founders for a representative republic has ceased to exist. Your loss of resolve has played right into their hands, as did Gov. Brewer's."

Bennett agreed the country's greatness has been lost or taken off track, and stated, "I will continue to do all I can to preserve and restore our republic to the greatness of its founding."

---
TOPICS: Crime/Corruption; Government
KEYWORDS: arpaio; birthcertificate; birther; certifigate; fraud; kenbennett; naturalborncitizen; obama; sheriffjoe; zullo
---
Navigation: use the links below to view more comments.
first 1-20, 21-40, 41-60, 61-80, 81-83 next last
---
---
---
---
---
---
---
---
---
---
---
---
---
---
---
---
---
---
---
---
---
Navigation: use the links below to view more comments.
first 1-20, 21-40, 41-60, 61-80, 81-83 next last
---
---