---
Neanderthals' large eyes 'caused their demise'
BBC ^ | 12 March 2013 Last updated at 20:50 ET | By Pallab Ghosh


Posted on 03/25/2013 10:21:41 AM PDT by varmintman

Neanderthal skulls and brains were a bit larger than ours but they were not inventive like humans, and presumably not as bright. Their basic tool-kits and technology never changed from the first day they walked the Earth to the last. There has always been a question of what they were doing with the larger brains and new studies appear to shed some light on the question:

http://www.sciencedaily.com/releases/2013/03/130319093639.htm


http://www.bbc.co.uk/news/science-environment-21759233
...Results imply that larger areas of the Neanderthal brain, compared to the modern human brain, were given over to vision and movement and this left less room for the higher level thinking required to form large social groups....

... In a subset of these fossils, they found that Neanderthals had significantly larger eye sockets, and therefore eyes, than modern humans....
In other words, much of the large Neanderthal brain was essentially the circuitry of a night-vision scope.
Then BBC's yuppie artists go right on drawing them as near-humans with human-sized eyes...
Again, a couple of much more realistic images (with eyes the right size):
with fur:

fur removed for illustration (www.themandus.com):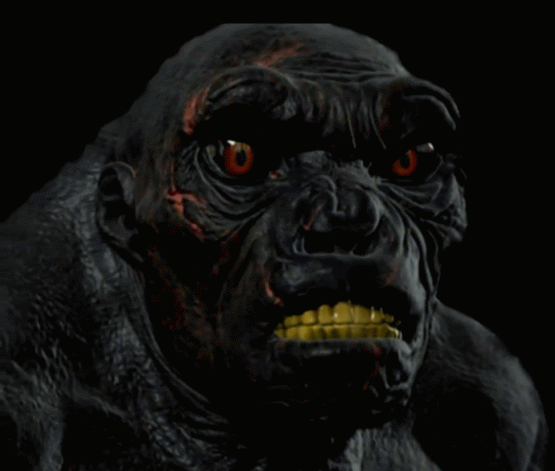 The big eyes were for a world which never saw anything that we would call daylight. Also, and this should be obvious, neither Adam or Eve nor any of their descendants ever saw one of these guys (Cro Magnons had killed them all long since). If they had, Genesis would say something about it. Any human who ever encountered one or more of these guys and survived the encounter would tell somebody about it.

(Excerpt) Read more at bbc.co.uk ...
---
TOPICS: Education; History; Science; Weird Stuff
KEYWORDS: comicbooks; idioticgarbage; neanderthal; prehistory; tedholden; varmintspam
---
Navigation: use the links below to view more comments.
first 1-20, 21-28 next last
---
---
---
---
---
---
---
---
---
---
---
---
---
---
---
---
---
---
---
---
---
Navigation: use the links below to view more comments.
first 1-20, 21-28 next last
---
---