[Right-click VIEW to enlarge,
or Click above to Play]

(7:05) We have an epidemic of obese 6-month olds!

So any hypothesis that attempts to explain the obesity epidemic, must be able to explain this as well.
(09:10) Now, you all know, back in 1982, the American Heart Association, the American Medical Association, and the US Department of Agriculture, admonished us to reduce our total fat consumption from 40% to 30%. Everybody remember that? ... So what happened? We did it. We've done it. 40% calories down to 30%. And look what's happened to the obesity, metabolic syndrome, non-alcoholic fatty liver disease, cardiovascular disease, stroke prevalance, ALL jacked way up as our total fat consumption as a percent, has gone down. It ain't the fat, people. It ain't the fat. So what it it? Well, it's the carbohydrate. Specifically, which carbohydrate? ...
(20:05) ...But indeed, this is true, High Fructose Corn Syrup and Sugar are EXACTLY the same. They are both equally bad. They are both dangerous. They are both poison. OK?, I said it. Poison. My charge before the end of tonight, is to demonstrate that fructose is a poison. And I will do it. And you will tell me if I was successful.
(22:48) So you can see that more and more of our caloric intake, a higher percentage, is being accounted for by sugar, every single year. So we're eating more; we're eating more sugar. And for adolescents today, they're up to almost 75 grams [of fructose] per day; 12% of total caloric intake. And 25% of adolescents consume at least 15% of their calories per day from fructose alone. This is a DISASTER. An absolute unmitigated disaster. The fat's going down, the sugar is going up, and we're all getting sick. Now let me show you why...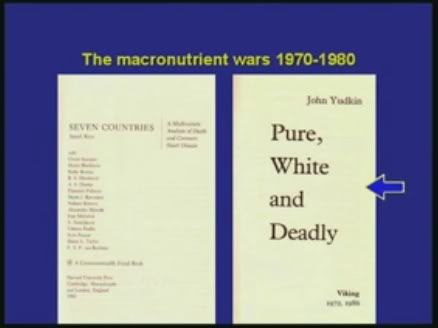 (31:31) ...This was a "Battle Royal" back in the 1970's. This was not a simple thing. There were people lined up on both sides of this story. So this over here, is a book, 1972 it came out. And it was called Pure White and Deadly. Its all about Sugar. Written by a British physiologist, nutritionist, endocrinologist, by the name of John Yudkin. Now I never knew John Yudkin, he has passed away. But I read this book about a year ago, and without even knowing it, I was a Yudkin acolyte. I was a Yudkin disciple. EVERY SINGLE THING that this man said in 1972 is the God's honest truth. And if you want to read a true prophecy, you find this book. Its NOT easy to find, but you go find this book, and I'm telling you, every single thing this guy said, has come to pass. It's ASTOUNDING. I am in awe of this guy.