---
From the Desk of the Bishop of San Joaquin
Surrounded: The Official Weblog of the Episcopal Diocese of San Joaquin ^ | September 2007 | Bishop John David Schofield


Posted on 09/17/2007 5:17:12 AM PDT by Huber

One of the greatest problems the Church faces today is the willingness to ascribe motivations and "hidden agendas" to those who disagree with us. This escalates not only our suspicion of others but levels of anger. Actions based more upon rumors and fear rather than facts cause us to separate ourselves from one another. At this writing in early September we are all aware of momentous decisions that lie ahead. The American House of Bishops has been presented with the deadline of Sept. 30 to turn from unbiblical theology and practices. Those who plead for more time and dialogue claiming that even the worst rifts can be overcome with cool headed conversation and understanding now seem to be the very ones who know what the outcome will be and have moved into action. Two parishes within the diocese have already voted to leave the Episcopal Diocese of San Joaquin and a third is prepared to vote in the same manner within days while neither the House of Bishops, the Primates of the Anglican Communion, nor the Archbishop of Canterbury himself have presumed to know what the future holds. Such premature and precipitous action can only have one interpretation. These folks know in their heart of hearts that there will be no turning back, no repentance and that the unilateral action of the American Church will bring about the break-up of the Anglican Communion as we have known it or the division of our own Church in the United States or, worse, the disintegration of both.

The cry of the majority of Episcopalians has been that UNITY trumps TRUTH, that — in fact — Anglicans have been famous for keeping the unity of the Church while recognizing serious differences of theology among ourselves. We have prided ourselves on the fact that even though we are a creedal church we are not bound by a single confessional statement of belief. Early Church Fathers are quoted on this point with such frequency that it appears history itself is neglected when our attention is directed to one bishop who was prepared to stand alone, suffer exile, and remain faithful to the Scriptures for truth's sake, ultimately winning over the whole Church that was prepared to reject him. We are reminded of our English heritage when during the time of the Elizabethan Settlement in the 1500s Anglicans remained together as theologies looking to Protestant Geneva as well as to the Catholicism of Rome were both accommodated. Here in North America with hostilities tearing our nation apart, even Civil War could not break the unity found within the House of Bishops. Southern bishops, absent for four years, took their seats among their brothers where no mention of the separation was ever made. As far as the Episcopal Church was concerned, our unity did not have to be restored. . .it was never recognized nor ever broken. Yet, when it comes to the LARGER UNITY, namely that of the worldwide Anglican Communion, these same advocates of unity within the American Church, so far, have turned their backs. The fact that decisions made in the United States by us have had a profound — and, in some instances a fatal— effect upon men and women ministering abroad seems of little consequence. Our "truth" for our society somehow takes precedence over unity beyond our borders. Are we to understand that unity with brother and sister Anglicans around the world can be sacrificed for our different "truth"?

By contrast, the Diocesan Council of the Episcopal Diocese of Pittsburgh began [the] formal process that could lead to changes in its diocesan constitution…. If ultimately passed by Diocesan Convention [along with others now consider ing this option] those changes will open the door to remain with mainstream Anglicanism even as the wider Episcopal Church continues to cut those ties. The Rev. David Rucker, President of Pittsburgh's Diocesan Council, said, "We are praying that The Episcopal Church's House of Bishops makes these votes unnecessary by unequivocally accepting all the requests of the worldwide Anglican Communion when they meet in New Orleans Sept. 20-25."

In truth, the prospects for the future do not appear bright. Again, quoting from a recent news release, "Acting in March 2007, the House of Bishops rejected in advance the creation of [a] system of oversight for conservatives and hinted that they would not be able to act on. . . other requests. Actions by The Episcopal Church's Executive Council in June further signaled the church leadership's decision to allow no internal solution.

"The Episcopal Church has been steadily moving away from biblical Christianity for more than 30 years. Church leaders, such as the current Presiding Bishop Katherine Jefferts Schori, are on record denying basic Christian truths, especially concerning the uniqueness of atonement and sal- vation by Jesus Christ and the primacy of Scripture in determining moral and theological teaching. [Conservative] dioceses in the Anglican Communion Network, have worked for years to reconcile their differences with The Episcopal Church. [Thus far] those efforts have been unsuccessful. The leadership of [these] dioceses agrees that their first loyalty as Christians must lie with God as fully revealed in Jesus Christ."

Foreseeing tragic events that have already taken place, Primates around the world pleaded with the leadership of The Episcopal Church not to resort to legal actions against those who, for conscience sake, felt they needed to leave the American Church and take with them property they and generations of their families had paid for, built and maintained. This voice has gone unheeded. To the contrary, widespread use has been made of lawsuits and threats against the dioceses and parishes, as well as clergy and laity, who seek to remain faithful to the historic faith and order of the Anglican Communion. Within dioceses where parishes have wanted to leave, a questionable canon law called the "Dennis Canon" has been applied. (Historical records question this canon was ever properly passed by the General Convention.) And, where such disputes have arisen, Church leaders have "added" words that appear nowhere in Canon Law making property of both parishes and dioceses appear to be "held in trust for The Episcopal Church." As this sad spectacle plays out before a cynical and unconverted world, opportunities to reach out to those who do not know Christ evaporate. We can almost hear the worst suspicions of those who are outside the Church being confirmed, "They're no different from any of us!"

Is there anything of a positive nature that can be done? Always. Our God is a God of the Impossible. First, and foremost, prayer — as the Bible puts it, unceasing prayer — must be made. For whom? We could begin with the Archbishop of Canterbury. He will be arriving in New Orleans in a matter of days (9/17) to meet with our House of Bishops for three of its five day session. He will be addressing a group of bishops who, strangely enough, want to walk away from what Anglican Primates are asking of us, yet — somehow — want to convince the Archbishop that he needs to keep us in this Communion. Surround him with the light of the Holy Spirit that he may have genuine discernment and speak clearly, boldly, and in accord with God's will.

Second, it is our responsibility to lift up our Presiding Bishop. How easy it is to criticize, but how much more important it is to hold her in the same stream of the Holy Spirit as the Archbishop.

Of equal importance, we need to keep all the members of the House of Bishops in our intercession.

In his letter to his clergy and people, Bishop John Howe writes that he along with 30 other bishops have been willing to signify they will not support the consecration of another non-celibate homosexual candidate for the episcopate nor will they authorize or permit services purporting to bless same-sex unions. He does say, however, that there are more bishops who have gone on record rejecting the requests of the rest of the Anglican Communion while another 30 bishops have, to date, remained silent about their position on these and other matters pertaining to the Windsor Report. Pray for those bishops who are standing on the word of God. Pray for those who have yet to declare their loyalty and commitment. And, for certain, pray for those who oppose the requests of the rest of the Anglican Communion.

Should the House of Bishops leave New Orleans without accepting the conditions of the Windsor Report, there is no telling what to expect at home or abroad. One bishop has already announced that no action is a decision in and of itself. He intends to call a special convention of his diocese, presumably to dissociate himself and his people from the unwillingness to remain a part of the Anglican Communion. Other leaders known to me personally are already making plans to depart from their positions through resignations and early retirement. Even though I might disagree with such decisions, for it means they would be abandoning folks who have, over the years, come to trust and depend on them, in my heart I understand what they are experiencing and would hope to remain friends with them. Parish churches are already making decisions to leave and protect themselves as best they can, not waiting for church leaders to act — as noted above. It is hard to imagine the confusion, chaos and pain of such separations. Yet, during such a time as this; surely there is only one word, one attitude that is called for: Grace.

Despite three years of public statements — both spoken and written — by me, as your bishop, there are fear mongers amongst us who predict ugly, costly, and oppressive actions that would be visited swiftly, yes and mercilessly, upon any who take a position contrary to the one I believe to be right. Once again, therefore, I repeat that sad as I would be to watch such a gulf widen, there would be no reprisals on my part. I have already stated if any parish wishes to place itself under another bishop, I will do my best to assist them. They would go with my blessing along with their property, clergy, people, and funds. The single caveat, also stated publicly and repeatedly, to such an amicable parting would be that any congregation wishing to depart could not do so by leaving behind a debt for the diocese to manage. As we enter a period of uncertainty that the Church has not known for centuries, I would ask your prayers for me. The prayer that I have prayed for years, and have shared publicly with many within this Diocese of San Joaquin, is: "Lord, when the dust settles, please let me be found standing near you."

To this end, let us pray: Gracious Father, we pray for thy holy Catholic Church. Fill it with all truth, in all truth with all peace. Where it is corrupt, purify it; where it is in error, direct it; where in any thing it is amiss, reform it. Where it is right, strengthen it; where it is in want, provide for it; where it is divided, reunite it; for the sake of Jesus Christ thy Son our Savior. Amen. (Book of Common Prayer, p. 816)

+John-David

---
TOPICS: Current Events; Mainline Protestant
KEYWORDS: episcopal; sanjoaquin; schofield; tec



---
To: ahadams2; showme_the_Glory; blue-duncan; brothers4thID; sionnsar; Alice in Wonderland; ...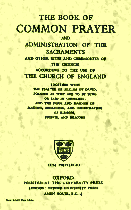 Traditional Anglican ping
, continued in memory of its founder
Arlin Adams
.
FReepmail
Huber
or
sionnsar
if you want on or off this moderately high-volume ping list (sometimes 3-9 pings/day).
This list is pinged by
Huber
and
sionnsar
.
Resource for Traditional Anglicans:
http://trad-anglican.faithweb.com
Humor:
The Anglican Blue
Speak the truth in love. Eph 4:15
2
posted on
09/17/2007 5:18:04 AM PDT
by
Huber
(And the light shineth in darkness; and the darkness comprehended it not. - John 1:5)
---
To: Huber
Other leaders known to me personally are already making plans to depart from their positions through resignations and early retirement.
There is a word for those who would flee the fight, abandoning their flocks. Cowards.

---
To: PAR35
Yes, they were not fit for their office.
4
posted on
09/17/2007 11:45:48 AM PDT
by
gogeo
(Democrats want to support the troops without actually being helpful to them.)
---
To: Huber
neither the House of Bishops, the Primates of the Anglican Communion, nor the Archbishop of Canterbury himself have presumed to know what the future holds
Politically demure but baloney. Of course they know. An aggressive, unprincipled homosexual lobby, aided and abetted by the universalist queen Cleopatra and her litigious asp, have not gone this far over the top only to compromise or acquiesce, in Christian humility, at this late date.
I think the World Anglican communion will survive and flourish, but TEC will become a mere splinter group flush with cash and empty buildings.

---
FreeRepublic.com is powered by software copyright 2000-2008 John Robinson