---
Big Big Big Day On The Anglican News Front
Drell's Descants ^ | 1/08/2007 | Brad Drell


Posted on 01/08/2007 5:33:22 PM PST by sionnsar

Of course, most of it broke while I was in Standing Committee. We met for three hours today, most of it speaking with +Bruce about the Diocese, our mission and ministry, our role as a Standing Committee, +Bruce's recent election as President of the Council of Advice, the Camp Allen meeting, and the way forward for the Episcopal Church. Between Friday and today's standing committee meeting, and even afterward, have been full of emails and phone calls from other folks who watch the Anglican Communion very closely. I've had a few thoughts after stirring the pot with all of these ingredients.

I think +Bruce and the other Windsor Bishops continue to hold out the hope that discipline coming from the Anglican Communion would ultimately rally the majority of Episcopalians back to the center and to Windsor Report compliance while an international covenant is ironed out. +Bruce believes in miracles. I don't know if this miracle will actually happen, but, should it not, lifeboats will be available, and I pray the Diocese of Western Louisiana will be one of them.

I suspect, but don't know, that the letter from the Windsor Bishops to all of the Primates expressed what they, as a group, would like to see the Primates do. I do know that this is a critical meeting, and the "pre-meeting" with other Bishops of the Episcopal Church holding views different than our Presiding Bishop will be also hugely important. I think (but again, don't know) that +KJS will come home with an ultimatum with a definite time table or else certain folks can forget about their Lambeth invitations. One such ultimatum worked over the American prayer book from the Archbishop of Canterbury at the Episcopal Church's very founding. It saved the Nicene and Apostle's Creeds in our prayer book; indeed, it saved the faith in the American church. It is, once again, time for the Archbishop of Canterbury to save the faith within the American church due to this church's short or ill sightedness. Lord, may it be so, and may the next General Convention receive the same movement of the Holy Spirit that brought the Episcopal Church into the Anglican Communion in the first place. If the convention does not, then may the Lord move as many as are able into the Anglican Communion in the United States.

Somehow, I was still the first to get Bishop Wimberly's statement up, which was graciously sent to me by his assistant after I spoke to her on Friday. She said she was expecting something then; when I didn't get it on Friday, I put in a call to my favorite Bishop who was on the road back and told me there wouldn't be an official statement, allowing me to enjoy the balance of my weekend.

The Panel of Reference actually did something. Frankly, I'm quite impressed with what they did. However, I don't see the Episcopal Church abiding by any one of their recommendations that actually requires action on behalf of General Convention, as its leadership, in my view, lacks any sense of international accountability or humility toward what our Anglican brothers and sisters think.

The Episcopal Church is now just largely about holding on to property while the liberal agenda presses forward amid numerical and spiritual decline. But, this is God's Church, not ours. Miracles can happen. They just might. In times like these, we have to be about our mission and ministry as if those miracles can happen.

[To the Traditional Anglican Ping List, my apologies. I got caught up in a number of things this past weekend, including a church outing that wiped out my ability to keep the list up to date, not to mention keeping myself informed! I'll be playing catchup for a a day or two... --sionnsar]

---
TOPICS: Mainline Protestant; Other non-Christian
KEYWORDS:
---
To: ahadams2; Peach; Zippo44; piperpilot; ex-Texan; ableLight; rogue yam; neodad; Tribemike; ...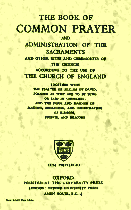 Traditional Anglican ping
, continued in memory of its founder
Arlin Adams
.
FReepmail
sionnsar
if you want on or off this moderately high-volume ping list (typically 3-9 pings/day).
This list is pinged by
sionnsar
,
Huber
and
newheart
.
Resource for Traditional Anglicans:
http://trad-anglican.faithweb.com
More Anglican articles
here
.
Humor:
The Anglican Blue
(by Huber)
Speak the truth in love. Eph 4:15
2
posted on
01/08/2007 5:34:22 PM PST
by
sionnsar
(†trad-anglican.faithweb.com†|Iran Azadi| 5yst3m 0wn3d - it's N0t Y0ur5 (SONY) | UN: Useless Nations)
---
To: sionnsar
Drell is hoping against hope for a miracle; that is, ECUSA might still repent at its next GenCon. No way. It's over. Get on the life boats. Be a part of the solution. ECUSA is the problem.
---
To: WashingtonSource
In my humble opinion you are absolutely correct. However... I admit I have not paid much attention to his bishop or diocese, but if I were, say, in the Diocese of San Joaquin (CA, +Schofield), the determination of the appropriate action would be much more difficult since the entire diocese might become the "lifeboat."
(I had it easy in a way, a long time ago: we moved into a diocese where there were no ECUSA churches in which we could make our home. We climbed aboard a lifeboat then, though it has long since become our home.)

4
posted on
01/08/2007 6:03:00 PM PST
by
sionnsar
(†trad-anglican.faithweb.com†|Iran Azadi| 5yst3m 0wn3d - it's N0t Y0ur5 (SONY) | UN: Useless Nations)
---
FreeRepublic.com is powered by software copyright 2000-2008 John Robinson