---
Anglicans on verge of split over same-sex marriage (extreme media bias alert)
Globe and Mail ^ | 12/20/2006 | Michael Valpy


Posted on 12/23/2006 9:44:19 AM PST by sionnsar

Main Entry: pri'mate
Etymology: Middle English primat, from Old French, from Medieval Latin primat-, primas archbishop, from Latin, leader, from primus
Date: 13th century
1 often capitalized : a bishop who has precedence in a province, group of provinces, or a nation
2 archaic : one first in authority or rank : LEADER
3 [New Latin Primates, from Latin, plural of primat-, primas] : any of an order (Primates) of mammals comprising humans, apes, monkeys, and related forms (as lemurs and tarsiers)
-pri'mate-ship \-*ship\ noun
--pri-ma'tial \pr*-*m*-sh*l\ adjective


Anglicans on verge of split over same-sex marriage
Canadian church prepares for synod vote as question divides U.S. congregations
From Wednesday's Globe and Mail
With the U.S. branch of the Anglican Communion starting to crumble over homosexuality, Canadian Anglicans know they face the same danger next year when their church's governing council meets to vote on blessing same-sex unions.
At least seven congregations in Virginia have voted in the past few days to leave the U.S. Episcopal Church. They include two large historic parishes dating back to colonial times, Truro Church and Falls Church. As many as 10 per cent of Episcopal parishes elsewhere in the country are expected to follow suit.
At the same time, a clergy group representing 20 per cent of Anglican parishes in England met last week with Archbishop of Canterbury Rowan Williams, titular leader of the 77-million-member world Anglican Communion, to demand a parallel structure within the Church of England rejecting homosexuality.
The rebel U.S. parishes are allying themselves with ultra-conservative Anglican national churches, called provinces, in South America and Africa, reportedly funded by wealthy Americans intent on reshaping the Anglican Communion and wresting leadership from its theological liberals.
Truro Church's priest in charge, for example, has been consecrated a bishop by the primate, or senior prelate, of Nigeria, Archbishop Peter Akinola, who backs legislation there that would make it illegal for homosexuals to form organizations, read gay literature or eat together in restaurants.
The Episcopal Church has been tipping toward schism since the consecration of Gene Robinson as bishop of New Hampshire in 2003, and the decision by a number of U.S. dioceses to permit the blessing of same-sex unions. Bishop Robinson has a homosexual partner.
Some congregations in the Greater Vancouver diocese of New Westminster -- whose bishop, Michael Ingham, authorized the blessing of same-sex unions in 2002 -- already have withdrawn from active participation in the Anglican Church of Canada. Anglican bishops from Africa and the Southern Hemisphere visit them regularly.
Other congregations on Vancouver Island and in Calgary, Saskatchewan and parts of Ontario are also reportedly waiting to withdraw from the national church. Their representatives attend meetings together. They are advised by a retired bishop from Newfoundland, Donald Harvey.
The crunch will come in June, when the Canadian church holds its general synod in Winnipeg. What likely will be revealed then is how much the campaign against fully accepting homosexuality within the church is clergy-led and how much support there is from laity.
Synod delegates will decide whether to accept or reject the report of a theological commission stating that the blessing of same-sex unions is not a matter of Anglican core doctrine but rather can be dealt with under the more flexible rubric of "pastoral differences."
They also will vote on whether to allow for a local parish or diocesan option on same-sex unions similar to what exists in Vancouver, a vote deferred from the last general synod in 2004.
On the surface, the theological commission's work, known as the St. Michael Report, and the local-option choice look like a workable Canadian compromise. But there are conservatives within the Canadian church who likely have no interest in compromise.
They're prepared to leave the national church, and their goal, like the goal of their fellow mutineers in the Episcopal Church, is some sort of official recognition by the Archbishop of Canterbury.
Anglicanism is at particular risk of schism because of its decentralized structure. The Archbishop of Canterbury does not have the authority of the Pope but is merely primus inter pares, first among equals. The communion comprises 38 autonomous churches or provinces and, within each province, individual diocesan bishops have considerable local authority.

---
TOPICS: Mainline Protestant; Other non-Christian
KEYWORDS:



---
To: ahadams2; piperpilot; ex-Texan; ableLight; rogue yam; neodad; Tribemike; rabscuttle385; ...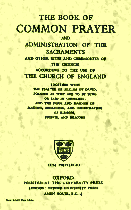 Traditional Anglican ping
, continued in memory of its founder
Arlin Adams
.
FReepmail
sionnsar
if you want on or off this moderately high-volume ping list (typically 3-9 pings/day).
This list is pinged by
sionnsar
,
Huber
and
newheart
.
Resource for Traditional Anglicans:
http://trad-anglican.faithweb.com
More Anglican articles
here
.
Humor:
The Anglican Blue
(by Huber)
Speak the truth in love. Eph 4:15
2
posted on
12/23/2006 9:46:07 AM PST
by
sionnsar
(?trad-anglican.faithweb.com?|Iran Azadi| 5yst3m 0wn3d - it's N0t Y0ur5 (SONY) | UN: Useless Nations)
---
FreeRepublic.com is powered by software copyright 2000-2008 John Robinson