---
Alternative Primatial Oversight: Further Thoughts After the Meeting in NY [TEC]
Transfiguration ^ | 9/17/2006 | Canon John Heidt


Posted on 09/18/2006 5:12:49 PM PDT by sionnsar

Main Entry: pri'mate
Etymology: Middle English primat, from Old French, from Medieval Latin primat-, primas archbishop, from Latin, leader, from primus
Date: 13th century
1 often capitalized : a bishop who has precedence in a province, group of provinces, or a nation
2 archaic : one first in authority or rank : LEADER
3 [New Latin Primates, from Latin, plural of primat-, primas] : any of an order (Primates) of mammals comprising humans, apes, monkeys, and related forms (as lemurs and tarsiers)
-pri'mate-ship \-*ship\ noun
--pri-ma'tial \pr*-*m*-sh*l\ adjective



What is a Primate? According to the Oxford English Dictionary a primate in ecclesiastical usage is simply: "An archbishop, or formerly sometimes a bishop, holding the first place among the bishops of a province." 1

At the beginning ECUSA clearly did not have a primate. Before the American Revolution the Anglican Church in each State was considered a separate missionary province, e.g., "The Church of England in Connecticut," and after the Revolution independent dioceses.2. When at our first General Convention in 1789 these became a national federation of provinces or dioceses, the most senior of the bishops presided over their meetings, but without holding the first place among them. A Presiding Bishop rather than an Archbishop was more in keeping with a federation of autonomous churches and more consistent with the new democratic spirit of the age.

But times have changed. Dioceses, now bound by national canons determined by General Convention, are no longer co-terminus with secular states but are themselves grouped into geographical provinces. In accord with general catholic practice Bishop Grafton of Fond du Lac supported legislation to divide ECUSA into five or eight provinces each with its own Archbishop.3 General Convention passed the first half of the legislation creating our present provinces (The ninth was added later), but rejected any provision for archbishops, due undoubtedly to contemporary controversies over churchmanship. In 1919 it was decided to create the National Council and to elect Presiding Bishops for six year terms. 4 In 1943 Presiding Bishops on their election were required for the first time to resign their diocesan sees and since then canons have been passed giving them ever increasing authority and influence over the national church, though without a primatial see or the ability to intervene or judicate in any individual diocese. 5 Aided by developments within the whole Anglican Communion, they came to be recognized as Chief Pastors and Primates, treated much as any primatial archbishops.

So is the Presiding Bishop now a primate? It's all a matter of definition. If Katherine Schori says she cannot give away what she does not have, does this mean that she intends to revert back to the eighteenth century practice of merely presiding at meetings of the House of Bishops, neither presiding over meetings of the National Council nor using the title of primate, unlike her predecessor who used it of himself in his statement regarding the recent New York meeting? If so, we could accept it, for, though strange, it is theoretically possible for a layperson to preside at episcopal meetings as was sometimes true of ancient emperors, or even be head of the church in all things temporal, as is true of British Monarchs to this day. But there is no indication that either Frank Griswold or Katherine Schori are prepared to accept such a diminution of their power and authority, nor could they without General Convention changing the national canons.

Those appealing for Alternative Primatial Oversight could get around this dilemma by dropping the word "Alternative." What we need is someone who holds the first place among traditionalist bishops and who unites them with the rest of the Anglican Communion. If anyone prefers, they can call this a need for "Adequate (or perhaps 'Acceptable') Primatial Oversight." Having the same letters as before (APO) "Adequate Primatial Oversight"should be acceptable to our constituency, nor I think require any change in the canons. But it must be primatial and it must be oversight, not pastoral care. (We can take care of ourselves!), and a new primate must be acceptable to all traditionalist bishops, i.e., not ordain women

In short, we can accept Katherine Schori as Presiding Bishop of ECUSA legally elected by the House of Bishops, just as we can accept an elected president or prime minister, but we cannot accept any kind of primatial oversight she might exercise such as acting as chief consecrator of episcopal ordinations - a primacy she apparently rejects anyway. The time has come at last for traditionalist bishops to choose or even create a true primate with real authority, local or foreign, who will have the approval of Canterbury – someone not appointed through the offices of the Episcopal Church. Then perhaps we will move a little closer to the original proposal of Bishop Grafton and others.




References


See also the Oxford Dictionary of the Christian Church under "primate", "metropolitan", "archbishop."

After the Revolution the diocese and the state remained co-extensive until 1838 when the term "diocese" was substituted for "state," A History of the Protestant Episcopal Church by Raymond W. Albright, Macmillan N.Y., p.139.For a recent examination of the pre-revolutionary church see One, Catholic and Apostolic, by Paul Victor Marshall, Church Publishing, New York.2002.

Legislation to create independent provinces with their own provincial courts was first brought to General Convention by New York and Pennsylvania in 1865 but was rejected. In 1882 it was agreed that judiciaries higher than the dioceses were needed to defray the increasing work and expense of General Convention and in 1885 the House of Bishops approved the creation of provinces each with their own archbishop. In 1901 this was agreed in principle but then defeated in 1907. Finally in 1913 legislation was passed creating eight provinces with very limited powers and without archbishops. Annotated Constitution and Canons, Vol.1. E.A. White, Seabury Press1954.Bishop Grafton's involvement is from personal knowledge which I have not been able to verify.

The election of a Presiding bishop from among his fellow bishops first came into effect in 1925 after the death of Bishop Tuttle

Originally it was debated whether to make Connecticut or Washington, D.C. a primatial see, but this was abandoned in 1943. Albright, op. cit.,
---
TOPICS:
Mainline Protestant
KEYWORDS:
---
To: ahadams2; cf_river_rat; fgoodwin; secret garden; MountainMenace; SICSEMPERTYRANNUS; kaibabbob; ...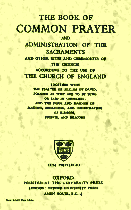 Traditional Anglican ping
, continued in memory of its founder
Arlin Adams
.
FReepmail
sionnsar
if you want on or off this moderately high-volume ping list (typically 3-9 pings/day).
This list is pinged by
sionnsar
,
Huber
and
newheart
.
Resource for Traditional Anglicans:
http://trad-anglican.faithweb.com
More Anglican articles
here
.
Humor:
The Anglican Blue
(by Huber)
Speak the truth in love. Eph 4:15
2
posted on
09/18/2006 5:13:22 PM PDT
by
sionnsar
(†trad-anglican.faithweb.com†|Iran Azadi| 5yst3m 0wn3d - it's N0t Y0ur5 (SONY) | UN: Useless Nations)
---
FreeRepublic.com is powered by software copyright 2000-2008 John Robinson