---
---
To: ahadams2; cf_river_rat; fgoodwin; secret garden; MountainMenace; SICSEMPERTYRANNUS; kaibabbob; ...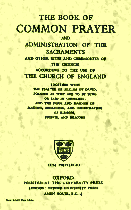 Traditional Anglican ping
, continued in memory of its founder
Arlin Adams
.
FReepmail
sionnsar
if you want on or off this moderately high-volume ping list (typically 3-9 pings/day).
This list is pinged by
sionnsar
,
Huber
and
newheart
.
Resource for Traditional Anglicans:
http://trad-anglican.faithweb.com
More Anglican articles
here
.
Humor:
The Anglican Blue
(by Huber)
Speak the truth in love. Eph 4:15
2
posted on
08/31/2006 7:22:13 PM PDT
by
sionnsar
(†trad-anglican.faithweb.com† | Iran Azadi | SONY: 5yst3m 0wn3d, N0t Y0urs |)
---
To: sionnsar
State court and appellate remedies are all fine and dandy, but why did they simply stand idly by and let the guy get physical possession of the parishes in the first place?

Why didn't they physically block him and his lieutenants from the buildings, and physically remove him from the property. That would force the Bishop to spend money and time and effort on eviction notices, and would force the whole issue into court...or maybe a court would have ruled the same way: no jurisdiction - at which point the Bishop would NOT have possession of the buildings, but would instead be filing appeals to try and get into court.

Indeed, if orthodox Anglicans are more numerous than that unorthodox, why don't they simply go back into their parishes and take physical possession. This forces a court to listen and hear the eviction arguments.

Passively arguing gives the bad guys the win. Physically block them, and they won't fight either. Then THEY are the ones running to court trying to get orders...and they might lose, depending on the judge. Let them get physical possession, and there's no ground to fight. Engage them in a fistfight, and THEY are the ones invading the property.

Defy them and ignore them. They do not have the police in their pocket. The government doesn't want to get involved in this. If he's an abusive bishop, unceremoniously unfrock him and and declare he's no bishop at all. Fight.
---
To: sionnsar
Where have orthodox Episcopal priests been the past 40 years? Over these past decades numerous bishops, priests, and theologians have declared that Christ was not God, and the resurrection never happened. They have told us there is no heaven, and our task is to create paradise on earth through social action. Those who call themselves orthodox tolerated all of this.
Everything is upside-down in the Anglican communion. Sexual sins have always been at the botton of the hierarchy of sins. But now that there is a gay bishop, the orthodox are finally outraged enough to want to leave. The most deadly sins of blasphemy have been going on for decades, and only now is refuge to be found in priggishness.
At this point, I don't find much substance in either camp.

---
FreeRepublic.com is powered by software copyright 2000-2008 John Robinson