---
The Church Of The Anointed: theology and worship as self-congratulation
VirtueOnline-News ^ | 8/06/2006 | The Rev'd Canon Gary L'Hommedieu


Posted on 08/07/2006 5:47:54 PM PDT by sionnsar

"What a vision may offer, and what the prevailing vision of our time emphatically does offer, is a special state of grace for those who believe in it. Those who accept this vision are deemed to be not merely factually correct but morally on a higher plane. Put differently, those who disagree with the prevailing vision are seen as being not merely in error, but in sin. For those who have this vision of the world, the Anointed and the Benighted do not argue on the same moral plane or play by the same cold rules of logic and evidence. The Benighted are to be made "aware," to have their "consciousness raised," and the wistful hope is held out that they will "grow." Should the Benighted prove recalcitrant, however, then their "mean-spiritedness" must be fought and the "real reasons" behind their arguments and actions exposed. While verbal fashions change, this basic picture of the differential rectitude of the Anointed and the Benighted has not changed fundamentally in at least two hundred years." (Thomas Sowell, The Vision of the Anointed: Self-Congratulation as the Basis for Social Policy, New York: Basic Books, 1995; pp. 2-3; capitals added on "anointed" and " benighted" for emphasis.)

I hope no one objects to my plagiarizing of Dr. Sowell's method in what follows. A culture warrior is not so much interested in birthing something original as in differentiating the terrain on which he has walked his whole life and yet still felt himself stumbling. When a light goes on, he feels as if scales have fallen from his eyes.

Thomas Sowell, an African-American and senior fellow of the Hoover Institution, has written dozens of books on economics and political philosophy. His analysis of the intellectual obsession of the West with "the vision of the Anointed" illuminates the culture wars that have dominated American Christianity in recent decades, and in particular the Episcopal Church.

What I propose is this, based upon Dr. Sowell's analysis and terminology: that the Episcopal Church as presently constituted is in very fact the Church of the Anointed. With the particular genius for which it is legendary, the Episcopal Church has seized upon the spirit of the vision outlined above and made it accessible through its liturgical forms, through its public pronouncements, and through its so-called "mission".

To put it another way: the Episcopal Church exists institutionally to mediate the "special state of grace" mentioned above. Its theology and its worship are structured to reinforce in the mind of the participant, "I am one of the good people, the Anointed. If you disagree with me, you're not."

One of the terrible traits of the Anointed, according to Dr. Sowell, is their utter imperviousness to reality. Their views as presented don't need to be supported by empirical evidence or by positive results.

"Evidence" is presented via charged rhetoric designed to polarize and intimidate. At the heart of the "evidence" is the implied claim, "This is the vision of the Anointed. If you reject it, then clearly you stand with the inferiors, the Benighted."

Because the vision of the Anointed is intuited as the prevailing cultural vision, the one who disagrees senses himself to be outnumbered and outgunned. If he holds his ground intellectually, he holds it in silence. He can only hold out hope that there are others among "the Benighted" with whom he may one day join in fellowship.

Nor do policies enacted by the Anointed need to produce results. Dr. Sowell cites affirmative action as the classic failure of the Anointed in the sphere of social policy, carrying in train the devastation of the African-American community by every criterion of analysis. Every criterion except one: the policy has mediated liberal doses of self-congratulation to its proponents.

The burden of proof is irrelevant for many reasons: among them the fact that the Anointed, while they speak for those they stoop to liberate, rarely live among them. Rarely are they themselves affected by the consequences of their policies and pronouncements.

Hence the irrelevance of empirical evidence -- or of reality in general. "The vocabulary of the Anointed requires no clear definitions, logical arguments, or empirical verifications. Its role is precisely to be a substitute for all of these things" (Sowell, p. 187).

Let's get closer to home and mention an issue with which the Episcopal Church has in recent decades identified itself: the Peace Movement. Again, Dr. Sowell:

"Phrases like 'the peace movement,' used to describe disarmament advocates, preempt the whole momentous question as to whether peace is more likely to be achieved through disarmament or through military deterrence. With untold millions of lives depending on the answer to that question, something more substantive than a presump¬tion that some people like peace more than others might be expected. But here, as elsewhere, all sorts of factual and analytical issues are reduced to psychological propensities" (p. 184).

Consider Bishop Griswold's acclaimed campaign of "waging reconciliation". Don't think of it as a proven or likely means for bringing about peace between individuals or nations, but rather as a method for preempting serious discussion of the question of what realistically makes for peace. People of good will can and will disagree on answers to this and other perplexing questions, upon which hangs the fate of millions.

Among the Anointed there is no question. Peace equals non-resistance -- at least non-resistance to the Anointed. Do we make this equation based upon the hard lessons of history (say, by observing the effects of the "peace movement" in Europe in the 1930's)? Again, serious peacemakers will disagree. For the Anointed the implied response is, "You should be ashamed for even asking."

I propose this as a rule to be tested, and I wait to be proved wrong. By that I mean PROVED WRONG, not just placed among the Benighted:

Since the latter half of the 20th century the Episcopal Church, in its worship, its theological statements, and its legislative policies, exists primarily as a ritual mechanism of self-congratulation for the self-proclaimed prophets of our time, the Anointed.

I take it for granted that the Episcopal Church's social "witness" is fashioned not so much to solve anything or liberate anyone as to mediate the moral aggrandizement of the Anointed. If solutions were at all at issue, then proof before the fact and results after the fact would have some relevance.

I take it for granted that blacks, women, and gays have been adopted as "mascots" (Sowell's term) by the Anointed to practice their selective "inclusion". Again, this is not so much for the real benefit of the former as for the affirmation of the latter. The contribution and the importance of blacks, women and gays have not been seriously questioned in the past fifty years. Now it must be questioned repeatedly, and in lathered tones, for the sake of the Anointed, with their insatiable need to distinguish themselves from the Benighted and "make a statement".

I take it for granted that the Presiding Bishop-elect was elected not because she had the best resume or the best vision for the Episcopal Church. If she were a male, she could not have submitted her resume to any of the top parishes in the country and expected to be taken seriously. I take it for granted that her election, purely and simply, is an act of self-congratulation to and from the Anointed.

I take for granted that the present leadership of the Episcopal Church would remain unmoved if they were confronted with data proving that their actions and pronouncements were the direct cause of real harm to the very constituents they claimed to be serving.

I would sooner expect to see a leopard change its spots.

END

-- Gary L'Hommedieu is Canon in charge of Pastoral Care at St. Luke's Cathedral in Orlando, Florida. Episcopal Diocese of Central Florida

---
TOPICS: Mainline Protestant; Other non-Christian
KEYWORDS:



---
To: ahadams2; cf_river_rat; fgoodwin; secret garden; MountainMenace; SICSEMPERTYRANNUS; kaibabbob; ...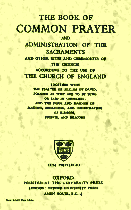 Traditional Anglican ping
, continued in memory of its founder
Arlin Adams
.
FReepmail
sionnsar
if you want on or off this moderately high-volume ping list (typically 3-9 pings/day).
This list is pinged by
sionnsar
,
Huber
and
newheart
.
Resource for Traditional Anglicans:
http://trad-anglican.faithweb.com
More Anglican articles
here
.
Humor:
The Anglican Blue
(by Huber)
Speak the truth in love. Eph 4:15
2
posted on
08/07/2006 5:48:29 PM PDT
by
sionnsar
(†trad-anglican.faithweb.com† | Iran Azadi | Appeasement=Suicide | Hezbo rockets carry "peaceheads")
---
To: sionnsar
The critical element in all this self-congratulation is the propaganda media. And the defining characteristic of the propaganda media, their "circle the wagons" self-definition. If you are a journalist, you obey the "eleventh commandment" (as Reagan put it w/ respect to the Republican Party) - you do not question the objectivity of any fellow journalist. And "fellow journalist" is defined the same way - "someone who does not question the objectivity of any fellow journalist."

"Objective journalism" is an establishment - nay, the establishment in America. You can belong to that establishment, if you get a job as a reporter and you go along and get along with all the other journalists. Fail to do that and you are, irrevocably, out.

Self-congratulation would be unsatifactory without reinforcement by journalism. Even conservatives think they have good ideas, after all, but only "liberals" get the reinforcement of journalism. The question before the house is, "Why do liberals get the reinforcement of journalism?" The answer to that is not far to seek. Journalism doesn't do things, journalism is all talk. Journalism is unregulated and therefore free to please itself, within the limits imposed by the need to attract an audience to the advertisers.

The question is, What would please journalism? And the obvious answer to that is, journalism is pleased to feel itself to be important - more important than the people who do things. There are many people who do things. Not only manufacturers and truckers and repairmen and farmers, but policemen and the military. What pleases journalists is to feel superior to all of them.

What pleases journalists, that is, is to feel superior to adverisers. And what pleases journalists is nonjournalists who help journalists feel superior. People who reinforce the idea that journalists are more important than the people who do things. And that is what "liberals" do. Indeed, the term "liberal," which originally meant something quite different to its present American meaning, was awarded to the people whom journalism elected to call "liberals" for service to the self-esteem of the "objective" journalistic establishment.
3
posted on
08/07/2006 6:51:03 PM PDT
by
conservatism_IS_compassion
(The idea around which liberalism coheres is that NOTHING actually matters except PR.)
---
To: sionnsar
Dr Thomas Sowell is one of my favorite writers and political thinkers. His book, "The Vision of the Anointed: Self-Congratulation as the Basis for Social Policy, New York" nails the elite self annoited liberals and exposes their reality.

What is happening in our Episcopal churches is the same battle across our nation in other churces and many other institutions. It is a daily battle between the Dark Side liberals and the rest of us.
4
posted on
08/08/2006 7:52:08 AM PDT
by
Grampa Dave
(There's a dwindling market for Marxist Homosexual Lunatic wet dreams posing as journalism)
---
FreeRepublic.com is powered by software copyright 2000-2008 John Robinson