---
---
To: ahadams2; secret garden; MountainMenace; SICSEMPERTYRANNUS; kaibabbob; angeliquemb9; ...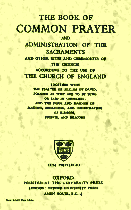 Traditional Anglican ping
, continued in memory of its founder
Arlin Adams
.
FReepmail
sionnsar
if you want on or off this moderately high-volume ping list (typically 3-9 pings/day).
This list is pinged by
sionnsar
,
Huber
and
newheart
.
Resource for Traditional Anglicans:
http://trad-anglican.faithweb.com
More Anglican articles
here
.
Humor:
The Anglican Blue
(by Huber)
Speak the truth in love. Eph 4:15
2
posted on
07/24/2006 4:54:52 PM PDT
by
sionnsar
(†trad-anglican.faithweb.com† | Iran Azadi | SONY: 5yst3m 0wn3d, N0t Y0urs | NYT:Jihadi Journal)
---
To: sionnsar
Well, this is confusing! It's not clear to me whether Dr. Toon thinks the Affirmations of St. Louis accurately state the Anglican tradition, or not. Does your Continuing Anglican church (branch, subgroup, congregation?) recognize seven sacraments? And does Dr. Toon think that's good or bad?

He's sounding sort of Catholic to me, in a backhand, intentionally garbled sorta way.

And may I say that I am Officially Tired of people's capitalizing "The" in titles ... The Episcopal Church, The Affirmations, etc. I know The Salvation Army started it, but everybody else should knock it off!
3
posted on
07/24/2006 7:07:52 PM PDT
by
Tax-chick
(I've always wanted to be 40 ... it's as good as I anticipated!)
---
To: sionnsar; Tax-chick
As a member of an ACC parish, I don't believe all "Continuers" consider themselves more informed by the Missal than by the Thirty-nine Articles. There are those that do, but would NOT consider the differences as essential to faith.
Toon's statement:
persuade the Continuers to hold their cherished views as private opinion not required church doctrine; and then there can be real progress towards common witness and aims on the basis of unity on Scripture and classic Formularies.
Sounds fine to me. But what is he hoping will happen?
Are we to wait until every disenfranchised traditional Anglican is inter-communion before we note a common cause? until we've sorted out all of our differences and fight under the same banner?
That'll be a long wait. I don't believe the trend in the history of faith is towards unity.
This is a strange time indeed for conservatives to point fingers at one another. The conflict of High Church party vs. Low Church party has afflicted us since the Reformation. That a liberal third party has at last achieved victory over the ruins of the tEC is a lesson for the ages.

---
FreeRepublic.com is powered by software copyright 2000-2008 John Robinson