---
Contestants on 'Celebrity Jeopardy!' Fail to Solve Simple Clue from Classic American Movie (Video)
RNN ^ | 01-18-2022 | Becca London


Posted on 01/18/2023 10:07:11 AM PST by montag813
by Becca London
All three contestants on "Celebrity Jeopardy!" failed to solve a very simple clue about a midwestern state referenced in a popular movie classic, and the interaction went viral on social media.
The video showed contestant Torrey DeVitto, a TV actress and model, pick the category "The Fifty States" for $300.
"In 'Field of Dreams' a question is asked, 'Is this heaven?' - No, it's this midwestern state also known as 'the corn state,'" read host Mayim Bialik.
DeVitto guessed Wisconsin and was shot down.
Candace Parker, a WNBA player, offered Nebraska, which was also wrong.
Comedian Patton Oswalt, a third contestant who is considerably older than the other two, also bizarrely had no idea, but wisely kept silent until the beep.
The answer?
DUH!
Here's the video of the clue that was circulated on social media: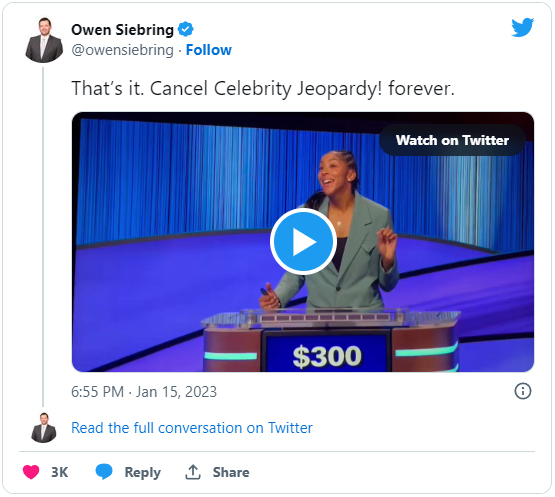 (Excerpt) Read more at rightnewsnow.org ...
---
TOPICS: Culture/Society; Miscellaneous; News/Current Events
KEYWORDS: baseballviewers; buttheyknoweconomics; buttheyknowpolitics; celebrities; famousmorons; hollyweird; idiocracy; jeopardy; liberals; marchingmorons; professionalliars; sportsfans
---
Navigation: use the links below to view more comments.
first 1-20, 21-40, 41-60, 61-75 next last
---
---
---
---
---
---
---
---
---
---
---
---
---
---
---
---
---
---
---
---
---
Navigation: use the links below to view more comments.
first 1-20, 21-40, 41-60, 61-75 next last
---
---