---
---
To: MarvinStinson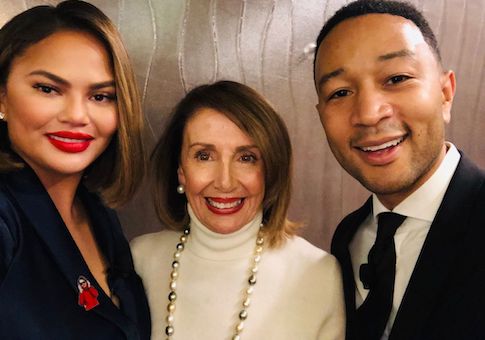 Chrissy Teigan, Nancy Pelosi, and John Legend

---
To: MarvinStinson
John Legend (née Stephens) will never be a legend of anything. If he weren't some stupid leftist, I'm confident that I would not have ever heard of him.
---
To: MarvinStinson
"The bottom line is that the Senate flipping would be far more impactful than a food bank donation," Legend tweeted
I just sent my local food bank a letter, quoting Mr. Legend and explaining that, instead of writing them a check for $100, I would be making a donation to the DNC in their name.
I included a self-addressed, stamped envelope so that they could thank me for it.
Regards,

5
posted on
11/18/2020 3:54:48 AM PST
by
alexander_busek
(Extraordinary claims require extraordinary evidence.)
---
To: MarvinStinson
DemonicRATs are Disgusting.
6
posted on
11/18/2020 4:00:11 AM PST
by
DivineMomentsOfTruth
("There is but one straight course, and that is to seek truth and pursue it steadily." -GW)
---
To: MarvinStinson
How about if I give to the RNC rather than a second rate busker like John Legend?
9
posted on
11/18/2020 4:44:50 AM PST
by
KarlInOhio
(The greatest threat to world freedom is the Chinese Communist Party and Joe Biden is their puppet.)
---
FreeRepublic.com is powered by software copyright 2000-2008 John Robinson