---
Navy Hopes for Commonality – Or at Least Interoperability – With Frigates in Australia, Canada, U.K.
USNI News ^ | July 12, 2018 | Megan Eckstein


Posted on 07/13/2018 8:15:51 AM PDT by sukhoi-30mki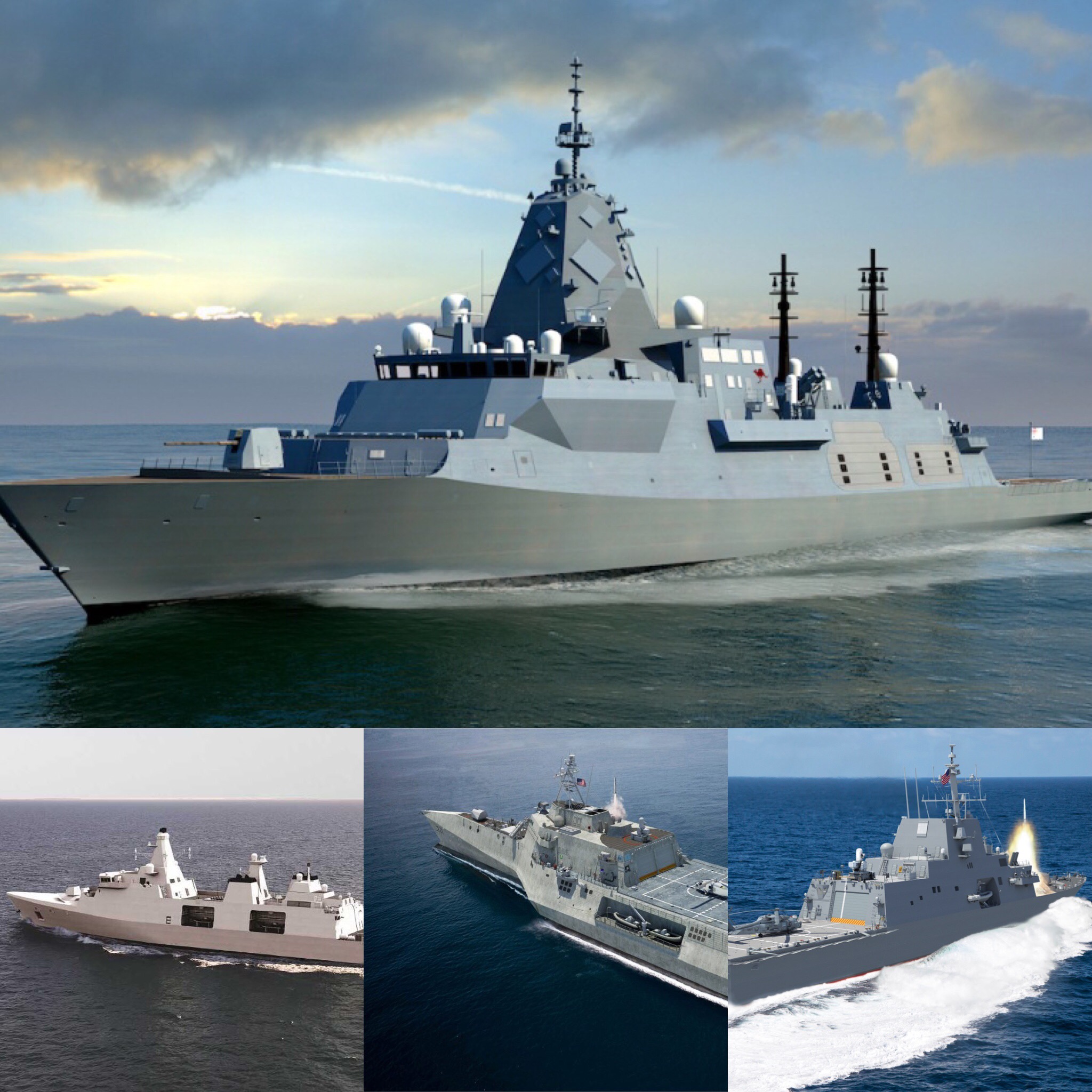 Top: Artist's concept of Royal Australian Navy Hunter-class guided-missile frigate. Bottom: (left to right) U.K. Royal Navy Arrowhead Type 31e design, Austal USA FFG(X) design and Lockheed Martin FFG(X) design
CAPITOL HILL – The U.S. Navy is in talks with Australia, Canada and the United Kingdom in the hopes that all four navies will design and field frigates with common combat systems – or at least interoperable ones – the deputy assistant secretary of the Navy for ships told USNI News.
Jay Stefany said the four navies have quadrilateral talks every six months, and a recent focus of those talks has been the navies' upcoming frigate procurement efforts.
The U.S. Navy is in the midst of conceptual design work with five companies, ahead of buying the first frigate in Fiscal Year 2020 to take the place of the Littoral Combat Ship in the service's small surface combatant procurement. The Navy's frigate design and builder is yet to be selected, but the Navy will provide the COMBATSS-21 system as government-furnished equipment to whichever builder wins the contract.
The Royal Australian Navy plans to field the Hunter-class frigates in the late 2020s, and it awarded BAE Systems a $26-billion contract last month to design and build nine ships based on BAE's Type 26 frigate design. USNI News reported that the U.K. Royal Navy will buy eight Type 26 frigates, and the Royal Canadian Navy is considering the Type 26 design as well in its competition.
In Canada, the quest to find a next frigate has faced some challenges, according to local media, with the government stating in April that all three bidders failed to meet some technical requirements and will have to go into a "cure" period to work through the areas in which they are currently non-compliant.
In the United Kingdom, several companies have pitched designs for the Type-31e light frigate that they hope could be exported to other navies around the globe, according to previous USNI News reporting and other media.
Stefany told USNI News today after a Congressional Shipbuilding Caucus event that the four countries hope to have common or interoperable frigates, with the combat system and C4I (command, control, communication, computers and intelligence) systems being the focus of that effort.
"We are sharing those standards and actually those equipments with our partners so that they either can buy the same equipment, or at least what they buy will be interoperable with the stuff we're putting on our frigate," he said. "So that's probably the main area where we're looking to collaborate. If there are some design areas that are mutually beneficial, we'll talk about that – but they're going to build them in their yards, we're going to build them in our yards, so there's not a lot of building collaboration. More interoperability, or ideally buying the same equipment that way you guarantee interoperability."
Stefany said Canada is in source selection now and so is limited in what requirements it can add in. The U.K. is still in the early phase of its Type 31 procurement effort, so it will be easier for them to add in a requirement to use an Aegis-based combat system.
Stefany made clear that the other three navies "have committed to review what we show them and consider it as part of their selection criteria. They have not committed to actually do it." He characterized the ongoing talks as being technical discussions covered under a technical agreement between the countries, and if they do decide to buy an Aegis-based combat system the Navy would work that request through the Foreign Military Sales process.
Stefany said another recent topic of discussion at the quadrilateral meetings was unmanned vehicles and how to design ships that can handle unmanned systems from the other partner navies.
Additionally, Stefany said the Navy is looking at finding ways to buy common material across ship classes for ship construction and maintenance availabilities. Congress already gave the Navy authority to do this for new Virginia-class attack submarines, Columbia-class ballistic-missile submarines and Ford-class aircraft carriers, but Stefany suggested the Navy could benefit from broadening this practice.
He told USNI News that talks about buying common components for surface ship construction or maintenance "are in the very infant stage. But we've gotten the right people together on the surface side, and the right people on the submarine side. And actually I have a meeting next week to kind of kick off a joint working group to start working it. But it's still in the very infant stages."

---
TOPICS: Australia/New Zealand; Canada; Foreign Affairs; News/Current Events
KEYWORDS: frigate; ran; royalnavy; usn



---
To: sukhoi-30mki
US Navy tug boats can tow pretty much any Canadian ship that breaks down so I think we have the 'interoperability' thing covered!
---
To: KC_Lion
3
posted on
07/13/2018 8:25:51 AM PDT
by
Army Air Corps
(Four Fried Chickens and a Coke)
---
To: sukhoi-30mki
What is the need for this?
Cui bono? Not us for sure.
Penny Pritzker?
The bloc buying program, IIRC, was part of Obama's defense department push for the LCS fiasco.
4
posted on
07/13/2018 8:36:12 AM PDT
by
Covenantor
(Men are ruled...by liars who refuse them news, and by fools who cannot govern. " Chesterton)
---
To: sukhoi-30mki
They should apparently start with some sort of collision avoidance systems.
---
To: sukhoi-30mki
The two FFG(X) ships look like scaled up LCS
6
posted on
07/13/2018 9:04:00 AM PDT
by
2CAVTrooper
(Democrats... BETRAYING America since 1828.)
---
FreeRepublic.com is powered by software copyright 2000-2008 John Robinson