---
Free .22 Ammunition at Gun Show, 2015
Ammoland ^ | 21 November, 2015 | Dean Weingarten


Posted on 11/21/2015 7:16:48 AM PST by marktwain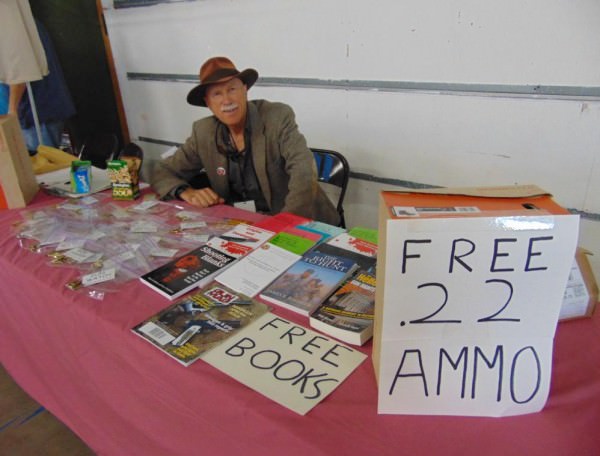 I attended the first gun show of the season in Yuma. I paid $60 to rent a table and give away free .22 ammunition. I have more than I will likely shoot in my lifetime, purchased when the prices were much lower.
I could sell it, but the Bible says that generosity is a virtue. I am curious about human nature. and the lingering lack of .22 on store shelves prompted me to give away some bulk Remington golden bullets. I used the event to promote the blog where I do most of my writing, Gun Watch.
I gave away the cartridges in 10 round lots. Most people were reluctant to accept "free" ammo. They needed a "catch". I included a business card for Gun Watch and told them that they had to go to the blog and read at least one article. I emphasized that there were no advertisements, no annoying videos to load that commandeered your computer for 10 minutes, and no forms to fill out full of personal information before you could see the site. I explained that most of the articles were short, and included pictures.
The exchange was on the honor system; they got the ammo, and I expected them to read a blog article. I warned them that it was addictive; once they went to the site, they would find themselves going back to it often. Members of the gun culture are one of the most honorable groups that I have met. In the 15 years that I taught concealed carry classes in Yuma, I always accepted personal checks, and I never lost money on that bet.

(Excerpt) Read more at ammoland.com ...
---
TOPICS: Business/Economy; Culture/Society; News/Current Events; US: Arizona
KEYWORDS: 22ammo; az; banglist; gunshow
---
Navigation: use the links below to view more comments.
first 1-20, 21-30 next last
---
---
---
---
---
---
---
---
---
---
---
---
---
---
---
---
---
---
---
---
---
Navigation: use the links below to view more comments.
first 1-20, 21-30 next last
---
---