---
February 12, 2000: Barack & Michelle Obama Party Down with Radicals Ayers & Klonsky
Community Renewal Society 10th Anniversary Prom ^ | 2008-10-15 | FREE REPUBLIC WORLD EXCLUSIVE


Posted on 10/15/2008 5:10:46 PM PDT by KayEyeDoubleDee

The Community Renewal Society
presents

Here's to You

CATALYST's
10th Anniversary Prom

Save the date!

To order tickets, call our promline:
(312) 427-4830, ext. 1-300.

Se Habla Espanol

Saturday, February 12, 2000

Grand Ballroom, Navy Pier

Honorary Committee

Joanne Alter, Founder
Working In The Schools

Arnita Boswell, Founder, Board Member
National Hook Up of Black Women

Julie Chavez, Managing Director
Bank of America Illinois

Ronald Gidwitz, Partner
GCG Partners

Sandra Guthman, President
Polk Bros. Foundation

Leon Jackson, President
Multi-Fac Corporation

R. Eden Martin, President
Civic Committee, Commercial Club of Chicago

Richard Morrow, Retired Chairman and CEO
Amoco Corporation

Adele Simmons, Vice President
Chicago Metropolis 2020

Rev. Kenneth W. Smith, Senior Fellow
Chicago Community Trust

Christina Tchen, Partner
Skadden, Arps, Slate, Meagher & Flom

Planning Committee

Susan Ansai, literacy coordinator
North Lawndale Learning Community

Chryssa Atkinson, communications director
Chicago Annenberg Challenge

John Ayers, executive director
Leadership for Quality Education

Willie Coles, senior program officer
Steans Family Foundation

James Deanes, director
CPS Office of School and Community Relations

Stephanie Gadlin, director of community affairs
Rainbow/PUSH Coalition

Gabe Gonzalez, executive director
Northwest Neighborhood Federation

Wanda Hopkins, advocacy trainer
Parents United for Responsible Education

Susan Klonsky, consultant
Small Schools Workshop

Rochelle Lee, president
Rochelle Lee Fund

Diana Nelson, public affairs director
Union League Club

Rose Nicholson, assistant principal
Robeson High School

Michelle Obama, assistant dean
University of Chicago

Idida Perez, executive director
West Town Leadership Project

Robert Quashie, account supervisor
Edelman Public Relations

Juan Rangel, executive director
United Neighborhood Organization

Timothy Russell, supervisor
Sara Lee Foundation

Norma White, vice president
Chicago Teachers Union

To order tickets, call our promline:
(312) 427-4830, ext. 1-300.

Se Habla Espanol

Home Search Resources Latest Issue
Background Archives Site Guide
Guestbook About Us
Contact Us

Catalyst: Independent coverage of Chicago school reform since 1989.
©1999 Community Renewal Society
---
---
---


Pictures from CATALYST's 10th Anniversary Prom

* Saturday, February 12, 2000
* Grand Ballroom, Navy Pier

Click on a thumbnail to see a larger version of any picture.

Catalyst staff members

Honorary Committee co-chairs and CRS officials with Lenz

Staff from CATALYST: for Cleveland Schools

Editorial Board Chair Idida Perez with Lenz

LSC members from Funston elementary

LSC members from Saucedo magnet

The Chaperon chastises John Ayers

Emcee Steve Baskerville with CRS officials

PURE founders Joy and Bernie Noven

Lenz on the dance floor

Warren Chapman and Peter Martinez pose with Lenz

Michelle and Barack Obama with Lenz and Managing Editor Veronica Anderson

CTU Vice President Norma White

Carlos Azcoitia and Mary Cavey, past and present Spry Elementary principals

Rev. Kenneth Smith, honorary committee co-chair, leads a dance
LSC members from South Shore High School

©2000 Community Renewal Society

Home Search Resources Latest Issue
Background Archives Site Guide
Guestbook About Us
Contact Us

Catalyst: Independent coverage of Chicago school reform since 1989.
---
---
---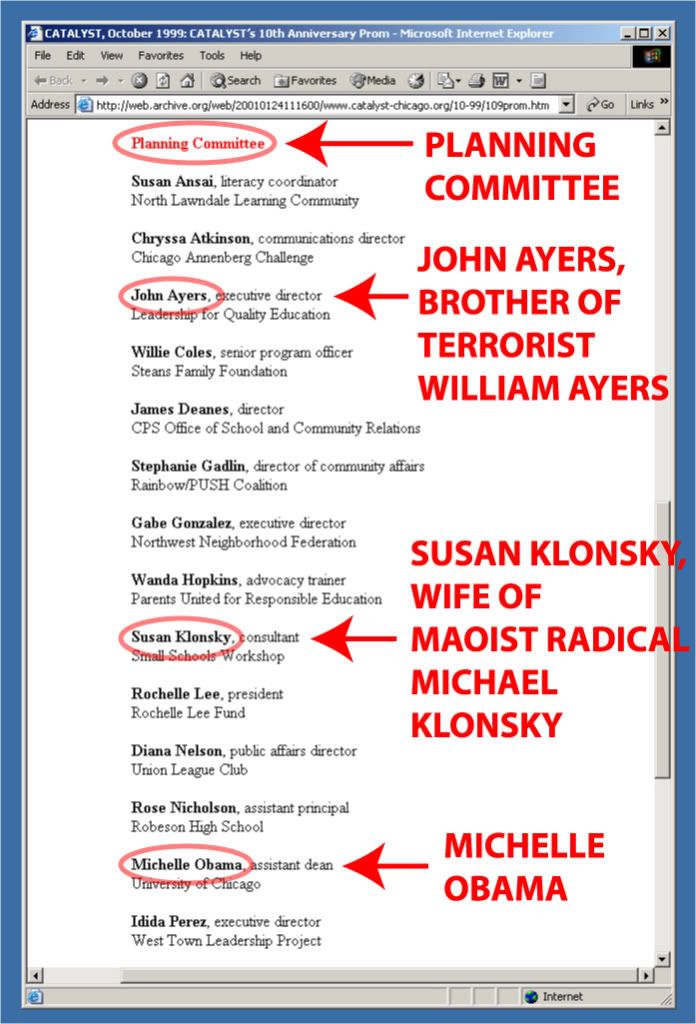 ---
---
---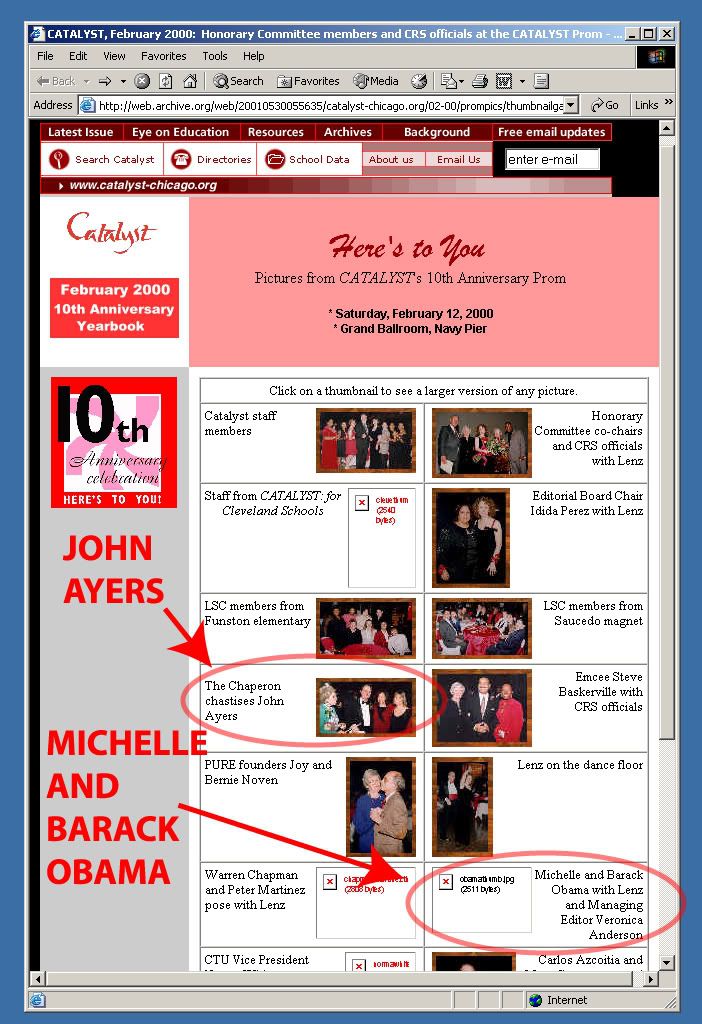 ---
---
---
John & William Ayers
Who "sent" Obama?
By Steve Diamond
originally posted April 22, 2008, with many updates since then
http://globallabor.blogspot.com/2008/04/who-sent-obama.html
So, who did "send" Obama? The key I think is his ties not to well connected uber lawyer Newton Minow, as Kaufman suggests, but more likely to the family of (in)famous former Weather Underground leader Bill Ayers – not just Bill Ayers, but also Bill's father Tom Ayers and his brother John as well...
A 1987 teachers' strike brought those two sides together to push for a reform act passed by the Illinois legislature in 1988 that created "Local School Councils" (LSC) to be elected by residents in a particular school area.
Active in the local control from below, on the "community" side of this effort, was Bill Ayers who had returned to Chicago in 1987 as an assistant professor of education at the University of Illinois' Chicago Circle campus, after surfacing from the underground and earning his Ph.D. at Columbia...
Ayers, of course, had long held what the left once knew, broadly, as "maoist" or "neo-stalinist" politics – a view of the world that was opposed to Russian style bureaucratic communism from above, instead advocates of this approach supported sending revolutionary cadre to "swim among the masses like fish in the sea" or attempting to establish guerilla foco as romantically theorized by Regis Debray and carried out with disastrous results by Che Guevara...
Bill's brother John later got in on the small schools approach also, raising money in part from the Annenberg Challenge program started by Bill and chaired by Obama (see School Leadership in Times of Urban Reform edited by Bizar and Barr).
A leading figure in the Chicago business groups that were lobbying from above for cost cutting and "efficiency" in the Chicago schools in the 1980's was Bill Ayers' father, Thomas Ayers. Tom Ayers, of course, was a very prominent Chicago business man, a retired head of Commonwealth Edison, a lifelong liberal, and a supporter of open housing campaigns (in which my parents participated when I grew up in Chicago in the 60s) as well as Martin Luther King.
When the 1988 Reform Act was passed a group called Leadership for Quality Education (LQE) was formed, according to Shipps, by the elite business lobby that was in part behind the new reforms, to train the newly elected local school council members...
Interestingly, one LSC member was John Ayers, son of Tom and brother of Bill. In 1993, John was made head of the LQE - which, by then, according to Shipps, was caught in the middle of the battle emerging to re-centralize control of the schools in the hands of the mayor.
I can only speculate, but it is possible that Tom Ayers also introduced Obama to Sidley. That might have happened if Obama had met up with Bill and Tom and John Ayers prior to attending law school when Obama's DCP group was one of the only black Chicago organizations supporting the reform act passed in 1988...
Thus, we have one possible answer to the question: Who "sent" Obama? It was the Ayers family, including Tom, John, Bill and Bernardine Dohrn...
Richard & William Ayers
Remembering a Sixties Terrorist
By Donna Ron
1/4/2006
http://www.frontpagemag.com/Articles/Printable.aspx?GUID=9E8CD8A7-E90B-4311-8AA9-AEFD014A14B2
...Bill Ayers' apartment was around the corner and a half a block away from the sorority house. The more time I spent there, the more out of place I felt with my sisters. Sometimes I would stop by just to keep from having to go back to a place I had begun to think of as boring. I guess it was one of those evenings -- maybe on the way back from the library, maybe just to get out of the sorority house, I don't remember exactly. What I do recall is that when I was getting ready to leave Ayers told me I couldn't go until I slept with his roommate and his brother. At this point Bill and I had slept together just once. I was sexually inexperienced, having had only one serious boyfriend with whom I had recently broken up.
At first I thought Ayers was joking. I got up; and went to the door. He moved quickly to block me at the doorway. He locked the door and put the chain on it. I went to the couch and sat down and told him that I had no intention of having sex with his roommate and his brother or him. He said that I had no choice but to do as he said if I wanted to get out of there. He claimed that I wouldn't sleep with his married roommate because he was black -- that I was a bigot. I had gone to school with black kids and had them as friends all my life. I couldn't believe he was saying that to me
I felt trapped. I had to get out of the situation I was in and because he was so effective a guilt-tripper, I also felt I had to prove to him that I wasn't a bigot. I got up from the couch and walked over to the black roommate's bed and put myself on it and he f***ed me. I went totally out of my body. I floated beside myself on the outside and above the bed looking at this black stranger f*** me angrily while I hated myself.
After that I had to go lie down on Bill Ayer's bed for his brother to screw me. Rick Ayers was a decent person, unlike his brother, and couldn't go through with it He started and stopped and let me go. I also thought I had to let Bill screw me but at that point he unbolted the door and I left.
I remember going back to the sorority house and talking to my best girlfriend and telling her what had happened. But there were no words yet to describe it. There was no term "date rape" yet in our political vocabulary. The notion of a psychological rape was not on the table.
I was a mess and felt it was my fault for letting it happen. I was ashamed. Back home at the end of the semester, I got my parents to send me to a psychiatrist. What had happened affected my ability to trust in a relationship with a man and I didn't have a close relationship again for a long time...
Susan & Michael Klonsky
Behind the Annenberg Gate: Inside the Chicago Annenberg Challenge Records
By Steve Diamond
August 20, 2008
http://globallabor.blogspot.com/2008/08/behind-annenberg-gate-inside-chicago.html
...As I have argued elsewhere on this blog, I do not think that the link made here between the LSC's and "democracy" is, in fact, accurate. I think that such "councils" look eerily similar to efforts by regimes like those in Nicaragua under the Sandinistas and Venezuela under Chavez to impose control over teachers and their independent unions by an authoritarian regime. Thus, it is not a surprise to me that Bill Ayers has traveled several times in recent years to Venezuela where he has spoken in front of Hugo Chavez and has enthusiastically applauded that regime's efforts to link education policy to the Chavez "revolution."
As Ayers stated in a speech there in November 2006 "La educacion es Revolucion!" He applauded "the profound educational reforms underway here in Venezuela under the leadership of President Chavez" and he said he "share[d] the belief that education is the motor-force of revolution"...
One of the first grants awarded in 1995 was a $175,000 Implementation Grant to the Small Schools Workshop. The Workshop had been founded by Bill Ayers in 1992 and was headed up by his former SDS comrade and hardcore Maoist, Mike Klonsky. Klonsky actually visited China and met with its stalinist leaders in the early 1970s. Klonsky still heads up the Small Schools Workshop and, until it was summarily removed, hosted a blog on "social justice" and education issues on the official Barack Obama Presidential campaign website. Hundreds of thousands of dollars more would be forthcoming from the CAC for the Klonsky group...
Who "sent" Obama?
By Steve Diamond
originally posted April 22, 2008, with many updates since then
http://globallabor.blogspot.com/2008/04/who-sent-obama.html
...Bill raised money to start the Small Schools Workshop in the early 90s and eventually hired another former maoist from the 60s (and actually someone who was a bitter opponent of Ayers as SDS disintegrated) named Mike Klonsky first as research director and then to head it up. Klonsky was a PhD student at UIC studying under Ayers. Obama would approved grants of hundreds of thousands of dollars to the Workshop from the Chicago Annenberg Challenge...

---
TOPICS: Crime/Corruption; Culture/Society; Front Page News; News/Current Events
KEYWORDS: 2008; ayers; democrats; elections; fidelodinga; klonsky; nobama08; obama; obamatruthfile; prom
---
Navigation: use the links below to view more comments.
first 1-20, 21-40, 41-50 next last
---
---
---
---
---
---
---
---
---
---
---
---
---
---
---
---
---
---
---
---
---
Navigation: use the links below to view more comments.
first 1-20, 21-40, 41-50 next last
---
---