---
Blue Star Mom Reunites with Five Star Patriots: Week 30 - Westminster, MD 7-26-08
Posted on 07/29/2008 12:38:26 PM PDT by RockerMom2MyHero
BELOW LEFT: Who's that Blue Star Mom?
BELOW RIGHT: It's PatrioticMarineMom!


We're back again and look who was able to join us! PatrioticMarineMom (PMM) finally had a free Saturday from work, so that was a nice surprise. PMM's presence along with [Mr] T, Lurker Bill, Anomoly99, My Hero (Chris) and me was enough to override the moonbats by just 1! There were 2 people at different times that held a sign and stood with the moonbats. Each was there for about 10 minutes, so that doesn't count.
Thank you [Mr] T, Tolerance Sucks Rocks and "Mr" of Mr.Mrs.RedWhiteBlue for opposing the moonbats on Week 29 . Job well done and we appreciate you great patriots filling in for us! Looks like "Brad" had a little too much of those two PRICELESS Saturdays because he was not in attendance. Must have known you would be back, [Mr] T! Glad we can post signs with wire stands. Little extra something to get our message across although we always get more positive feedback than the moonbats. Today would not be an exception. It was nice to hear all those beeps and see the waves and thumbs up again. Although the big trucks catch you off guard and can make one jump, they are a welcome response. We are really appreciative when those who have served come up to thank us. A man approached [Mr] T, and told him that he had finished his 2nd tour in Iraq. He said that things are going a lot better than the media portrays.
BELOW LEFT: My Hero (Chris), My Hubby (Anomoly99)
BELOW RIGHT: My Hero (Chris)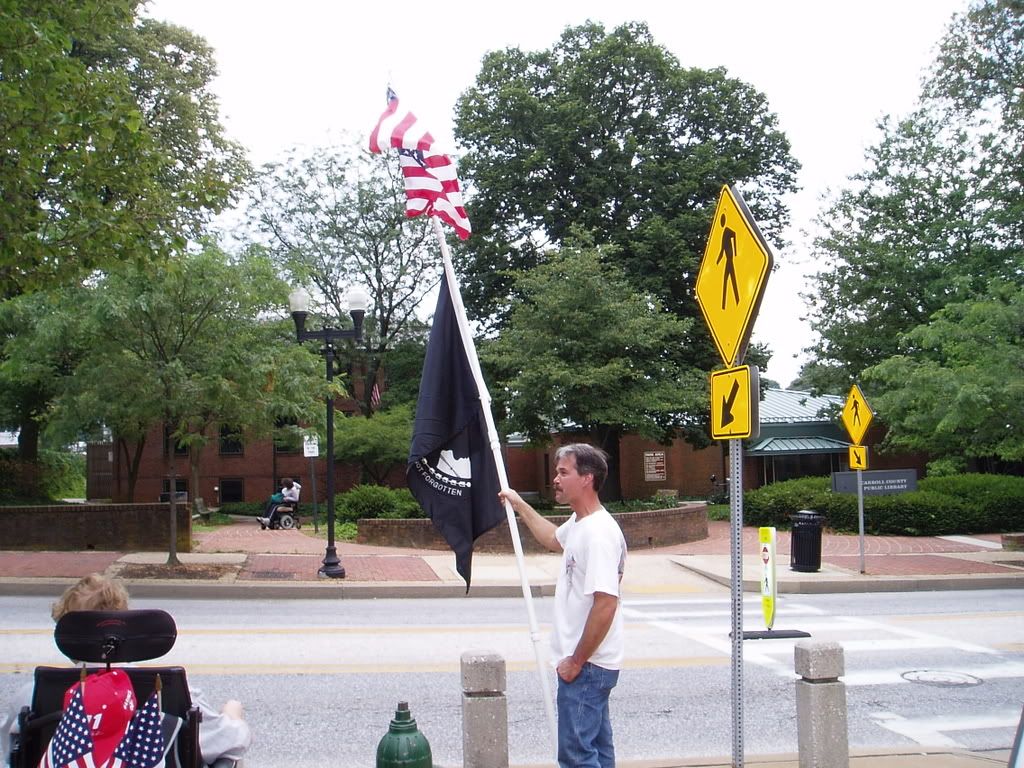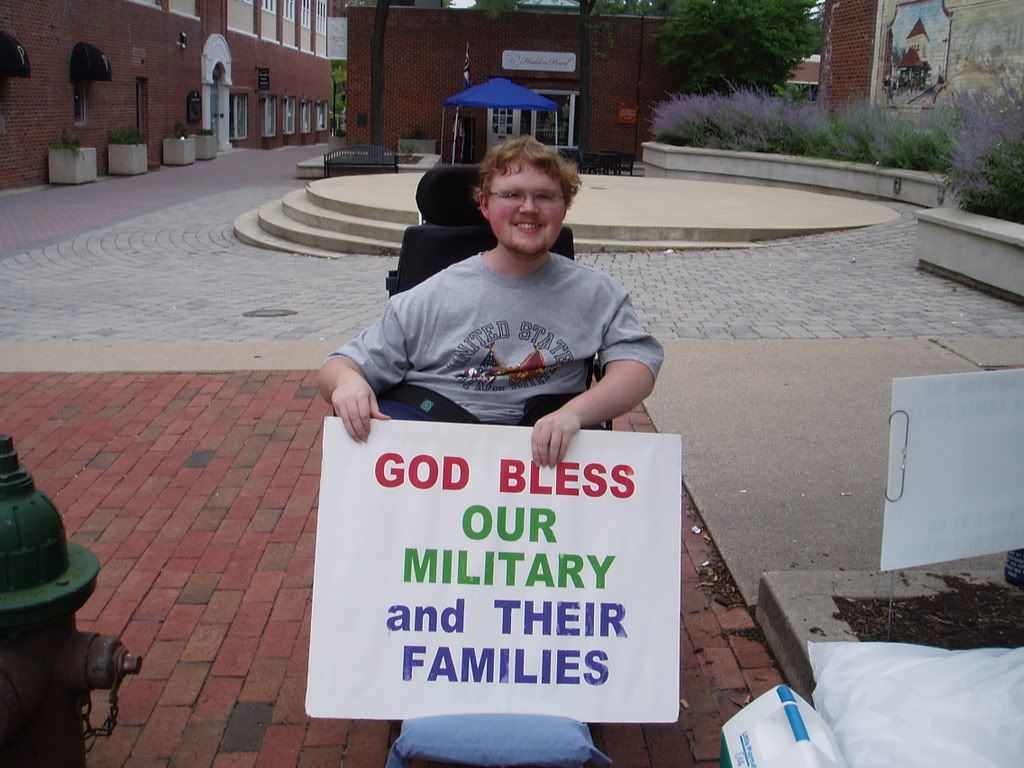 BELOW LEFT: [Mr] T came out to join us even with a summer cold
BELOW RIGHT: Lurker Bill and his familiar, friendly smile!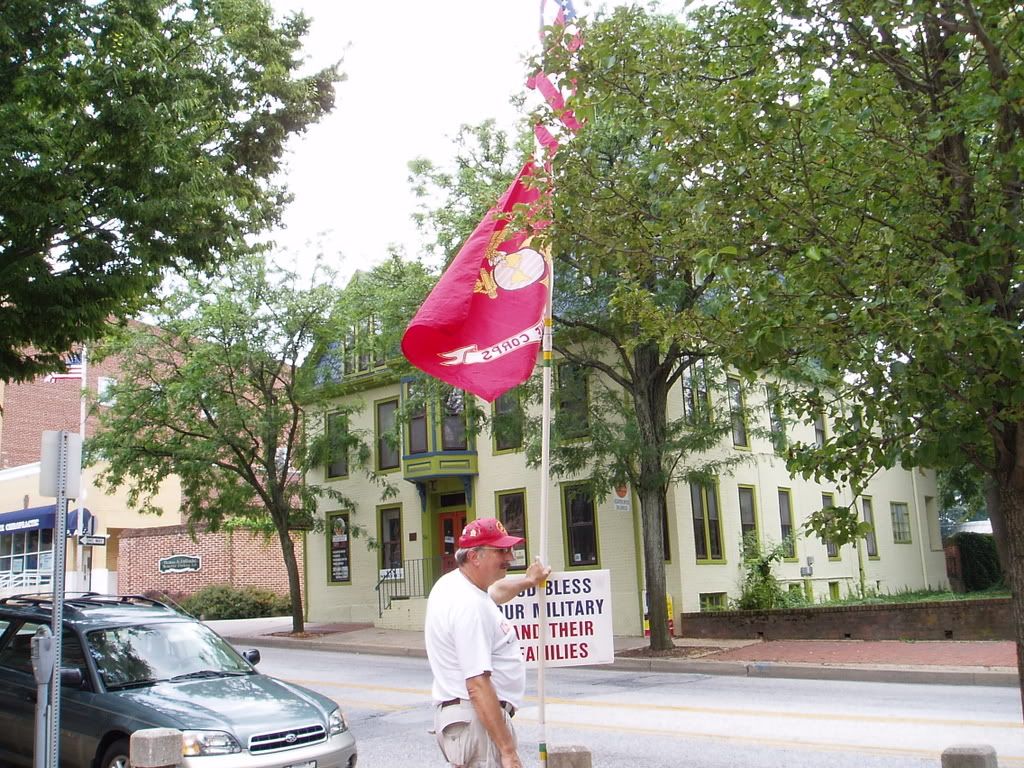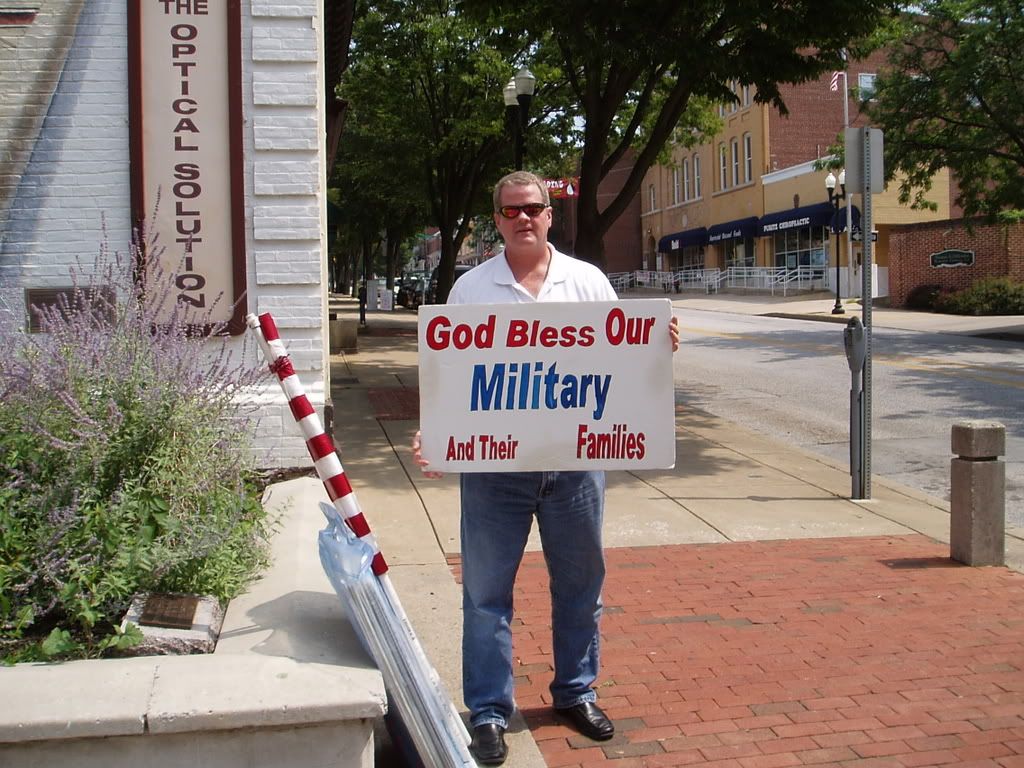 A Navy recruiter with his cute, little son came up to shake my hand and thank us for standing out there. I thanked him and told him it was our pleasure. He then proceeded to shake PMM's hand and that is when she recognized him. After all, the Navy recruiters are in the same building as the Marine Corps recruiters. A place that PMM is quite familiar with since her son, Joshua is a U. S. Marine! Speaking of Joshua, he will be coming home this weekend for his pre-deployment leave. PatrioticMarineMom is planning a 'Come Back Home Safe' party for Westminster's Hometown Hero! We want to make sure that Josh knows that he has lots of love and support before he deploys. Nothing like a big blow out party to send this brave Marine off on his mission to defend our country and fight for our freedoms! Please keep Joshua and his family in your thoughts and prayers.
2ND AND LAST SATURDAY 1-3pm
Please join us if you can. We especially need extra boots on the corner, on the 2nd and last Saturday of each month, when we counter protest the moonbats. The Westminster Gathering/FReep is located on the east side of E. Main Street opposite the library at 50 East Main Street. There is public parking on Winters Street. Follow the signs.

---
TOPICS: Activism/Chapters; US: Maryland
KEYWORDS: aar; maryland; rally; westminster
---
---
---
---
---
---
---
---
---
---