---
CLINTON TAX LESSONS, Hillary and her husband deplore wealth...except their own say observers...
ncpa.org ^ | April 7, 2008


Posted on 04/07/2008 11:13:54 AM PDT by InvisibleChurch

New York Senator Hillary Clinton and her husband spend a lot of time on the Presidential trail deploring the "wealthy" and "well-connected." As their newly released tax records for 2000 to 2007 show, they know of whom they speak, says the Wall Street Journal.

Consider:

The former, and perhaps future, first couple earned $109 million over the past eight years, putting them among the top .01 percent of taxpayers. The bulk of the Clintons' income came from speech-making ($51.9 million) and book-writing ($29.6 million). It is understandable why the couple took so long to release their returns, and is still reluctant to release other information, says the Journal. Their political status has given them access to wealthy folks who've helped make them rich.

For example:

Bill Clinton raked in as much as $15 million working as an adviser and rainmaker for billionaire financier Ron Burkle's Yucaipa firm. The former President also took in $3.3 million in consulting fees from InfoUSA CEO Vinod Gupta, who has also helped fund Hillary Clinton's White House bid. Meanwhile, the Clintons also made liberal use of the charitable deduction:

They claimed $10.2 million in charitable giving over the eight years. Intriguingly, nearly all the donations went to the Clinton Family Foundation, which has disbursed only half the money. The Clintons can thus use the foundation for, strategic giving, such as the $100,000 it donated last year to a local South Carolina library -- the day after Hillary Clinton debated in that key primary state. There are other examples of such politically targeted philanthropy and it's worth noting that most of the foundation's disbursements came only after Hillary announced her Presidential run, says the Journal.

Source: Editorial, "Clinton Tax Lessons," Wall Street Journal, April 7, 2008.

For text:

http://online.wsj.com/article/SB120752549042393619.html

For more on Taxes:

http://www.ncpa.org/sub/dpd/index.php?Article_Category=20

---
TOPICS:
News/Current Events
KEYWORDS: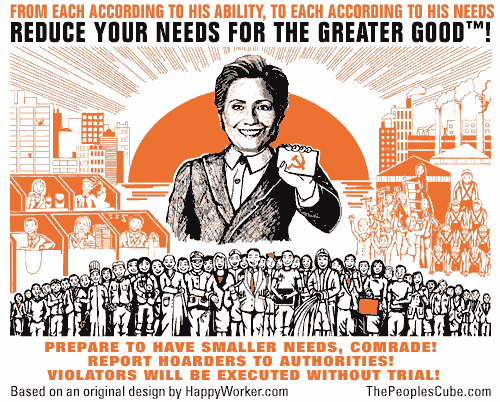 ---
To: InvisibleChurch
---
To: safetysign
The idea of high taxes is not to punish the rich but for those who are not wealthy, to keep you from getting wealthy and at the same time, to keep you busy hard at work !
---
To: CORedneck
As in Worker Ants for the State.
---
To: InvisibleChurch
Hillary's a liar, cheat, thief and anti-American. But none of these flaws mean anything to the demonRats. They would vote for Joseph Stalin if he ran under the democrap ticket.
They are fools to the last one.

---
To: InvisibleChurch
Great Post. Klintons are thugs. Please Dear Lord, give American Intelligence to see through them and not give them another 8 years.
Somehow I knew that 10 million charity......they won't be just giving it away.....they will work it for tax purposes and political power grabbing like they always have.....
6
posted on
04/07/2008 12:00:42 PM PDT
by
The_Republican
(Ovaries of the World Unite! Rush, Laura, Ann, Greta - Time for the Ovulation!)
---
FreeRepublic.com is powered by software copyright 2000-2008 John Robinson