---
Buzzards over the Moonbats: Week 56 & 57 - Olney,MD, 1-20 & 27-07: Operation Infinite FReep
February 01,2007 | Trooprally


Posted on 02/01/2007 5:30:42 AM PST by trooprally

Buzzards gathered over the moonbats empty corner this second week. They went hungry since all the moonbats were apparently in D.C. fawning over Traitor Fonda and a$$hole Sean Penn.

WEEK 56, January 20 REPORT: WWII Vet listens too much to the MSM. He supports the troops but not the mission.

The first week of this two week report had mixed emotions. While being out numbered (I forgot to count, but if memory serves me, there were about 9 of them), iMacMan estimated that 15-20% of the vehicles passing us honked or waved to us. Not bad for a blue state.

FReepers and Lurkers included: Apple Blossom & daughter, iMacMan, Lurker Bill (aka Lurker Bill from MD on Walter Reed AARs) and myself.

Pics are all by iMacMan. [Mrs] T was home still nursing a bad cold. And with temps in the 30s and the wind blowing, home was the best place for her.

A WWII vet came up to us and starting saying that we ALL support the troops but not the war. He also said that he had a nephew over there for his third tour of duty as a helicopter pilot. We bantered back and forth but the MSM had his mind set. He argued the same old crap that the MSM play every night.

A saving grace for him is that he also went over to the moonbats side and talked to them. From their body language, I believe that he did not agree with the moonbats either.

In addition to all the honks and waves, several vehicles stood out today.

One truck with 5 people in the cab honked and waved. A Metro bus driver was seen cheering to us as she turned the corner. And a car passed by twice waving a small American flag at us. Heart warming all.

They were so heart warming, it was easy to ignore the guy in a pick up truck stopped at the light, that opened his door and stood on the running board cheering the moonbats. We had several words before he yelled "It's all about oil" and went on the green light. Imagine, driving a gas guzzling pick up truck and complaining about having enough oil.

BELOW LEFT: Lurker Bill Looking Cold. BELOW RIGHT: Apple Blossom and daughter also Looking Cold.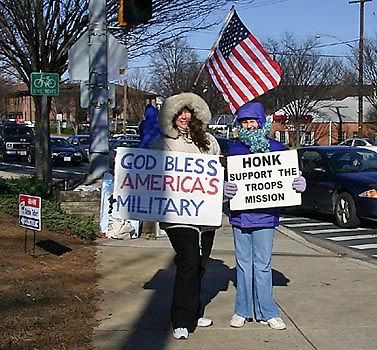 BELOW LEFT: Me and Apple Blossom Looking Cold, even with the sun shining. BELOW RIGHT: All of us Looking Cold except Apple Blossom's daughter. She took occasional trips to the car. Probably the smartest of us all.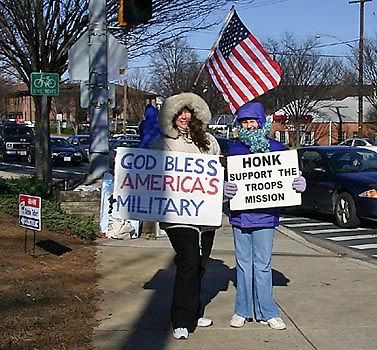 And some of iMacMan's great pics of waves from moving cars. From numerous shots, these are the few that are the best.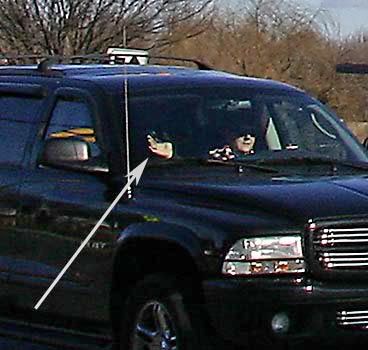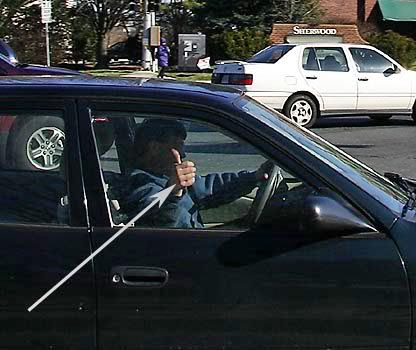 WEEK 56, January 20 REPORT: Moonbats Desert Their Position
BELOW: The moonbats were all in D.C. today spitting on a wounded soldier. The buzzards had no walking brain dead moonbats to dine on.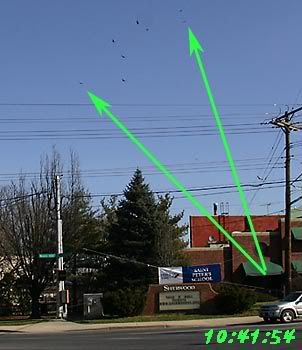 BELOW: And A Still Empty Corner.
At least we know that ALL the honks and waves were for us. Sometimes drivers honk as the go through the intersection and we don't know if they are supporting the moonbats. Out of pity for the moonbats, we don't count them for our side. But not today, there are all ours.
Before the faithful FReepers in Olney get razed for not being in D.C., we still got out and FReeped. We did not know that every single one of the moonbats would desert their corner or we would have rethought the Olney FReep. We expected at least a token number of protesters. And D.C. was not a place for kids.
This week was more of a Family Affair. FReepers and Lurkers in attendance today were: Apple Blossom and daughter, BMWcyle (BMW) and daughter, Cindy_True_Supporter (CTS), iMacMan, Lurker Bill (aka Lurker Bill from MD on Walter Reed AARs) and daughter, and myself.
Pics are all by iMacMan.
[Mrs] T was still under the weather on Saturday, but as of this posting, she is feeling better and will probably be at WR this Friday.
While Saturday was warmer than Friday at Walter Reed, it was still cold. Rob, a local, stopped by and took orders for coffee and hot chocolate.
And there is a new comer to FR this week, Olney-Keith. He learned of FR after stopping by Olney one Saturday. He became a regular lurker at WR and was in D.C. in Saturday. After the two D.C. FReeps, he officially stopped his lurking and signed up. As BufordP said, Olney-Keith can't be considered a "newbie" because he's FReep so many times at WR. But Buford, O-K (I like his moniker) IS still a rookie.
BELOW TOP: Apple Blossom and daughter walking to their spot after getting their signs. . BELOW BOTTOM: Daughters, Apple Blossom, BMW, and others.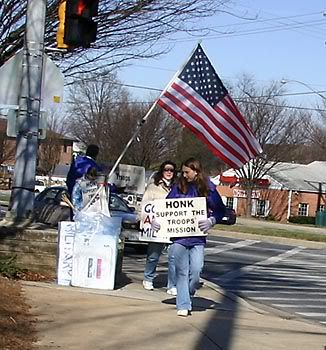 BELOW TOP: Lurker Bill's daughter. BELOW BOTTOM: Lurker Bill and great pic showing banners and flags on our right flank. Flag on left flank is behing yellow sign.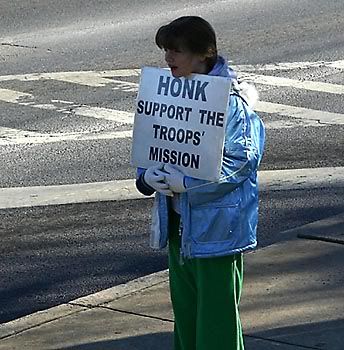 BELOW: Apple Blossom, BMW, and best pic of CTS and myself this week. Hey iMacMan, that's a hint! :-))
But iMacMan gets absolution for the last pic with some real great pics of passing cars. He even got the bus driver waving.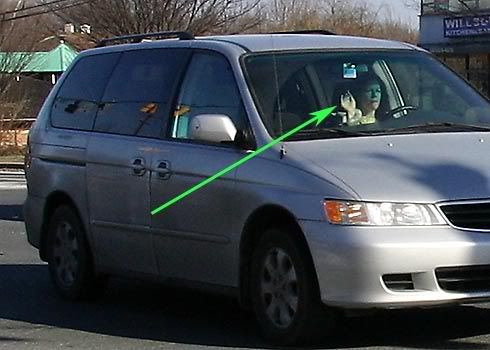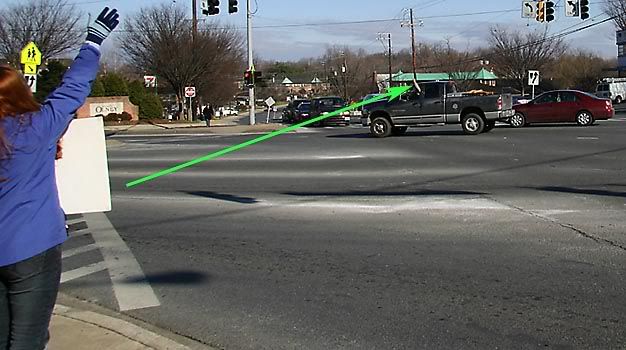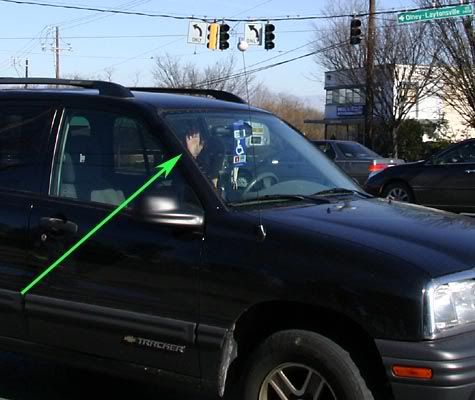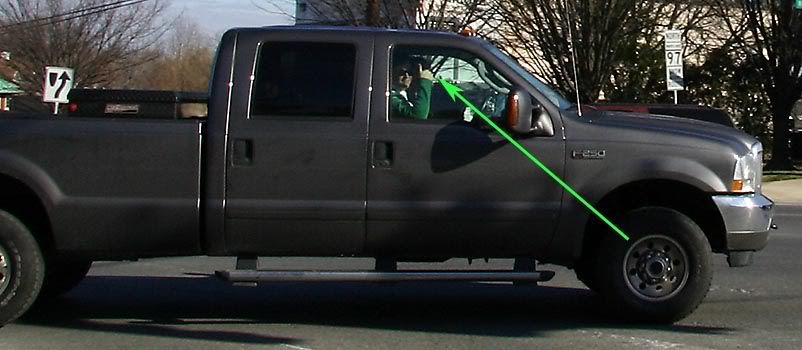 REMEMBER
Next Saturday, same place, Georgia Avenue, MD Rte. 97 and MD Rte. 108 in Olney
NEW TIME - 10:15 AM to 11:45 AM


As always, the D.C. Chapter's rules for protesting will be in effect. Briefly, they are: No violence, no profanity, no racism, no provocations, obey the law and treat all law enforcement officers with respect.

---
TOPICS: Activism/Chapters; Free Republic; US: Maryland; US: Virginia
KEYWORDS: mobilizingmothers; opinfinitefreep; peaceactionmc; quakers
---
Navigation: use the links below to view more comments.
first 1-20, 21-24 next last
---
---
---
---
---
---
---
---
---
---
---
---
---
---
---
---
---
---
---
---
---
Navigation: use the links below to view more comments.
first 1-20, 21-24 next last
---
---