---
Walter Reed Freep #79 - October 20, 2006 - Keeping the Faith
October 24, 2006 | Tom the Redhunter


Posted on 10/24/2006 6:55:20 PM PDT by Tom the Redhunter

Once again last Friday the patriotic faithful gathered in front of Walter Reed Army Medical Hospial in north-west Washington DC to show our support for the brave troops defending our country in Afghanistan, Iraq, and around the world.

And once again the citizens of Washington DC showed their patriotism through their waves and honks as they drove by. We do truely live in a great country.

The list of attendees (thank you to GunnNutt for her notes!)

3D-Joy, Albion Wilde, Barbara from VA*, BillF, Bill from MD*, Brittany (LI), Bryan (LI), BufordP, Chad (LI), Cindy_True_Supporter, Corey (LI), Cordelia (LI), Erin (LI), Fraxinus, Freeping_In_Silence, FrogHawk, George & Ethel*, Just A Nobody, Kristinn, PleaDeal, Sensei Ern, TFroatz, tgslTakoma, Tollerance Sucks Rocks, Tom the Redhunter (your writer!), Trooprally [Mr. & Mrs.], and TrueBlackMan.

(If anyone was left of of this list our apologies!)

Thank you to everyone who came out! The weather was a bit chilly but nothing bad. We made it through last winter so our "veterans" know how to dress!

If you live anywhere the Washington DC area please consider stopping by. We'd love to have you and most nights we even order pizza (sorry no beer!).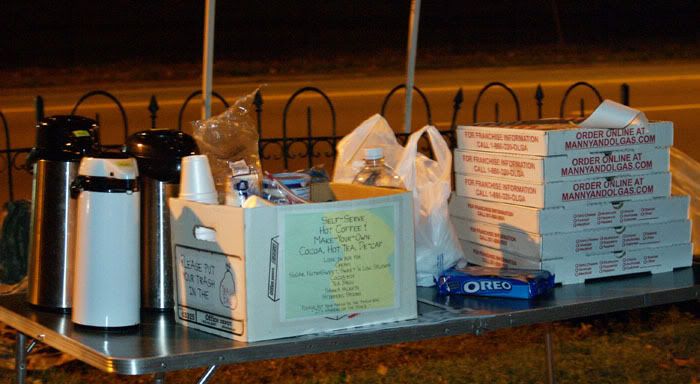 If you live in another part of the country and are in town for business please consider stopping by. Many nights we have people who are in town for the week, and many extend their stays just to stop by WR for an evening.
Speaking of visitors from out of town, here is BillF with Froghawk (right), a Freeper who was in town on business this week and extended his stay so as to join us for the evening.
After arriving at 6:30ish, BufordP, Kristinn, and myself (Tom the Redhunter) assembled the MOAB.
Ok truth be told the three of us stood around trying to figure out how to put it together and not making much progress until tgslTakoma came by and set us straight. Here's BufordP contemplating the various pieces of the puzzle.
Finally we got it set up and carried into place
Now we were set.
Over the next hour or so more of us showed up and took up positions on the four corners outside the main entrance. Here is Freeping_in_silence, Trooprally, Sensei Ern, and two members of Young Americans for Freedom who came by to show their support for the troops.
On another corner showing their support for the troops are George, Bill from MD, Kristinn and Corey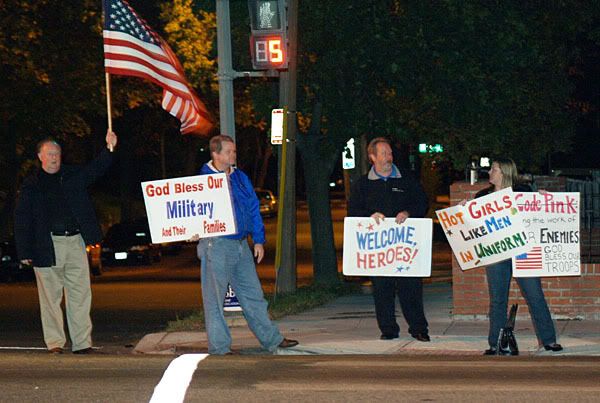 Because Walter Reed is on a busy street, hundreds of cars drive by us each night. As I mentioned earlier, we get lots of honks and waves from the motorists. Occasionally someone will holler an insult, but not often.
GunnNutt sends this narrative:
Wounded Warriors that came out and let us thank them in person:

SPC James W., SPC Jaime C., SPC DJ V., SPC Richie P. These four went down and had a talk with Pinko Bruce. As usual, he ignored them until they went up and initiated a conversation. He tried to tell them his "perspective" on why the war is bad and they young men shouldn't support it. You can imagine how this went over! But, being self-disciplined and self-posessed, the warriors left Bruce with no external marks of the sparring.

Jordan B. (amputee) was an engineer in Ramadi whose job it was to defuse IEDs. In the 11th month of his tour he fell prey to one. Just like most of the Wounded Warriors we meet, he¢s got an incredibly optimistic outlook and a joy to be living. His fiance was with him and they told us they had just come back from eating out and had walked from Silver Spring. We were appalled and advised them not to go out alone again. I suggested carrying a weapon, but only jokingly! (stoopid D.C. laws...)

Other troops included Brad, Neil, Jim, Lety, Kari, Marrissa (double-amputee) and boyfriend, Todd and Martin. I got pics of most of them, but two are non-wounded active duty and came out to hang with us in civilian cloths and I¢m NOT getting them in trouble!

A priest drove by about midway through the evening and blessed the crowd under the MOAB (Mother Of All Banners). How cool is that?!? (you were there for that one, Tom!)

There were only 8 Pinkos waaaaay down the block. Hah!
Here are some shots of the Pinkos. What a pathetic bunch.
The Pinkos gather halfway down the street where noone can see them. Motorists pass them by, mostly without honking. Last Friday there were maybe 8 of them.
By my take they're irrelevant. To be sure, we want to keep them away from the entrance, and that is motivation to show up. But I think that the motivation of the Freep has changed a bit from when we first stated it.
If you're not familiar with the history of this event, here it is in a nutshell: Sometime in the spring of 2005 members of the radical leftist group Code Pink started holding anti-war protests outside of the main entrance to Walter Reed on Friday nights.
Word got around, and the good people of FreeRepublic decided that this wouldn't stand, so they started holding a counter-protest/pro-troops rally across the street from them. Given that last Friday was week 79, that would make the date of the first Walter Reed Freep March 30 2005. I believe this is the first After Action Report.
All of this went on under the national radar, with very few people knowing about it.
Then, on August 25, 2005, Marc Morano of CNSNews published this story about what was happening outside of WR Friday nights. It got picked up by the big talk show hosts like Laura Ingraham, Rush Limbaugh, Glenn Beck and Sean Hannity. Matt Drudge posted it on his site. Hannity and Colmes, as well as other cable-news shows, did stories on it.
It was at this point that yours truely heard about what was happening and started attending. That Friday, August 30, saw a massive Freep that overwhelmed the Pinkos.
The next several months saw a face-off between the patriots and pinkos. Every night we outnumbered them on average 2 to 1. As time went on, we could see that they were becoming more and more demoralized.
Then in January 2006, ProtestWarrior ConcreteBob, a regular at our Freeps, noticed that the Pinkos had not renewed their permit for their side of the street. He quickly secured the permit for all four corners, and that Friday the Pinkos were shocked to discover that we were now occupying "their" corners. When they still tried to stand their with their stupid leftie signs we told them in no uncertain terms that they would have to leave. Tail tucked between their legs, they crawled down the street to lick their wounds. See here and here for the AAR on that famous Friday night Freep.
Because the Pinkos have been chased from the entrance, they are no longer the focus of our efforts. We've put away our anti-Code Pink signs, and most all of them now are about supporting the troops.
This is why I say that the Pinkos are now irrelevant. If you want to know more about these whackos, my own case against Code Pink is here . Scroll about halfway down.
This doesn't mean that we completely ignore them. Through the use of our "burma shave" signs, we let motorists know that once they drive past us that the next group are not patriots.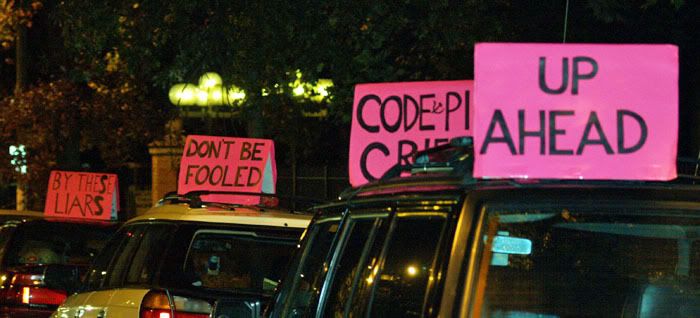 The Focus of Our Efforts
The focus, as it should be, is on supporting the brave troops who are fighting so hard for us overseas in so many locations. While Iraq and Afghanistan take up most of the news, we should remember that Special Ops-type forces are in countries from the Philippines to Columbia and many places in between.
Mr TroopRally sends this narrative of the evening that illustrates the point perfectly:
Traffic was light on the ride to Walter Reed and we got there a little early. Parking in the "Reserved Burma Shave Sign" Area, we noticed someone in the Church parking lot. FReeper FrogHawk posted that he was going to be there tonight, so we checked out the unknown person. Sure enough, it was

FrogHawk

. In true Texas macho-ism, he was still dressed for the Texas weather, braving the chilly wind. Later on he did finally succumb to the chill and put on a borrowed jacket, but he kept it open. Love those Texas FReepers.

This week the Northwest corner had all the excitement. It was visited by numerous wounded soldiers. On female soldier had both legs amputated below the knee. She had been waiting over 3 hours for a cab and finally called a friend to pick her up. I was super impressed with her genuinely cheerful attitude. She was perturbed about the cab but always had a brightness to her face. She had been in WR for almost a year and expected to be there another 6 months or so, waiting for her papers. Apparently BillF had met her early on but she didn't recognize him. There were some joking around about her being on meds when they met and BillF actually is engaged to her.

Her ride parked in the Church parking lot. When he arrived, she started rolling her wheel chair across Georgia Avenue to met him. She was having trouble getting over the crown in the road, and with the short green crossing light, she was helped over the crown. She finished the rest of the crossing herself. The soldiers are very determined and very proud of how much they can do inspite of their injuries. But we just had to help her because this is a dangerous intersection.

Another group of soldiers stopped on their way into Walter Reed. One was also in a wheel chair but had all his limbs. He wanted his picture taken with his two female buddies and some FReepers. Again BillF came to the rescue and took several pics with their camera. After a brief conversation they went into WR.
TroopRally also reminded me that last Friday was 3D-Joy's last WR FReep. She had been in a car accident last March and but has been faithfully attending as many Freeps as she can, often in a wheelchair. It was good to Freep with you, 3D-Joy, and hope to see you again. I can't seem to find any photos of her.
Here are George, Bill from MD, Kristinn and Corey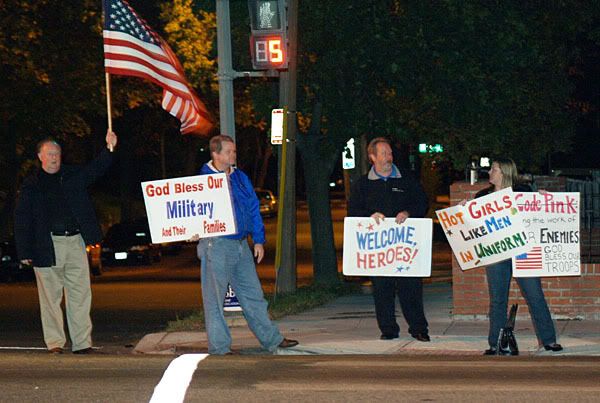 At about 9:45 or so came the highlight of the evening - the busload of wounded warriors coming back from their night out! Every Friday night a busload of troopers gets treated to a dinner at a nice Washington DC restaurant. My understanding is that a variety of charities pick up the tab. When the bus comes by all of us wave our signs, and the bus driver turns on the inside lights of the bus so that we can see them inside. They wave at us and we wave back. It is a special moment and I can tell you from having spoken with many of them on other occasions they do appreciate having us there to welcome them.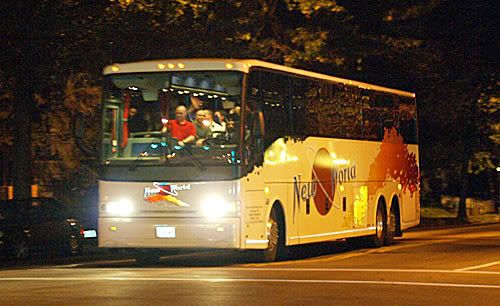 I hope to see you there!
Thanks to the efforts of BufordP, links to all WR FReeps can be found here.
This AAR was by Tom the Redhunter

---
TOPICS: Activism/Chapters; News/Current Events
KEYWORDS: codepink; freep; walterreed
---
Navigation: use the links below to view more comments.
first 1-20, 21-40, 41-60, 61-80, 81-86 next last
---
---
---
---
---
---
---
---
---
---
---
---
---
---
---
---
---
---
---
---
---
Navigation: use the links below to view more comments.
first 1-20, 21-40, 41-60, 61-80, 81-86 next last
---
---