---
To: sepse
U R not Prince. U should capitalize, and use punctuation 2. Otherwise U sound like a idiot.
29
posted on
11/25/2005 9:47:56 PM PST
by
Petronski
(Cyborg is the greatest blessing I have ever known.)
---
To: sepse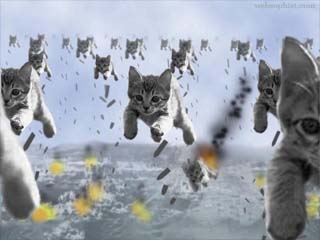 I think I can confirm this is a new found transcript of the Viking Kitty (Spittin' Kittens Squadron) bomb run.
In this new video, you can hear VK Red and Blue leaders discuss trolls running scared.

Viking Kitty (Spittin Kittens Squadron) Bomb Run Video
Transcript:

Pilot: "Large group of individuals on the road, do you want me to take those out?"

Command: "Take them out."

Wing Man: "Not a good day for them."

(inaudible, but sounds like "yes sir")

VK Blue Leader: "Viking Kitty Red Leader, this is Blue Leader, Do you have a visual on all these trolls? Over."

Pilot 1: "10 seconds"

Command: "Roger"

VK Red Leader: "Roger Blue Leader, they are running scared from the Viking Kitties. Over."

Pilot: "Impact!"

Command: "Ohhhh Dude!"

Howard Dean: "AAAAAAAAAAAAAAAAaaaaHHHHHHHHH!!!!!"


---
FreeRepublic.com is powered by software copyright 2000-2008 John Robinson