---
Author blasts liberals, finds warm welcome
THE SAGINAW NEWS ^ | October 28, 2004 | Scott Davis


Posted on 10/29/2004 1:19:09 AM PDT by kingattax

Some conservative pundits take a shotgun approach in firing away at liberals.

Ann Coulter uses an Uzi.

Only hours before President George W. Bush was to speak this morning in Saginaw, the right-wing author took aim Wednesday night at liberal superstars and laid down some suppressing fire for Bush.

Judging by the thunderous applause in the nearly packed Temple Theatre in downtown Saginaw, each bullet hit its target.

Former President Bill Clinton, John Kerry and Ted Kennedy all came within her cross-hairs as she poked holes in Democrats' criticism of the war in Iraq.

And God help you if your name is Michael Moore.

"You'd think with all that money he is making, he could afford some soap and water," said Coulter, referring to the appearance of the man who directed "Fahrenheit 9/11."

Lecturing down the street from TheDow Event Center, 303 Johnson -- where Bush was to speak -- Coulter called liberals "idiotic," "constant carpers," members of a "religious cult," and, worst of all, French-like. Her books, "Slander" and "Treason," have blasted left-wingers for years.

"Bush is going to win. I can't believe this country has become France," Coulter said of the election. "I can't believe this country is willing to surrender on the war on terror."

That's exactly what will happen, Coulter said, if Kerry, a Democrat, is elected to the White House. She contends Kerry will scale back the war on terror, swatting terrorists like mosquitoes one by one only when there is absolute proof of guilt.

Although the National Commission on Terrorist Attacks Upon the United States found that Saddam Hussein did not help coordinate the 9/11 attack, Coulter argued that the evidence shows some ties between Saddam and al-Qaida.

"There's plenty of evidence, but maybe not enough to convince an O.J. (Simpson) jury," she said to laughter from the crowd.

Coulter said she is constantly astonished at how liberals criticize the war in Iraq, including their claim the United States went in alone. She noted the nation has many allies helping in Iraq.

She also complained that liberals have tried to tie the hands of Attorney General John Ashcroft by criticizing his efforts to detain illegal Muslim immigrants and terrorist suspects.

Coulter cringes at cries of "racial profiling" whenever officials talk about heightening searches of Muslims at airport terminals. Airport security should focus on the most likely suspects, she said. After all, Muslim extremists make up "100 percent" of terrorists involved in attacks with planes.

"When it's 100 percent, it ceases to be a profile," she said. "It's a description of the suspect." v

Scott Davis is a staff writer for The Saginaw News. You may reach him at 776-9665

---
TOPICS: News/Current Events
KEYWORDS: anncoulter; conservatives; liberals; michigan; presidentbush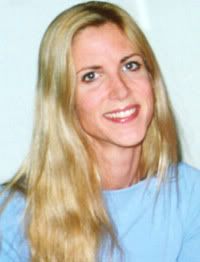 ---
To: kingattax
She contends Kerry will scale back the war on terror, swatting terrorists like mosquitoes one by one only when there is absolute proof of guilt.
"Absolute proof of guilt" would imply that a crime (terrorist act) had been committed. It is to late then. We need to stop the act before it is committed.
.

---
To: kingattax
Racial profiling is such BS. If I go to the beach to surf, I'm looking for sharks, not for dolphins. Soon they're going to tell us that tofu should viewed as meat, because we don't want to hurt its feelings.
---
To: xuberalles
---
FreeRepublic.com is powered by software copyright 2000-2008 John Robinson