Broken Hockey Stick! (29 Oct 03)
In a stunning scientific paper just published in Energy and Environment, the infamous `Hockey Stick' as developed by Mann, Bradley and Hughes in 1998 has been comprehensively discredited - using the same data sources and even methodology used by the Hockey Stick's original authors.
According to McIntyre and McKitrick [Energy & Environment ref];
" The data set of proxies of past climate used in Mann, Bradley and Hughes (1998, "MBH98" hereafter) for the estimation of temperatures from 1400 to 1980 contains collation errors, unjustifiable truncation or extrapolation of source data, obsolete data, geographical location errors, incorrect calculation of principal components and other
quality control defects. We detail these errors and defects. We then apply MBH98 methodology to the construction of a Northern Hemisphere average temperature index for the 1400-1980 period, using corrected and updated source data. The major finding is that the values in the early 15th century exceed any values in the 20th century. The
particular "hockey stick" shape derived in the MBH98 proxy construction – a temperature index that decreases slightly between the early 15th century and early 20th century and then increases dramatically up to 1980 — is primarily an artefact of poor data handling, obsolete data and incorrect calculation of principal components."
On this website, the Hockey Stick's conclusions about past climates were challenged (see `The Hockey Stick: A New Low in Climate Science') on the basis of direct comparison with numerous other scientific studies which found that late 20th century climate was in no way remarkable when compared with previous `pre-greenhouse' centuries, especially the warmer Medieval period.
However, McIntyre and McKitrick have challenged the `Hockey Stick' on its own turf by subjecting it to an `audit', using the same data and assumptions, and developing a temperature reconstruction from similar principles. It was a classic replication exercise, so necessary in science. The result is shown below -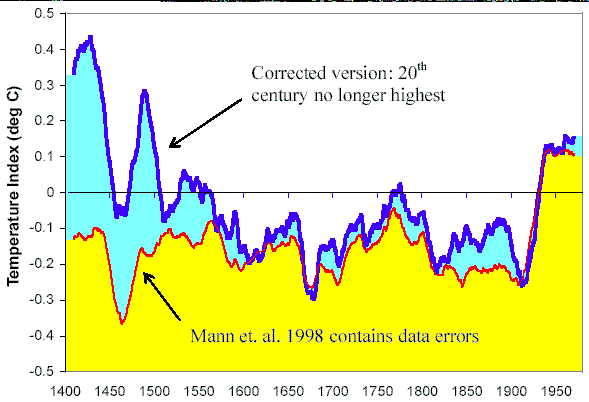 The McIntyre-McKitrick reconstruction (blue) shows earlier climates to be warmer than the late 20th century, a conclusion supported by numerous other scientific studies, whereas the `Hockey Stick' denies this reality. It seems that through a combination of tabulation errors, truncating data series for no valid reason, and `bridging gaps' in data with little more than guesses, the `Hockey Stick' authors created a thoroughly false picture of past climates, which was instantly embraced as policy by the UN-IPCC and the greenhouse industry it leads. It became influential in convincing pro-Green policy-makers like former US vice-president Al Gore, that late 20th century climatic warmth was without precedent in human history.
Not only did the `Hockey Stick' fly in the face of a mountain of evidence from other sciences which contradicts its conclusions, but thanks to McIntyre and McKitrick, we now know that the Hockey Stick is internally flawed as well, since its own data sources, properly read, do not support its conclusions either.
This raises the question of the scientific bona fides of climate science itself. McIntyre and McKitrick have exposed fundamental scientific flaws in an influential scientific paper which was fully peer reviewed by `experts' from the greenhouse industry and published in a top journal. Their audit of the databases and statistical processes which lay behind the `Hockey Stick' called for first-order statistical skills above all else, and it is here that they have exposed the incompetence which lay behind the original `Hockey Stick' concept. There have been many other instances of deeply flawed science being given an uncritical green light for publication by reviewers from this science, but the question must now be asked whether their pretensions to scientific status can be justified by their performance.
Energy and Environment is one journal that has stood up for free debate on this and other issues of public importance, and is to be commended for publishing this long-awaited and damning critique of the `Hockey Stick'. To facilitate public debate, the journal has taken the unusual step of making the full McIntyre-McKitrick paper freely available online.
Download the full .pdf of the McIntyre-McKitrick `Hockey Stick' critique here