---
Amber Alert: John Kerry Story Missing From Front Pages
The People's Cube ^ | 11/1/2006 | Red Square


Posted on 11/02/2006 4:37:00 AM PST by stm

Amber Alert: John Kerry Story Missing From Front Pages

By Red Square


11/1/2006, 8:20 pm



At 7am this morning the story of Senator John Kerry appeared to be missing from the front pages of all major newspapers.
DESCRIPTION: The story can be recognized by three major attributes: (1) Sen. Kerry claims that he is smarter than the troops, (2) Sen. Kerry claims that he is smarter than their Commander in Chief, and (3) Sen. Kerry claims that not only he is smarter than the troops and the President, but that the American people are also incredibly stupid if they think Kerry would ever question their intelligence.
POSSIBLE LOCATION: The missing Kerry story is suspected to be hiding in the same cave as Osama bin Laden story, together with the record high Dow Jones story, low unemployment story, increased government revenues story, and positive changes in Iraq story. If not found within the next 24 hours, it'll disappear forever as expected (unless it contains the word "Foley").
~

We'll try to help the confused media with this report:

Senator John Kerry, who after losing the 2004 election was purged and declared "non-person" by Communists For Kerry (CFK), may now be at large again.

Our search for answers has led us to John Kerry's former handlers, a non-partisan 527 organization known as Communists For Kerry, a powerful pressure group that acts as a shadow Politburo behind the DNC.

Here is what they had to say:
J.F.Che - Great Leader

The non-person formerly known as Komrad Kerry has been purged for failing the 2004 revolution. He has been sent off for re-education and replaced with a cardboard cutout in the Senate. Nobody could tell the difference anyway. What? He escaped? ¡Ay, caramba! Put 'em all against the wall!

General Secretary, Fearless Leader

He must be that talked-about Karl Rove's October surprise! Once again Rove proved to be in a possession of a mind-controlling machine, inducing Kerry to say things that normal Democrats would only say after the elections are over.

Ivan Lenin, The Party's Brain

I can't believe he managed to escape from the Gulag by posing as his own cardboard cutout. He then went on campaigning as a real self - and nobody spotted the change. No wonder he got stuck again in an unwinnable argument, forcing us all to relive the pain and embarrassment of the failed 2004 revolution. A real cutout would never do that. Live people can't be trusted with upholding standards. Just ask my mummy!

Komrad Red Square-Eye, Chairman of the Artists Union

I think I know what happened here. This non-person waited two years until Halloween 2006. Then he foolishly summons the spirit of Nov. 2004's political corpse hoping this would give him a second chance. Of course this doesn't save him from the oblivion and exile, but it does ruin our hopes for the midterm elections. What amazes me is that he still imagines himself to be the brightest bulb on the Politburo's switchboard.

Kommander Djin, Courageous Bureaucratic Official

By letting himself be pulled into this mess, non-person "K" created a false mpression that all progressive leaders are as easy as that. You'd think that stepping on the same rake often enough would knock some sense into this traitor. That was why the Party had purged him in the first place. It just proves once again that the Party is never wrong (not that it needs to be proven).

Komsomolets Rob, Mascot of the Revolution

The prescribed Party line is once again: "Who is John Kerry? Never heard of him." That's what all the subservient people's press organs have been saying ever since the news broke.

KGB Officer Shmersh, The Party Hammer

He was probably consuming too much Heinz ketchup. If this is what Heinz does to your brain, the logical question is, are the troops eating enough of their prescribed Heinz ketchup?

Carlos the Jackal

More ketchup please!

In other news:
An unnamed DNC apparatchik (Chairman Meow) delivers Democratic talking points to all progressive media: "Why can't we all get along and keep the discussion on Mark Foley? Why can't it be all about Mark Foley or Jack Abramoff or the stupid comment made by Cheney! How about Rush? Why can't we keep talking about Rush and how we skewered his comments about the people's saint, Marty McFly?"
Troops rally in support of John Kerry's statement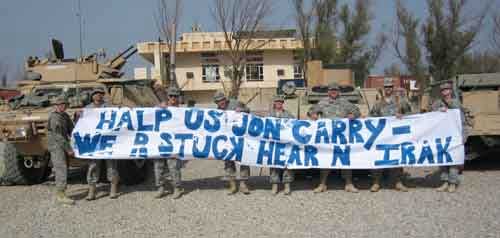 Groupthink Amber Alert John Kerry Story Missing From Front Pages

---
TOPICS:
Chit/Chat
KEYWORDS:
---
To: stm
2
posted on
11/02/2006 4:58:51 AM PST
by
NonValueAdded
(Prayers for our patriot brother, 68-69TonkinGulfYachtClub. Brian, we're all pulling for you!)
---
To: Just A Nobody
---
To: NonValueAdded
Groupthink Amber Alert John Kerry Story Missing From Front Pages
I wonder: How many Democrats in Congress right about now would want to cut off ears, cut off a head, tape wires from portable telephones to his genitals, and cut off limbs of John Jacques Strap Effin Shove It Maria Teresa Thierstein Simoes Ferreira Kerry?
lol

4
posted on
11/02/2006 5:17:45 AM PST
by
beyond the sea
( Either hold your nose a little on Election Day ......... or grab your ankles for the next years)
---
FreeRepublic.com is powered by software copyright 2000-2008 John Robinson