---
Art Appreciation/Education: Visit to NY I: Smithson and Turrell
10/23/05 | Republicanprofessor


Posted on 10/23/2005 4:41:37 PM PDT by Republicanprofessor

Art Appreciation/Education: Visit to NY I: Robert Smithson and James Turrell: Monumental Works of Earth and Light

I recently went to NYC for a conference and delivered a paper which mostly dealt with the works of James Turrell. While in NY, I was able to see many galleries and a few museums, most notably the Whitney, which had shows on the work of Oscar Bluemner and Robert Smithson. I just posted John Haber's review of the Bluemner show and am integrating ideas of Robert Smithson here.

Robert Smithson was born in NJ in 1937 and was so fascinated with minerals that he had a little museum in his basement as a child. His early professional works derive from Minimal Art and do not intrigue me much. They do show his interest in quartz-like patterns and repetition that was common to Minimalism, but fail to reach the human connection that I value in art.
Smithson was soon one of the pioneers of Earth Art in the 1970s. These artists were taking art away from the commercialism of galleries and creating projects with rocks and earth. Smithson was also interested in disintegration, so that at Kent State in one project he half buried an old shed in a pile of dirt.
Partially Buried Woodshed by Robert Smithson
I know Freepers will really love that one! But keep your mind open; his masterpiece is the Spiral Jetty set in the Great Salt Lake in 1972. I just saw a movie of the creation of this at the Whitney. It was pretty amazing to see these bulldozers and graders and back hoes lifting dirt and rocks from this abandoned mining site to create this primordial spiral. It was even more inspiring to see Smithson run over these rocks out to the end, noting the continuing pattern of salt crystals, rocks, dirt, salt, water, salt, rocks, dirt, etc.
This piece was soon under fifteen feet of water but is visible again. I wished I'd been able to see it when we were in Utah this summer, but it wasn't possible. There is more to say to justify his pieces, but the final act came when he was flying his plane over his next piece, the Amarillo Ramp in 1973.
The plane crashed and the pilot, photographer and Smithson were all killed. Smithson was 35. He was just beginning to explore his great ideas of reclaiming abandoned industrial sites for art works.
The person who has begun to fascinate me more and more is James Turrell, who is dealing with this phenomena of light, earth and space in an entirely new way, trying to share a perception of light and the ultimate peace of the universe that can change our very beings.
James Turrell was born in 1943 in Los Angeles. He was raised as a Quaker and was influenced by their emphasis on silent access to the "light within." He graduated from Pasadena High School, Pomona College with a degree in Psychology, with graduate studies in art at Irvine and Claremont Graduate Schools. Turrell's early artworks grew out of the California movements of minimal, light and conceptual works of the 1960s. But he has moved beyond that, and beyond California. His medium is light itself, and his tools include earth, architecture and airplanes. Much of his work has been inspired by his experience as a pilot in small planes and the effects of light, clouds, space and land seen from high altitudes: the glow of fog at dawn, the changing layers of clouds and light. His content is perception and consciousness; our world of dreams and our unconscious reactions to light and to life itself. Much of what he wants to do at the Roden Crater is to bring the light of the sky down to earth, to affect us much as the alternative consciousness of our dreams affect us.
One of his influences is the work of Mark Rothko, whose blue seems like the twilight that you often see in Turrell's work, not to mention the frequent use of the rectangle in the works of both men.
I first saw one of Turrell's works at the Whitney in the early '80s and was amazed that I could put my hand through what appeared to me to be a flat wall. (Apparently, one woman leaned against this "wall," fell, broke her ankle and sued Turrell.) But I have never forgotten that unnerving and inspiring moment. Turrell is most interested how we perceive light and space, and then he upsets this very perception to put us into a different kind of experience. His work is almost otherworldly in how he changes our expectations and draws from inner recognitions that we are hardly aware of.
Turrell doesn't create theoretical jargon, nor does he write much about his work. He does discuss his work in interviews, but ultimately he would like each viewer to come to his own conclusions about the work. Since 1972, with grants from Dia Art Foundation, the Guggenheim Foundation, and the National Endowment for the Arts, James Turrell has been working on his project at Roden Crater. He lost his studio in Santa Monica about this time and began flying throughout the southwest, searching for the perfect crater.
He needed a crater that would not need much adjusting to become a perfect hemispherical shape with the rim at one, even level. He moved about 800,000 cubic yards of dirt to get it to this shape.
When the crater opens to the public, only fourteen people a day will be allowed in: six day-trippers and eight over-night guests, who will sleep in spartan quarters furnished with spare Turrell-designed tables, chairs, and beds.
The best approach to the Roden Crater will be from the Sunset Crater fifteen miles to the southwest. As we approach from the southwest, walking those last two miles in a tightening spiral, we will become attuned with the earth and desert: walking along the dry river beds, noting the changing vegetation and views as the seasons change and as the crater looms larger and larger. It is already at an elevation of 5,000 and rises another 415 feet (to a final elevation of 5,415'). As we walk north towards the crater, there will be several architectural spaces including a hangar, a planetarium, a museum for Turrell's other works, and a visitor's center.
There will be several spaces at the fumarole, the vent "from which volcanic gas escapes into the atmosphere," and around the crater itself. These spaces, and the passages between them, will be framed in white Roman-like arches. Each space will focus on a different aspect of light and space, including sunrises, sunsets, moonrises, the north stars and even eclipses.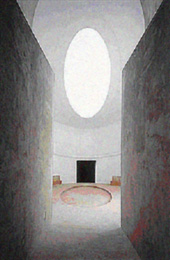 The middle image above is of the Western Space, with an oval overhead. The rectangular place where the viewer is standing will look west toward the San Francisco Mountains in Arizona (south of the Grand Canyon) and will capture the changing light of the sunsets with great cloud effects from the mountains.
The North Space will have a grayish light during the daylight hours but will accentuate the light of the North Star at night. Some beds for the few overnight visitors may be located here. There will also be a stairway to a walkway around the edge of the rim of the crater which will offer beautiful views of the surrounding desert and distant craters, especially at sunset.
There is a 1,035 foot tunnel that will lead from the fumarole to the inside of the crater. When we enter the main crater, the sky will first seem stretched against the end of the tunnel. As we move up the staircase and into the bowl, the sky will seem to pop outwards and create a depthless bowl above our heads: a bowl and depth of infinity of time and space, galaxies and light. Turrell has thus created a celestial vaulting: he has taken Roman vaulting and made it into light and space itself, with no visible means of support, and is thus linking us more directly with our God and universe. I think we will feel the reverberations of this light and space right down into the center of our very being.
In Turrell's crater, he is combining the wonderful, sculpted arches, vaults and domes of Rome with astronomical calculations that date back to Stonehenge with a modern use and appreciation of light that derives from flight in small planes. He is working in such a way that not only is space sculpted, but the light above is also carved and our whole experience is erased and begun again.
What Turrell himself has said is this: "What takes place while looking at the light in a Skyspace is akin to wordless thought. But this thought is not at all unthinking or without intelligence. It's just that it has a different return than words."
Turrell is going beyond the spiritual nature of Thomas Moran and Albert Bierstadt's paintings of the nineteenth century to make us feel the spirit of nature in us through light and space.

---
TOPICS: Arts/Photography; Education
KEYWORDS: appreciation; art; earthworks; education; smithson; turrell; visittony

I'm sorry to be posting so much today, but when I'm inspired to do so (especially before I get snowed under grading exams and projects).

---
To: Sam Cree; Liz; Joe 6-pack; woofie; vannrox; giotto; iceskater; Conspiracy Guy; Dolphy; ...
Art Education/Appreciation ping.

Let me know if you want on or off this list.
---
To: Republicanprofessor
Perhaps because I was in NYC, I was also thinking about Turrell's connection to, or contrast with, the works of Christo. I was privileged to have seen the Gates on a sunny February day; the mood was close to euphoric. Turrell and Christo have spent about the same amount of money on their projects: $22 million. Christo used no federal funds, but Turrell has used grants and private donations to support his work. His funding is tight; it is unknown when the crater will be finished. But his work is permanent. Christo also spend decades on his project; it is now permanent only in our memories and imaginations. They have taken the ideas of American space and landscape into our own bodies by having us progress through the pieces to the ultimate goal of renewed awareness of ourselves and our place in the city, community and the world. Art doesn't get much better than this.
---
To: Republicanprofessor
Bookmarking for later, Hurricane Wilma bearing down on us at the moment, expecting her in the morning.

See you guys after we get squared away here.
---
To: Republicanprofessor
Here is another:
Walter De Maria
The Lightning Field
http://www.lightningfield.org/

---
To: woofie
Yes, I do know about the
Lightening Field
, and I think it's in the same general area in the southwest. I'd forgotten how many dozen poles are exactly the same spot about the ground. And you have to make reservations to stay there for 24 hours, during which you may or may not see lightening.
The Roden Crater is also an attractive spot for lightening, and where you can see the rare green flash around the sun at sunrise or sunset.
Have you visited the Lightening Field? I thought de Maria's Broken Kilometer to be a bit dull when I saw it, although the Earth Room smelt kinda cool and the height of the dirt made the room seem so low.
---
FreeRepublic.com is powered by software copyright 2000-2008 John Robinson