---
ART Appreciation "class" #2 Impressionism and Post-Impressionism
6/1/05 | republicanprofessor


Posted on 06/01/2005 4:08:07 PM PDT by Republicanprofessor

I had such fun with my first Art Appreciation "class" last week. Thanks for all your support. For this second "class," I'd like to discuss the basic ideas behind Impressionism and Post-Impressionism. Please continue to post more images that appeal to you; it's great to have a continuing dialogue.

Let's look at Impression: Sunrise by Claude Monet (1840-1926). This was done in 1874, and when it was exhibited, the slurred comments by a critic about it being only "an impression" gave the name Impressionism to the movement. Nowadays, however, we appreciate how it moves away from detailed realism to give us a different feeling of the moment. What is the weather, location, probable season? These were the concerns of the Impressionists. What kind of weather makes the sun so red at sunrise?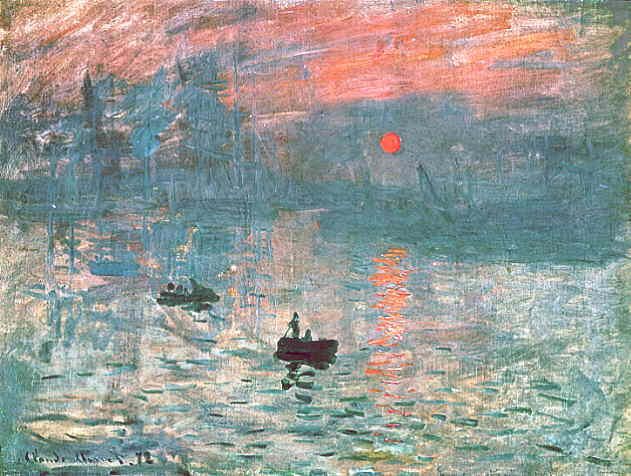 Later in the 1890s, Monet began several splendid series of works of similar subjects caught at different times of day: morning, noon, evening. He did these with grainstacks (or haystacks), Rouen Cathedral and poplar trees. Some complain that these works were just about light, color and atmosphere. (Cezanne is reputed to have said "Monet is just an eye, but what an eye!"). However, one article I read noted that these subjects are essential in French history and identity: the poplars are a national symbol, the grainstacks look like farmer's thatched huts and thus glorify agriculture and farmers. Finally, the cathedrals are resonant with French gothic glory, since gothic cathedrals were initiated in France in 1144.
You can often guess the time of day in Monet's Cathedral pieces because the entrance of these churches (in Europe) is always on the west side. Thus the light in the left image is clearly in the early morning. If you look on line, you can see different images from other times of day.
Monet's latest Waterlilies series from the 1910s-1926 were awesome, but I'll get to those later.
Another complaint of Monet was that his work was "formless:" that he had no hard edges, traditional space nor modeling (or shading). The Post-Impressionists like Paul Gauguin (1848-1903) added stronger forms, shapes and edges to the color of the Impressionists.
Gauguin's Vision after the Sermon 1888. Done about the same time as Monet's works, but notice how much more solid are the shapes (more fancily called forms). There is a sense of solidity and mass (or weight) about them.
A question I always ask my students about this work: is the space flat or is it deep? This is a very important question in modern art. The small cow in the upper left shows a sense of distance, especially from the huge (Sally Field Flying Nun-type) nuns' hats. But the diagonal and red background really flatten the space. That diagonal, the cut-off forms, aerial perspective and non-heroic, daily subject are strong influences from Japanese prints, which were inundating France after Admiral Perry opened Japan 1853.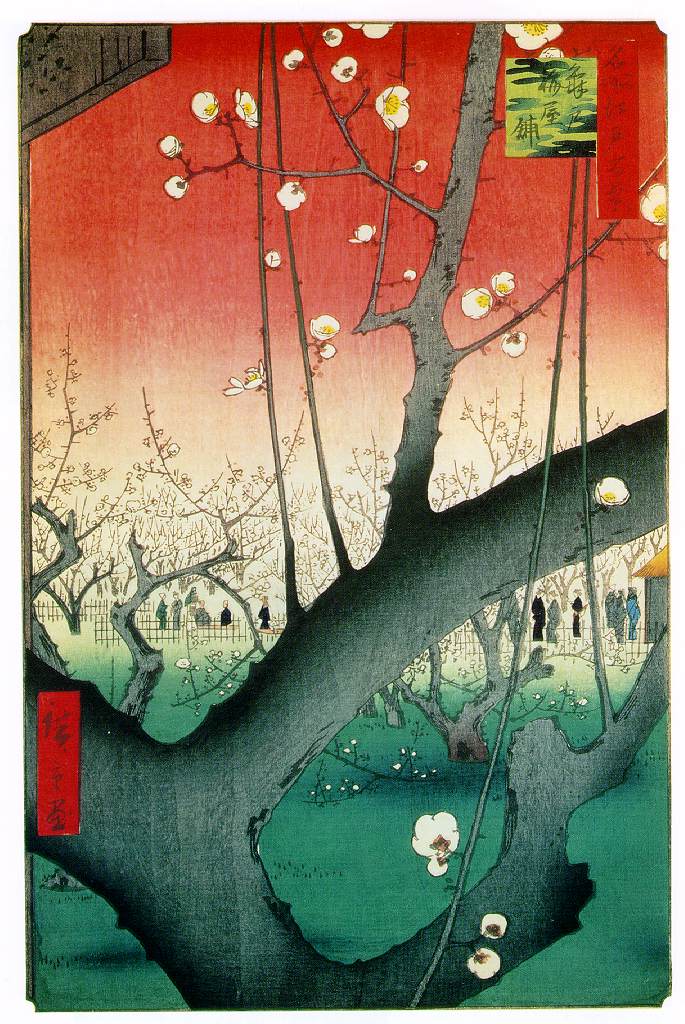 What's happening in Gauguin's work is that these Breton women of northern France have come out from church and are visualizing a reenactment of their sermon: Jacob wrestling with the angel. (My problem with Gauguin is that he often doesn't touch my heart, as Monet does. One writer, I believe it was Rosenblum, said that Gauguin watches others worship, but we don't feel him worshiping. That's true of his later Tahiti works as well.)
Gauguin's Day of the Gods from his later Tahitian period. I love the abstracted, colorful swirls of the water. Here even the water is solid. Note the Tahitian god in the background.
Now, here's my toughest concept of the "class." That flattened space of Gauguin, the flat space that also hints at a deeper space, is an essential theme of modern art. Renaissance perspective is old-fashioned, and after the invention of the camera, artists are trying to explore different kinds of space. Now, if you can see a movement back and forth between two and three dimensions, that creates a new kind of energy in painting. And, to me, this is a spiritual energy that affects my eyes, my body and my soul. Modern art can be seen as very spiritual, for it does affect the spirit and soul in a new way. This is not the traditional kind of Christian images seen in the past.
I have given short shrift to so many other Impressionists: Renoir, who preferred people (while Monet preferred landscapes); Degas, whose melancholy pervaded even his now-famous ballerinas; Mary Cassatt who updated the traditional Mother and Child icon to middle-and upper-class mothers and their children.
In the next "class," in about a week or so, I want to compare and contrast the emotional works of van Gogh vs. the more controlled (but equally influential) works of Cezanne.
BTW, the latest thread by Liz on Klimt falls into this time-line of the Art Nouveau of the late 1890s. Symbolists like Klimt were a subcategory of the Post-Impressionists.

---
TOPICS: Arts/Photography
KEYWORDS: appreciation; art; artappreciation; cassatt; degas; gauguin; monet; renoir
---
Navigation: use the links below to view more comments.
first 1-20, 21-40, 41-60, 61-80 next last
---
---
---
---
---
---
---
---
---
---
---
---
---
---
---
---
---
---
---
---
---
Navigation: use the links below to view more comments.
first 1-20, 21-40, 41-60, 61-80 next last
---
---