---
Apache Revolver
Am Shooting Journal ^ | 9/21/20 | C Cocole


Posted on 09/21/2020 8:03:54 AM PDT by w1n1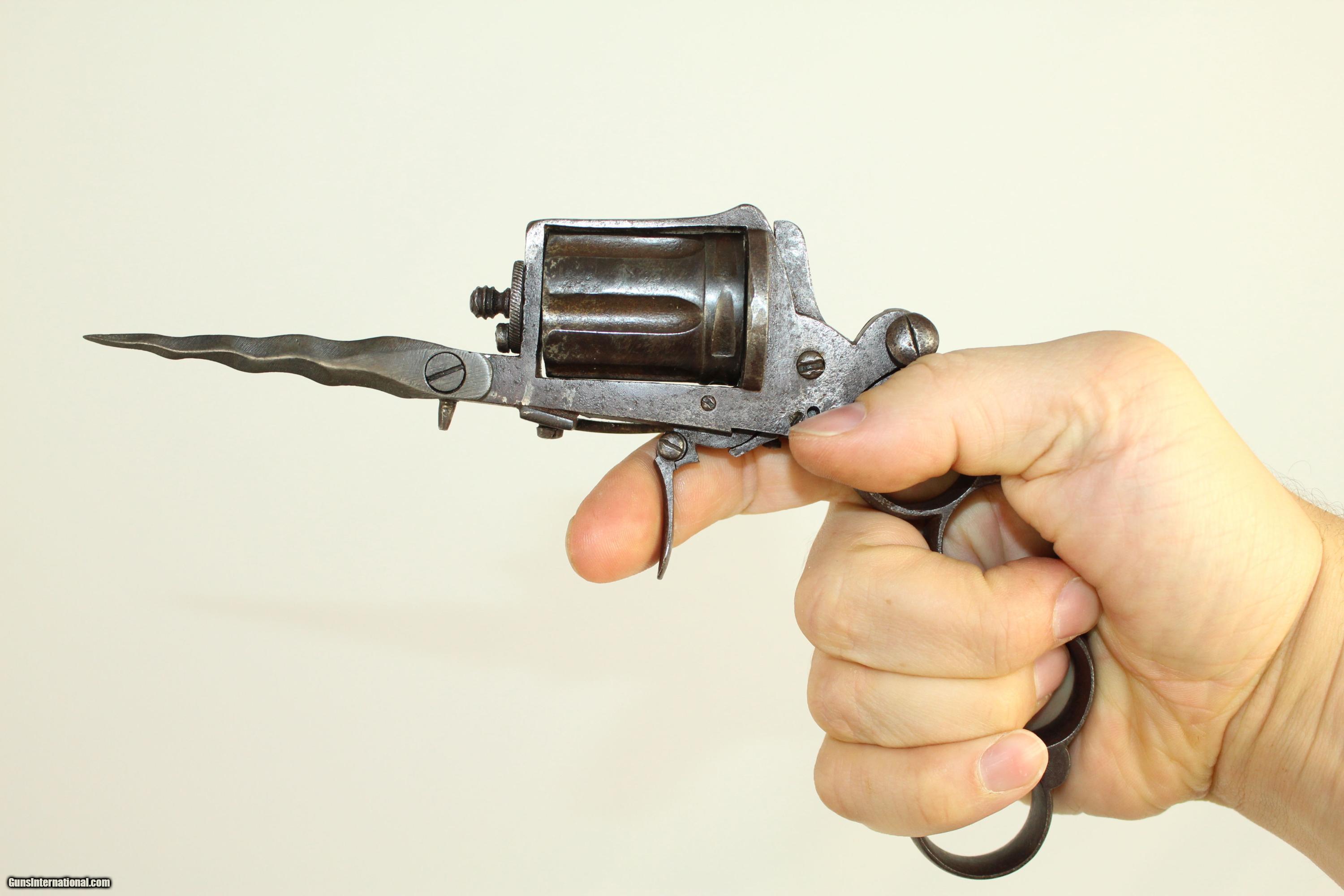 Gangster Weapons of the Past - In the early 1900's French gangsters used a weapon called an Apache Revolver that functioned as a revolver, a knife and brass knuckles. (three weapons all in one) The Apache operates on the principle of a pepper box revolver using a pinfire cartridge and incorporates a fold-over knuckle duster forming the grip and also a rudimentary foldout, dual-edged knife.
Due to the lack of a barrel, the revolver's effective range is very limited, but since all of its component parts can be folded inward towards the cylinder, it was easily concealable inside a pocket.
It was common to leave an empty chamber with no cartridge under the hammer to prevent shooting oneself while having it concealed in a pocket or bag, as the weapon has no trigger guard or safety. This weapon is not able to be aimed precisely because of its lack of front and rear sights. Despite its limited potential, the revolver proved deadly at extremely close range. For reloading, the cartridge cylinder must be removed and replaced with a full one.
Brief History
A Frenchman by the name of Louis Dolne patented this device in 1869, they were manufactured by a number of different companies in Europe through until about the turn of the century, about 1900. At that point of course they'd been superceded by more typical modern pistols.
The revolver itself has no barrel, it's just a cylinder. It holds six cartridges. This particular one is a five-milimeter pinfire. That was probably the most common, they were also made in seven-milimeter pinfire.
From the design of where the hammer sits, there's no way to manually cock it, it's double-action only, and being pinfire, this simply drops down onto the pin primer extending out from the cartridge. There is no rebounding safety or half-cock, so if you were going to carry this, you'd want to carry it on an empty chamber, You'd carry five loaded rounds and one empty.
As stated earlier these were used by gangs of French -specifically Parisian- roughs and no-goodnicks, Gangsters basically, who got the name 'Apache' allegedly for being renowned as being as cruel and violent as the American Apaches. Whether that's absolutely true, I couldn't say for sure, but it makes for an interesting story. And apparently this sort of pistol was either a trademark of theirs, or simply something that just became associated with them. I don't think they were typically called Apache pistols at the time, but it's a name that they've gotten since. Read the rest of Apache revolver.

---
TOPICS: Hobbies; Outdoors
KEYWORDS: apacherevolver; blogpimp; clickbait; momsbasement



---
To: w1n1
Those wylie ass french pirates!
---
To: w1n1
An ugly little spud of a weapon. When trying to make one weapon do the job of several, the result is often less than spectacular. E.g., the F35...
---
To: w1n1
One of those revolvers was featured in a Pawn Stars episode a few years ago.
4
posted on
09/21/2020 8:26:22 AM PDT
by
dainbramaged
(Windage and Elevation)
---
To: w1n1
Due to the lack of a barrel, the revolver's effective range is very limited
Given the weapon also comes with a knife and brass knuckles, it is obviously intended to be an up-close-and-personal weapon. Range just isn't a factor.

5
posted on
09/21/2020 8:44:34 AM PDT
by
CommerceComet
(Joe Biden: Showing his leadership by cowering in the basement like a scared child.)
---
FreeRepublic.com is powered by software copyright 2000-2008 John Robinson