---
A Good Night at Walter Reed! - Week 313, April 15, 2011
April 22, 2011 | Kburi


Posted on 04/22/2011 9:12:18 AM PDT by kburi

On the 313th consecutive Friday night, it was a quiet and pleasant evening at the front gates of Walter Reed. We had a good group with a lot of waves and honks from the passing cars. It was a break from the hectic pace of the past several weeks.

In the 6th anniversary after action report, we should have mentioned that the George Washington University Young Republicans, who were there, were following a tradition of joining us. Over the past 5 years, the GWU Young Republicans Club has joined the Friday night support the troops rally, either 1 or 2 times a year. They are always welcome.

Two stories are noted. First: A woman driving by stopped her car and talked to Mrs Trooprally for a few minutes. She works at the hospital and has driven past us many times. Tonight, she said, she wanted to stop and say thank you. She told Mrs T. that "you have no idea of the impact you have on the troops inside".
Second: A former Army nurse, now a civilian Registered Nurse who works in the wards at WRAMC, stopped to ask if we were selling any decals, bumper stickers, ect. After Mrs T. told her we weren't, she said she also wanted to thank us for being here.
To both, we say "Thank you for your service to the troops inside".


Two buses returned together shortly after 9pm. They were greeted with waves and shouts of support, and many inside the buses waved back.



Flag Row Corner
---
---
HONOR ROLL for April 15, 2011
Mr. and Mrs Trooprally, Maica, Tolerance SucksRocks, TammyCat and Idaho, CindyTrueSupporter, Fraxinus, RonGKirby, Lurker Bill, Kburi, Lurker Jessica and Lurker Jim.
---
Moonbat News

The moonbats started with two, grew to four, and disappeared at 9 sharp!.


---
FOOTNOTES
The DC Chapter invites you to join us every Friday night between the hours of 6:30pm to approximately 9:30pm.
---

If you can't get to D.C. to join us but would like to do something for the wounded, you can find a wealth of ideas by FReepmailing Tom the Redhunter, Cindy-True-Supporter, VAFlagwaver, or PleaDeal. Directions to our Walter Reed freep location from the Takoma metro station

BufordP's Walter Reed FReep archive



---
April 15, 2011, Photos, (courtesy of Mrs. Trooprally)


Maica and Lurker Jim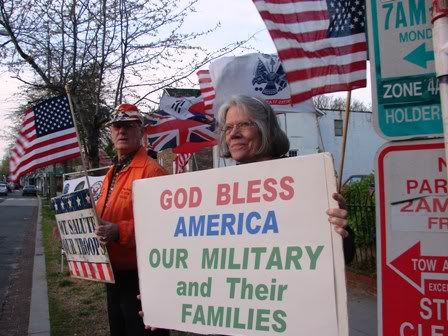 CindyTrueSupporter and Fraxinus


Trooprally and Lurker Bill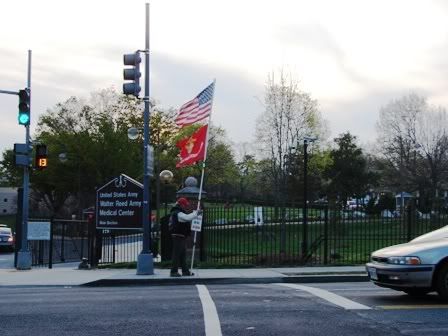 ToleranceSucksRocks and Lurker Jessica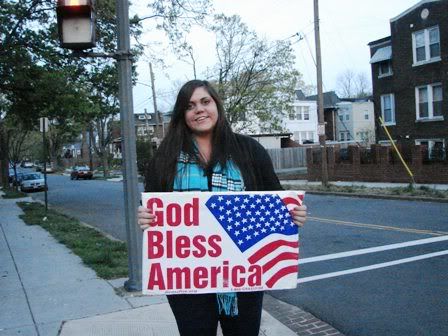 TammyCat and RonGKirby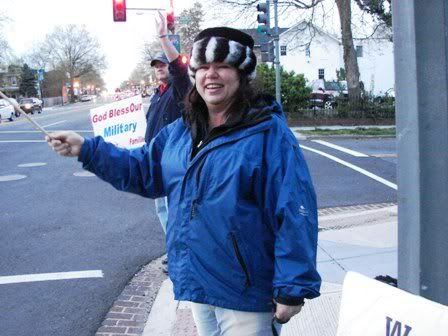 Two Buses Returning From Dinner (right on time and in line), from downtown DC

---
TOPICS: Activism/Chapters; Free Republic; US: Maryland; US: Virginia
KEYWORDS: aar; military; rally; walterreed
---
---
---
---
---
---
---
---
---
---
---
---
---
---
---
---
---