---
Ukraine needs Ukrainian heroes alive: Zelensky spoke about the evacuation of azovstal defenders
https://news.obozrevatel.com ^ | 17.05.2022 | Sofia Zakrevskaya


Posted on 05/16/2022 5:26:33 PM PDT by UMCRevMom@aol.com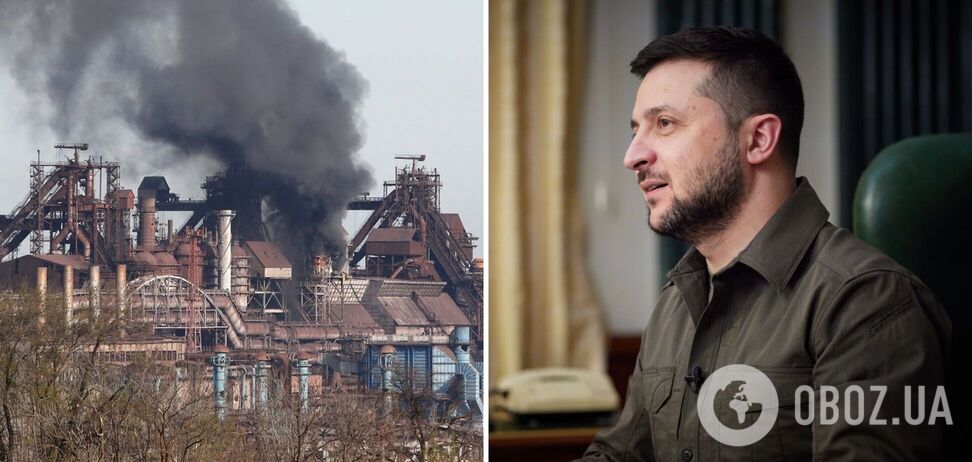 On Monday, May 16, some of the defenders of the azovstal iron and steel works were taken to the temporarily occupied territory of Donetsk region. Subsequently, they will be exchanged for prisoners of the Russian invaders.
This information was confirmed by President of Ukraine Volodymyr Zelensky during a video message to the Ukrainian people (to view it, scroll to the end of the page). Among the soldiers there are seriously wounded, they are receiving medical assistance.
"Thanks to the actions of the Ukrainian military – the Armed Forces of Ukraine, intelligence, as well as the negotiation group, the International Committee of the Red Cross and the UN, we hope that we will be able to save the lives of our children...I want to emphasize that Ukraine needs Ukrainian heroes alive. This is our principle. I think that every adequate person will understand these words," the head of state said. Video of the day
He noted that the work on the return of Ukrainian soldiers home continues. This work requires delicacy and time.
Note that the Ministry of Defense of Ukraine reported the following: 53 seriously wounded Ukrainian soldiers were evacuated from Azovstal to a medical facility in Novoazovsk. Another 211 people were taken to Yelenovka via the humanitarian corridor.
For the subsequent return of Fighters home, an exchange procedure will be carried out.
Zelensky also said that the Armed Forces of Ukraine are holding back constant attacks in those areas where Russia is still trying to attack. According to him, Severodonetsk and other cities of Donbass are still the main target for the invaders.
"We are doing everything possible to protect our land and our people," he stressed.
Earlier, the commander of the Azov Regiment, Denis Prokopenko, whose military personnel are on the defensive at Azovstal, appealed to the Ukrainian people. He recalled that for 82 days the defenders of Mariupol held the defense and pulled back significant enemy forces in order to allow Ukraine to gain time and get Western weapons.
Now the entire Mariupol garrison" for the sake of saving lives fulfills the approved decision of the high military command " and asks Ukrainians for support.
Subsequently, Reuters reported that about ten buses left the territory of the azovstal iron and steel works, filled with evacuated people. Among them are military personnel who were seriously injured. It was reported that they were taken to the temporarily occupied Novoazovsk in the Donetsk region.
As reported by OBOZREVATEL, the mother of the defender of Mariupol spoke about the terrible situation at the azovstal iron and steel works. According to her, amputations of wounded soldiers are performed without anesthesia, since there are no medicines.

---
TOPICS: Russia
KEYWORDS: americalastrinos; chechens; chechnya; chicoms; china; chinesetrolls; commies; communism; deathtoputin; deathtoussr; fanaticalnazis; imonlythepianoplayer; nazi; nazifanatics; nazis; neocons4biden; pedosforputin; pianoboy; putinacommie; putinlovertrollsonfr; putinpufferparade; putinsbuttboys; putinworshippers; putlims; russia; russianaggression; scottritter; soviets; soviettrolls; sovietunion; surrendered; taiwan; temporarilyoccupied; ukraine; ussr; warofthekeywords; winniethexi; xisbuttboys; zelenskybots; zotsoviettrolls; zottherussiantrolls; zotthesorostrolls
---
Navigation: use the links below to view more comments.
first 1-20, 21-40, 41-60, 61-80 ... 101-115 next last
---
---
---
---
---
---
---
---
---
---
---
---
---
---
---
---
---
---
---
---
---
Navigation: use the links below to view more comments.
first 1-20, 21-40, 41-60, 61-80 ... 101-115 next last
---
---